SHEPHERDSVILLE, Ky. (WDRB) – An attorney fighting Louisville Gas & Electric Co.'s plan to condemn land for a natural gas pipeline in Bullitt County said in court Tuesday that documents show the project was initiated by bourbon giant Jim Beam.
Beam denies the accusation.
John D. Cox, who represents a property owner that LG&E sued in an eminent domain lawsuit, told a judge that information from a subpoena of Jim Beam indicates LG&E wanted the spirits maker to initially pay $20-$25 million for the pipeline.
"The pipeline wasn't LG&E's idea at all," Cox said. "This was Jim Beam's idea."
Cox made the argument in a bid to challenge the utility's use of eminent domain, which he said must be for a public use. "Somebody has to put their name on the dotted line and say this is for a public purpose," he told Bullitt Circuit Judge Rodney Burress.
At the same hearing, Cox filed with Bullitt County Circuit Court several documents he wants introduced as evidence.
He has asked Burress to dismiss the case; the judge did not rule from the bench at Tuesday's hearing.  
LG&E attorney Monica Braun said the utility has followed state law, including parts that "unambiguously" let utilities use eminent domain for natural gas pipelines. She said there have been "incorrect" arguments that LG&E hasn't yet been able to rebut.
Braun declined to comment on Cox's claim about Jim Beam after Tuesday's hearing.
But Emily York, a Beam spokeswoman, said in a statement Tuesday that the company has not orchestrated the "planning or route" of the pipeline proposal.
"Jim Beam, along with thousands of other Bullitt County residents and businesses, is a customer of LG&E," she said. "As part of ongoing efforts to reduce our carbon footprint, support the protection of local water and the environment, and respond to increasing global demand for bourbon, we informed our natural gas provider of an anticipated increased need several years ago. We have not directed the planning or route of the proposed pipeline."
A hearing on the evidence in the case is scheduled for June 16.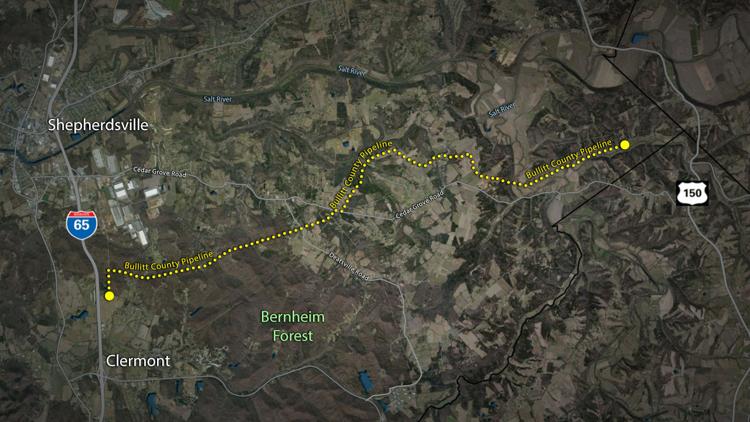 Cox's client, Iola Capital LLC, owns land on Cedar Grove Road along the proposed 12-mile pipeline path from south of Mount Washington to south of Shepherdsville, cutting across land also owned by Bernheim Arboretum and Research Forest.
Beam operates a distillery in Clermont. A 2015 route study commissioned by LG&E considered a line that would have ended there, WDRB News reported last year.   
LG&E now plans to end its pipeline farther north – on the east side of Interstate 65 across from a rest area.
The utility made the change after getting "additional information from local officials and other sources," Lonnie E. Bellar, an LG&E executive who is now the company's chief operating officer, told state regulators in early 2017.
He said the new route came about after receiving "information from a large customer about projections for increased gas usage." LG&E has declined to identify that customer. 
LG&E has acquired 85 percent of the easements it needs for the project. It has nine other condemnation lawsuits, including one against Bernheim, still pending in Bullitt Circuit Court. 
Reach reporter Marcus Green at 502-585-0825, mgreen@wdrb.com, on Twitter or on Facebook. Copyright 2020 WDRB Media. All rights reserved.