LOUISVILLE, Ky. (WDRB) – In his inaugural address as Kentucky governor, Democrat Andy Beshear said he'll seek to unify Kentuckians and find common ground at a time when the country is politically divided.
Beshear peppered his 17-minute remarks on the state Capitol steps with examples of work done across ideological and partisan lines, including efforts to eliminate the state's rape-kit backlog and open drug treatment centers.
"We succeed when we focus on our shared values – values that tie us together as Kentuckians and Americans," he said. "We succeed when we put the collective interest, the common good, ahead of our personal ambitions."
But he also announced concrete policy changes on his first day in office, reorganizing the Kentucky Board of Education in an executive order filed Tuesday. And Beshear said in his address that he will sign another order Thursday restoring voting rights to more than 100,000 convicted felons.
Those Kentuckians, Beshear said, "have done wrong in the past but are doing right now."
"They deserve to participate in our great democracy. By taking this step, by restoring these voting rights, we declare that everyone counts in Kentucky. We all matter," he said.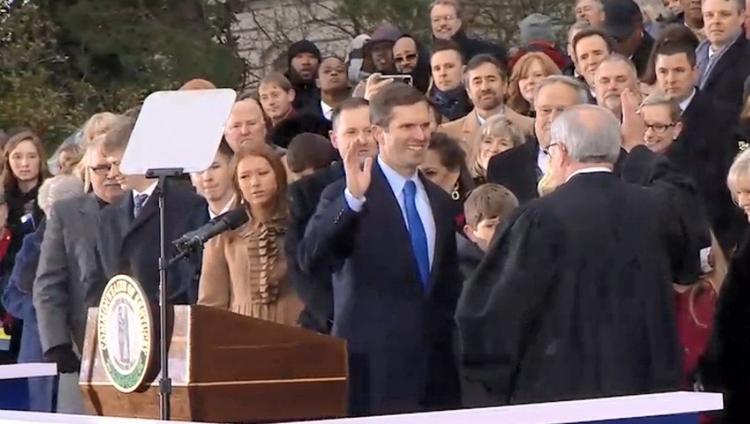 At 42, Beshear is the youngest governor to take office since Ned Breathitt, who was 39 when he was inaugurated in 1963. He is the son of former Democratic Gov. Steve Beshear, who served two terms from 2007 until 2015.
Beshear, the state's outgoing attorney general, takes over the governor's mansion at a time when Republicans hold super majorities in both the Senate and House of Representatives, creating built-in challenges to any legislative priorities.
But his appointees' control of cabinets and other offices gives the Beshear administration power over key decision making, such as the first draft of Kentucky's road plan.
Beshear narrowly defeated Republican Gov. Matt Bevin by 5,136 votes last month, taking 49.2% of the vote to Bevin's 48.8%. Bevin conceded eight days after the Nov. 5 election.
While he didn't mention Bevin by name, Beshear made several references to the former governor's policies in his public remarks.
In 2018, Kentucky State Police limited public access to the Capitol to protestors affiliated with the Poor People's Campaign, a group that had been marching on Frankfort.
IMAGES | Inauguration parade for Ky. Gov. Andy Beshear
With Bevin sitting nearby, Beshear promised to keep the state Capitol open to citizens.
"Every day I'm governor these doors will remain open to all Kentuckians," he said. "No one will be locked out—because everyone counts."
Beshear also sought to temper Bevin's signature efforts to grow Kentucky's economy. The Bevin administration emphasized job creation and business attraction, touting a record $22.6 billion in new investment deals – more than any four-year tenure of any governor.
But job numbers and a low unemployment rate paint an incomplete picture, Beshear said.
"That statistic doesn't tell the story of families struggling to make ends meet with two and sometimes three jobs," he said.
Row of most recent former governors seated together. Only Brereton Jones is missing. pic.twitter.com/fxVDPZVkUn

— Lawrence Smith (@LASmithReports) December 10, 2019
He said Kentucky must create a "comprehensive economic plan" to create better paying jobs, an initiative that should start with advanced manufacturing and "agritech," or the use of technology in agricultural businesses.
The governor said he'll fight to lower the cost of prescription drugs, starting with insulin.
Beshear's campaign relied on teachers and other public educators, many of whom flooded the Capitol for Tuesday's inauguration. He named Kentucky's new lieutenant governor, former teacher and school administrator Jacqueline Coleman, as his Education Secretary.
In her remarks, Coleman said educators will be involved in crafting public policy.