LOUISVILLE, Ky. (WDRB) – Two groups of Bullitt County property owners want a judge to clarify a ruling that lets Louisville Gas & Electric condemn land for a pipeline, arguing he didn't address whether the "primary purpose" is to benefit Jim Beam.
Bullitt Circuit Judge Rodney Burress ruled in favor of LG&E in seven condemnation cases on May 18. That order would let the Louisville utility use eminent domain to take areas needed for a proposed natural gas line.
In his opinion, Burress found that the 12-mile transmission pipeline is "necessary to improve natural gas service for residential and commercial customers in Bullitt County by increasing capacity and improving reliability."
But lawyers for the landowners are asking Burress to reconsider his ruling, arguing in two separate court filings last week that the judge didn't answer a key question: Is the main purpose of the line to benefit Jim Beam, the bourbon distiller with a Bullitt County plant in Clermont?
In a May 28 motion, attorney Thomas E. Clay said Kentucky law requires Burress to determine whether property is being condemned for a public or private purpose. That didn't happen, he wrote.
"A public entity cannot take private land to benefit directly a private company first, and then benefit the public second," Clay said. "Evidence suggests that Jim Beam is instrumental in the procurement and placement of this pipeline."
Last week's filings are the latest in a legal fight over the pipeline that also includes a separate lawsuit involving Bernheim Arboretum and Research Forest, which owns a swath of land north of Ky. 245 where the pipeline would cross. That case is pending in Bullitt Circuit Court.
Meanwhile, in hearings before the Kentucky Public Service Commission this spring, LG&E officials said the estimated cost of the project has nearly tripled, to $74.2 million, from initial projections of $27.4 million.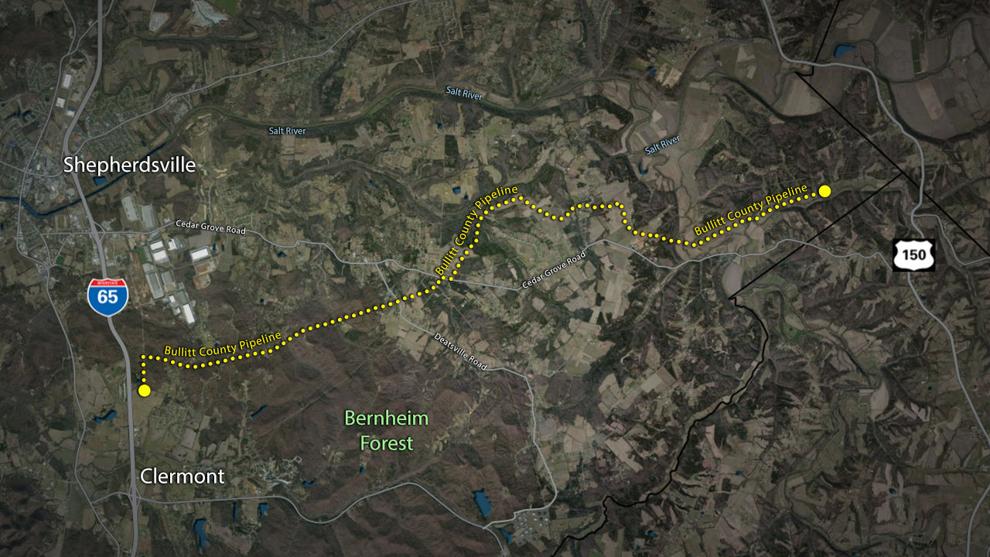 In Bullitt County court, Burress' ruling in favor of LG&E gives the utility the ability to condemn nearly all the remaining land it needs for the pipeline that would run along an east-west route south of Mt. Washington and Shepherdsville.
John Cox, an attorney who also represents landowners, argued in a May 27 filing that Burress' order as it stands is open to interpretation. On one hand, he wrote, it can be read as granting LG&E the right to condemn the land because there's some benefit to Bullitt County, even though the primary benefit is to Jim Beam "under the guise of a public works project."
On the other, Cox continued, the ruling could be seen as concluding that Jim Beam isn't the beneficiary of the pipeline, which "really was intended to address gas reliability concerns in the area."
Ultimately, Cox said in the filing, Burress "should tackle the issue head on."
Cox also argued that evidence presented in the condemnation case showed LG&E colluded with Jim Beam, which would get the main benefit of the line. He contends the utility's claims about gas "shut-offs" and other reliability concerns about natural gas transmission in Bullitt County – a popular talking point in favor of the line -- arose after the fact.
In his ruling, Burress acknowledged that LG&E approached Jim Beam during its planning process to discuss the distiller helping to pay for the gas line. But he found that the line would "undoubtedly serve the broader public in addition to greatly benefitting Jim Beam."
A hearing on the requests is set for June 7.
'Jim Beam's Pipeline'
Cox represents Iola Capital LLC and three other defendants who LG&E sued after they refused to sell easements for the project.
In his filing, Cox said evidence and testimony presented at trial support a narrative that Jim Beam needed the proposed pipeline and asked LG&E to agree to supply more gas when it expanded its Bullitt County system.
Then in 2015, Cox said, LG&E told Jim Beam that it would have to pay for the pipeline – a $25 million cost. When the distiller objected, "LG&E's strategy suddenly shifted to figuring out how to make the ratepayers of Kentucky cover the cost of Jim Beam's pipeline," he wrote.
Emily York, a spokeswoman for Jim Beam parent company Beam Suntory, declined to comment for this story. But she told WDRB News in 2020 that the company did not orchestrate the "planning or route" of the pipeline proposal.
"Jim Beam, along with thousands of other Bullitt County residents and businesses, is a customer of LG&E," she said last year. "As part of ongoing efforts to reduce our carbon footprint, support the protection of local water and the environment, and respond to increasing global demand for bourbon, we informed our natural gas provider of an anticipated increased need several years ago. We have not directed the planning or route of the proposed pipeline."
LG&E carries natural gas to customers in Bullitt County through a distribution pipeline that is fed from a transmission line near Mt. Washington. That system serves Mt. Washington, Shepherdsville, Clermont and Lebanon Junction in Bullitt County, and Boston in Nelson County, according to company documents introduced in the condemnation cases.
Jim Beam's Clermont and Boston plants are customers on that existing line.
In 2015, Jim Beam officials held meetings with LG&E to discuss ways to supply more natural gas to those facilities as part of expansion plans, according to Jim Beam internal notes filed in court. LG&E told the distiller there wasn't enough gas available.
The Jim Beam timeline shows that in subsequent meetings with LG&E in 2015, "it was determined that future growth in the Bullitt County area would require more gas than just our need and it made sense for LG&E to install a pipeline at their expense to support the need in Bullitt County."
LG&E first mentioned its pipeline plan publicly in 2016 as part of a broader rate case before the Kentucky Public Service Commission, which granted the approval in 2017. The utility says the pipeline is needed to connect to the existing gas system in Bullitt County and allow for a backup supply of gas to 9,500 customers.
It also says the line will serve future industrial users along Ky. 480 and Ky. 245 near I-65. The company said in filings with the Kentucky Public Service Commission that an unnamed "large existing customer" expects to increase its gas usage "considerably," but it has declined to identify that user.
LG&E announced in September 2019 that it had refused natural gas service to more than 60 new homes and businesses in Bullitt County because of delays to the pipeline project. The utility told the Public Service Commission the first denial was in May 2019.
Spokeswoman Natasha Collins said the need for the line continues to grow. As of May, she said in an emailed statement, about 450 homes and businesses have been denied new or increased natural gas service.
Those include, she said, more than 40 residential requests, including six developments, and more than 20 commercial requests such as warehouse/light industrial buildings, a clinic, a school, three hotels, and three restaurants in the Bullitt County area.
But attorneys for the landowners say evidence from the condemnation trial suggests that Jim Beam will receive almost all of the gas carried through the new line. Attorney Clay said LG&E documents "clearly establish" that the distiller would get 100 percent of the gas carried through the line for its first two years, and nearly all the next three years.
"There is no information to suggest how this problem will be solved with the completion of a new pipeline, particularly if there is an agreement and/or contract in place that the sole customer will be a private entity for the first two years, and that company will receive 95%-98% for at least the first five years," Clay wrote.
Those figures come from a chart produced by LG&E titled "System Growth." Another slide showed that Jim Beam's Clermont and Boston plants would greatly increase their gas use, pushing both to the No. 3 and No. 4 customers of LG&E, respectively, trailing only Ford Motor Co.'s Louisville manufacturing plants.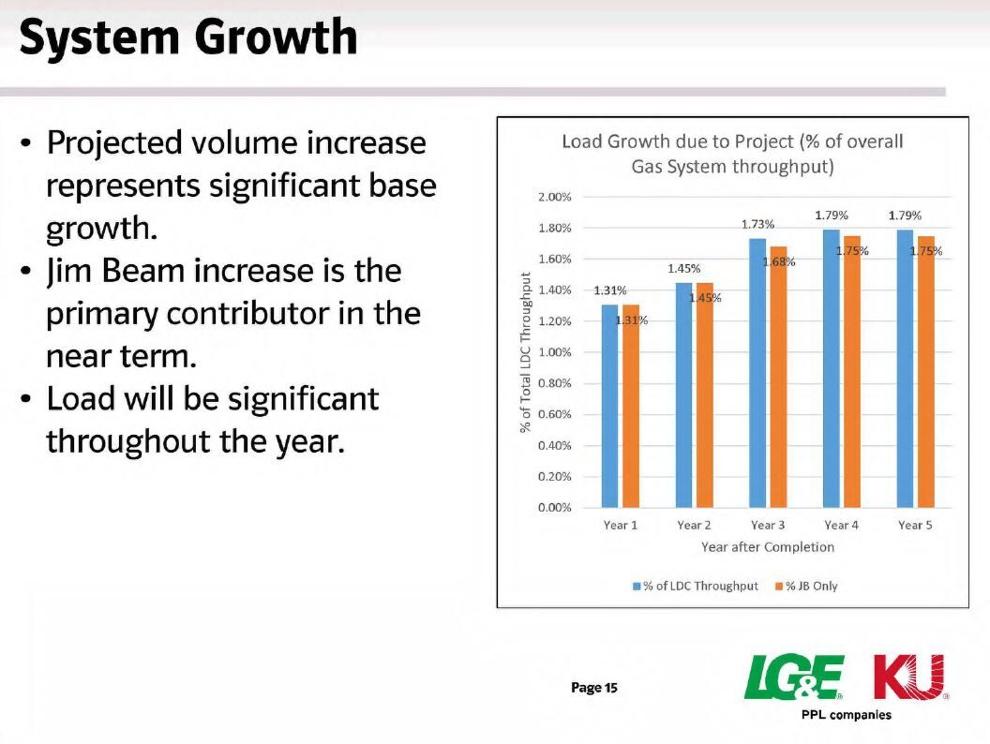 "There is no information to suggest how this problem will be solved with the completion of a new pipeline, particularly if there is an agreement and/or contract in place that the sole customer will be a private entity for the first two years, and that company will receive 95%-98% for at least the first five years," Clay wrote.
In her statement, Collins said LG&E will have enough capacity to fulfill all of the requests for gas service that have been deferred, along with service requests for "years to come." She said the chart, which was created in 2016, didn't "estimate the amount of the capacity that Jim Beam would use of the new planned pipeline."
Rather, it was meant to "compare the estimated overall system volume increase and the potential Jim Beam volume increase, based on information available to LG&E at that time."
Copyright 2021 WDRB Media. All rights reserved.