LOUISVILLE, Ky. (WDRB) – The Roman Catholic Diocese of Covington has filed a civil lawsuit in federal court against Facebook, demanding that the tech giant remove an unofficial page appearing to represent the diocese, and reveal the account's creator.
A Facebook page called "Roman Catholic Diocese of Covington" includes several comments and articles critical of Covington Catholic High School students who were thrust into the national spotlight when videos of them interacting with a Native American man at the Lincoln Memorial in Washington, D.C. went viral in January.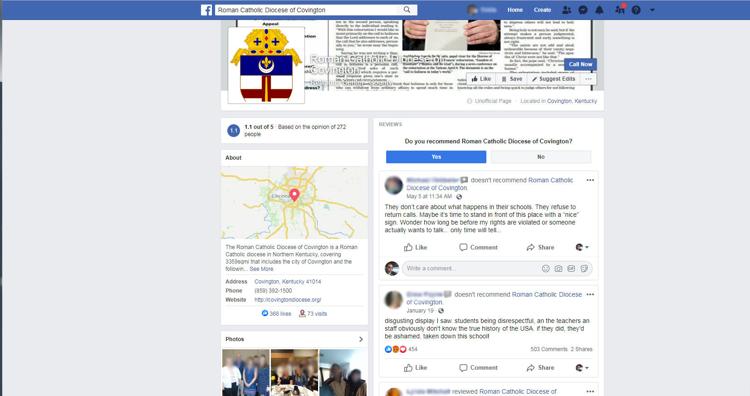 An attorney for the Covington diocese wrote in a May 6 letter to Facebook that the unofficial page is "copyright infringement" and requested "that you immediately take action" by removing the page, according to the suit, filed on May 7.
Court documents also included a subpoena to Facebook ordering the company to identify the person who created the page. A spokeswoman for the Covington diocese said the diocese does not comment on pending litigation.
The diocese does not appear to currently have an official Facebook page. 
The unofficial page hosts multiple comments critical of Covington Catholic students.
For example, one comment left on the page from January 19 says, "disgusting display I saw. students being disrespectful, an the teachers an staff obviously don't know the true history of the USA. if they did, they'd be ashamed. taken (sic) down this school!"
Another person wrote: "I'm so ashamed at the behavior I saw exhibited by students on the internet today. I do hope you will publicly address this matter and issue apologies. It is so important that this doesn't go unchecked."
The family of one of the students, Nick Sandman, has filed lawsuits against media outlets for initially reporting that the students, some wearing "Make America Great Again" hats and sweatshirts, initiated the confrontation. Additional reporting and video evidence contradicted the initial media narrative, according to the suits.
The page has 368 "likes" and includes a Wikipedia entry about the diocese, pictures and posts dating to 2016.
The suit includes an exhibit with a picture of the most recent post, a man who says the diocese doesn't "care about what happens in their schools. They refuse to return calls. Maybe it's time to stand in front of this place with a "nice" sign. Wonder how long be (sic) before my rights are violated or someone actually wants to talk … only time will tell … ."
Copyright 2019 WDRB Media. All Rights Reserved.