LOUISVILLE, Ky. (WDRB) -- Families at Greater Clark County Schools decided Friday whether their children will spend at least the first quarter of the 2020-21 school year learning in schools or online.
Nearly 70% of the district's 10,000 students attended in-person classes when GCCS opened its doors on July 29, becoming one of the first Indiana school districts to start the 2020-21 school year amid the COVID-19 pandemic. Renee Markowski, executive assistant to Superintendent Mark Laughner, could not say Friday how many families had switched learning models.
Since classes resumed, four GCCS schools have identified COVID-19 cases among students and adults. A fifth, Jeffersonville High School, delayed its physical reopening by a week after a teacher tested positive and exposed at least four other educators.
While the spread of the novel coronavirus worries parents who spoke to WDRB News on Friday, most say their children will continue to attend classes regularly rather than transitioning to the district's virtual options.
"If you take the pandemic out of it, we trust that the school systems have our kids' safety as a top priority whether it's an active shooter, fire, whatever," said Jim Hannon, whose daughter is a freshman at Jeffersonville High. "… We knew going into this that the school system was going to do anything and everything that they could possibly do to make sure the kids were safe from this."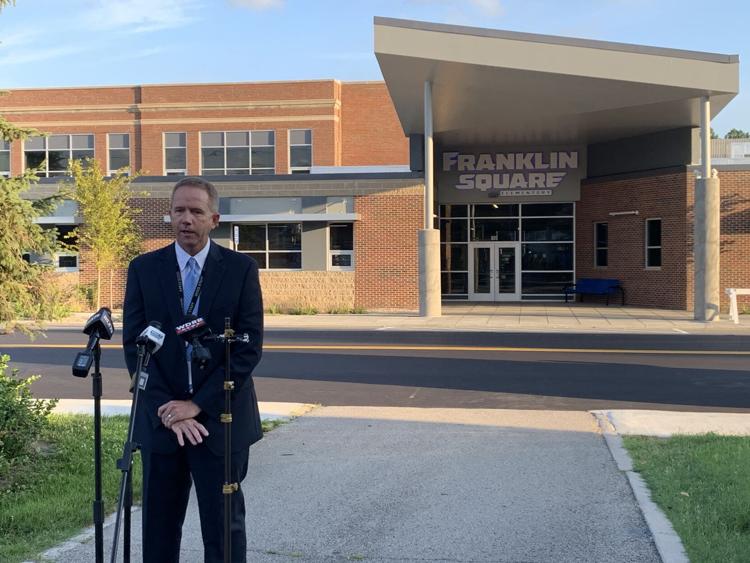 Most GCCS parents who spoke to WDRB News say the district's guidelines like social distancing and frequent sanitation have been enforced within schools, according to accounts from their children.
Students at middle and high schools are required to wear masks, as are staff throughout the district. Face coverings are recommended, but not mandated, for students in GCCS elementary schools.
Even though they aren't required, masks are a readily available and frequently used by students at New Washington Elementary.
Amanda Williamson, president of the school's Parent Teacher Organization who has a son in kindergarten and a daughter in the second grade, said the PTO provided 300 youth-sized masks and 100 adult-sized coverings.
"In order for the kids to go to school, just like shoes and a shirt, you've got to wear your mask, and they don't mind them," Williamson said. "They like looking at the fun prints. A lot of them have now started to build lanyards that are customized, so there are ways to make them fun and accessorize them while the kids don't feel like their freedoms are being taken away."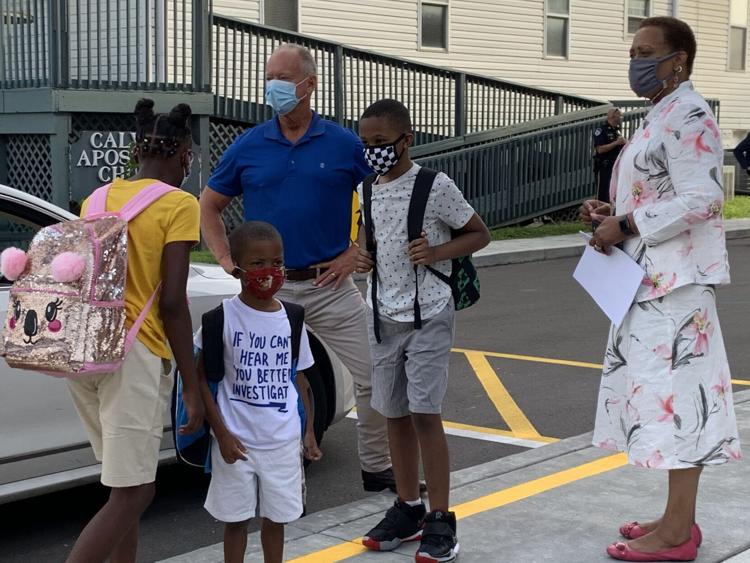 The New Washington Elementary PTO paid about $2.70 per mask and washes used coverings daily, she said. The PTO also installed plastic dividers on the school's cafeteria tables with plastic shower curtain liners and PVC pipe for about $28 each, she said.
Not all parents shared similar experiences at their kids' schools, however.
Melissa Hart, who has five children at Charlestown Middle and Charlestown High, said all of her children opted for in-person classes before three of them decided to transition to online learning, in part because of lax enforcement of public health guidelines like wearing face coverings at their schools.
Markowski said the district had received no complaints of people not wearing masks at either school.
Hart's eighth-grade daughter was tested for COVID-19 on Friday after she was among students who were exposed to another who tested positive and forced into a two-week quarantine.
"I know a lot of people when these children are testing positive at these schools, they are really dogging the parents, but I can assure them that the symptoms that you see in these teenagers, right now what I am seeing in my daughter, I would take it as just allergies," she said. "I know my child doesn't have allergies."
Hart said her daughter, who plans to return to in-person instruction, had a low-grade fever, headache, nausea and congestion. Before her quarantine, she had interacted with the student who tested positive for about an hour in the library while neither wore masks, Hart said.
"No staff intervened and said, 'You guys are literally shoulder-to-shoulder breathing on each other while talking. Put a mask on,'" she said. "I totally get these kids want to be kids. I 100% understand that, but there's things that need to be done."
Hart's concern centers on the possibility of COVID-19 ravaging her household.
She suffers from lupus and chronic obstructive pulmonary disease, and her ninth-grade daughter has a heart condition. Her husband also has breathing issues.
"I pretty much know if I get it, I'm going to be hospitalized," Hart said.
Other parents say people risk catching and spreading COVID-19 every day. Indiana reported 1,253 new cases on Friday, with its most recent testing positivity rate at 7.5% based on a seven-day rolling average as of July 31.
Amanda Braitling, whose son is in sixth grade at River Valley Middle School, said she feels comfortable sending him to school and that the 2020-21 school year has been "fantastic" so far.
"When school started, he was actually excited about it," she said. "… He loves being there every day."
While there's always a possibility of catching COVID-19, she said people should take proper health precautions in public and not live "under a rock."
"I don't judge any of the parents that want to do virtual at all," Braitling said. "It's their choice, but it's not easy. It's tough when you have kids and you want them to be safe, but you also want them to live life, too."
Christi Poor's son, a sophomore at Jeffersonville High, is also attending classes since the school reopened on Wednesday. She feels he's just as safe at school as he is at the grocery store or other places in the community.
"It's been fine," Poor said. "… Other than the fact that the kids have to wear masks, there's not much difference."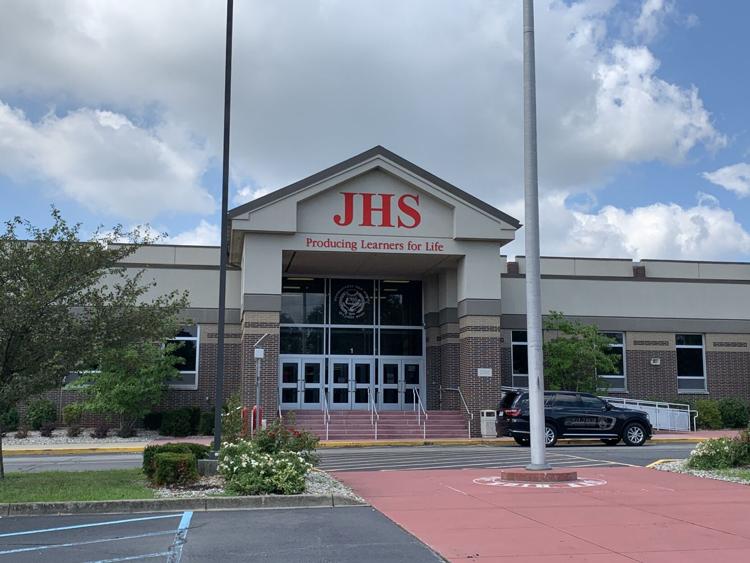 She's also cognizant of the risks presented during a pandemic.
Her daughter, who graduated from Jeffersonville High in the spring, was bedridden for a week after she caught swine flu when she was in the first grade during the 2009 H1N1 pandemic. No one else in the family caught it, Poor said.
"In the event, Lord forbid, one of the kids comes down with COVID, let's hope that it'd be the same," she said. "You self-monitor and you take care of yourself and you get through it and you recover."
As other school corporations prepare to start their 2020-21 school years with a mix of in-person and virtual classes next week, GCCS parents believe their district's reopening plan can be a learning tool for others.
"If there is something that Greater Clark could have done differently, then I think some of these other school districts who start up a bit later can potentially learn … to do something a little bit better than what Greater Clark has done," Hannon said.
Copyright 2020 WDRB Media. All Rights Reserved.