JEFFERSONVILLE, Ind. (WDRB) – As one of the first public school systems to return to in-person classes in Indiana, Greater Clark County Schools Superintendent Mark Laughner understands many people will be closely watching how his 10,000-student district handles classroom learning amid the global COVID-19 pandemic.
"Everybody's anxious to start school, but this is a little extra this year," he said outside the newly opened Franklin Square Elementary School on Wednesday. "We do feel like we have a safe plan in place for our students and staff, and we're ready to get started."
Things will look very different for students, teachers and staff at Greater Clark and school districts throughout the U.S. as the 2020-21 school year begins. Masks, social distancing, contact tracing and regular cleaning schedules will be the norm for those who teach and learn inside schools.
Buses are dropping off kids at Franklin Square Elementary for the first day of classes at @GCCSchools. pic.twitter.com/2HpdKdrHnt

— Kevin Wheatley (@KevinWheatleyKY) July 29, 2020
GCCS drafted overall reopening guidance for the start of the school year, but Laughner left details of back-to-school plans to principals who know their facilities better than most.
"Our particular feeling was that nobody knows that building better than the school principal in terms of how to move students throughout a building for arrival, dismissal, lunch, in the hallways during passing time, and so we asked them to create a very, very detailed plan on how they're going to control student movement throughout their building," Laughner said.
At Franklin Square Elementary, Principal Virenda Cunningham-Lester says classes will generally stay together throughout the day. Signs encouraging social distancing have been posted throughout the schools, and students will always be monitored to ensure they're following the school's guidelines while moving throughout the building.
Special area teachers will also visit individual classrooms rather than having multiple classes in their rooms throughout the school day, she said.
Classes have also been assigned individual recess times, with frequently used equipment sanitized afterward, she said. Students are also given frequent restroom breaks and must sit in assigned seats in the cafeteria as they eat breakfasts and lunches, she said.
In fact, Cunningham-Lester says some younger students at the approximately 275-student school will be required to eat their meals in their classrooms instead of the cafeteria. About 160 families chose to send their children to the school for in-person instruction, she said.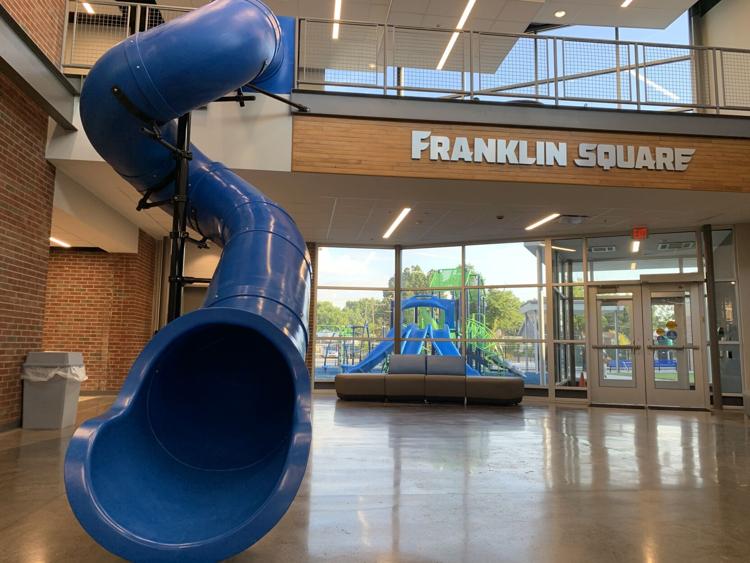 "When we have small-group instruction, the staff is wearing masks and shields if they need to," she said. "But we're still teaching the kids, providing quality education while practicing social distancing."
The increased monitoring will not only help enforce public health guidance inside Franklin Square Elementary, but also allow school staff to assist with contact tracing in case there are positive COVID-19 cases among students and staff.
"That is our way of trying to track and maintain," Cunningham-Lester said.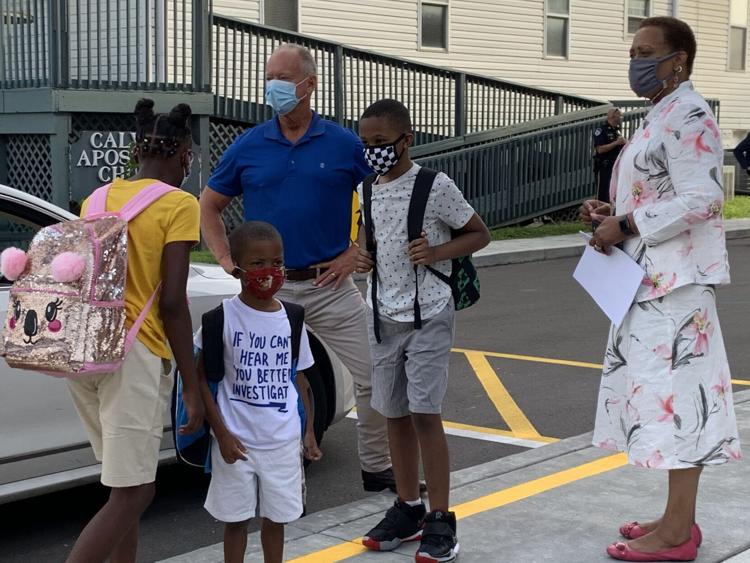 For students in Kentucky and Indiana, many will step into classrooms for the first time since March after the COVID-19 outbreak forced schools to transition to remote learning.
Most GCCS families wanted to send their children back to school for in-person instruction. Sixty-eight percent of parents who responded to a GCCS survey indicated they wanted their children to attend regular classes rather than the two virtual options offered by the district, Laughner said.
"We feel good about those numbers in terms of having right at 68% in our buildings," he said. "That will allow us to do some social distancing within our buildings and classrooms and things like that, so that's a good number for us.
"Where it goes from here, we'll see, but we (feel) good about it."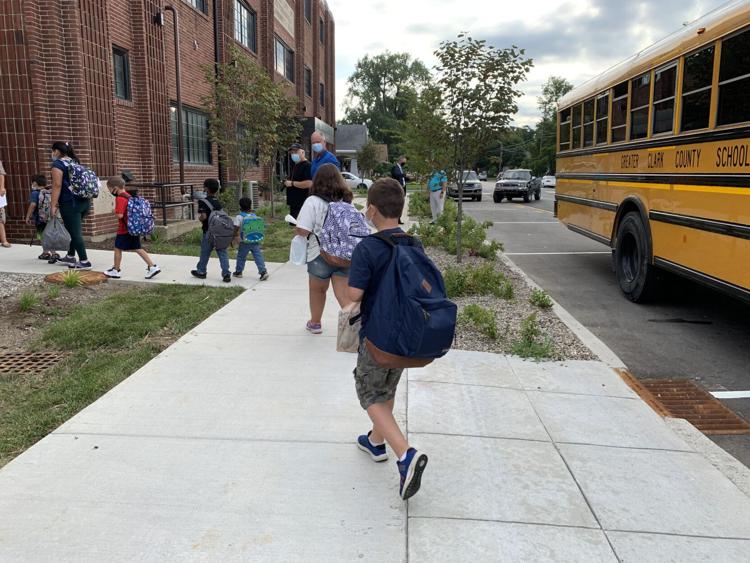 Laughner estimated that bus ridership was down by 50% compared to other school years as parents opt to drive their children to school. Students who ride buses at GCCS have their temperatures screened upon boarding, something that isn't required as they enter schools, and are required to wear face coverings.
"Our bus drivers are going to disinfect the bus before and after routes," Laughner said. "Students are going to have to wear a mask when they get on the bus, and we're going to try to separate them as much as we can on each bus."
If a student or staff member contracts COVID-19, Laughner says the district will immediately notify the Clark County Health Department and begin contact tracing to identify possible exposures.
Some schools may need to transition to remote learning during outbreaks. Jeffersonville High School began the 2020-21 school year virtually Wednesday after a teacher tested positive for COVID-19 and potentially exposed others to the coronavirus.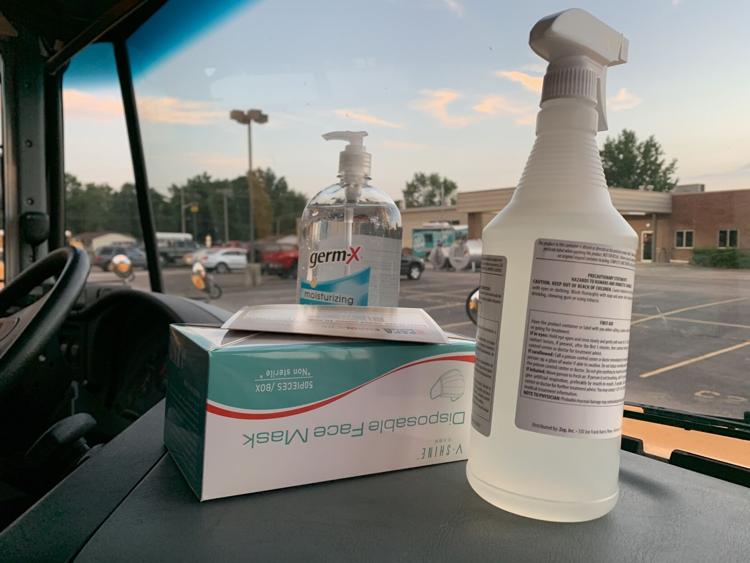 "We're going to follow that every time we have a concern and make sure that we work with the health department on those issues," Laughner said of contact tracing and quarantining.
While most parents wanted to send students back to school, the sentiment wasn't shared as enthusiastically by GCCS staff. Laughner said the district's survey of personnel was split between those who wanted to return to in-person learning and those who preferred starting the school year with distance learning.
Many staff members are "anxious" about returning to school amid the COVID-19 pandemic, he said. On Monday, Indiana Gov. Eric Holcomb's executive order requiring residents to wear masks when they couldn't social distance in public went into effect in response to a recent escalation in COVID-19 cases.
Mark Felix, president of the Greater Clark Education Association, said teachers had asked district leaders to delay the 2020-21 reopening date and allow teachers more time to prepare for the start of the school year, particularly for the two virtual options offered to GCCS families.
Because some staff have health conditions, Felix worries that someone may become "seriously ill" due to COVID-19. He also believes coronavirus outbreaks are "inevitable" but hopes his intuition is wrong.
"We may not be in school very long," Felix said. "I could be wrong, could be completely wrong and we may be able to tough this out, but the science really doesn't back that up."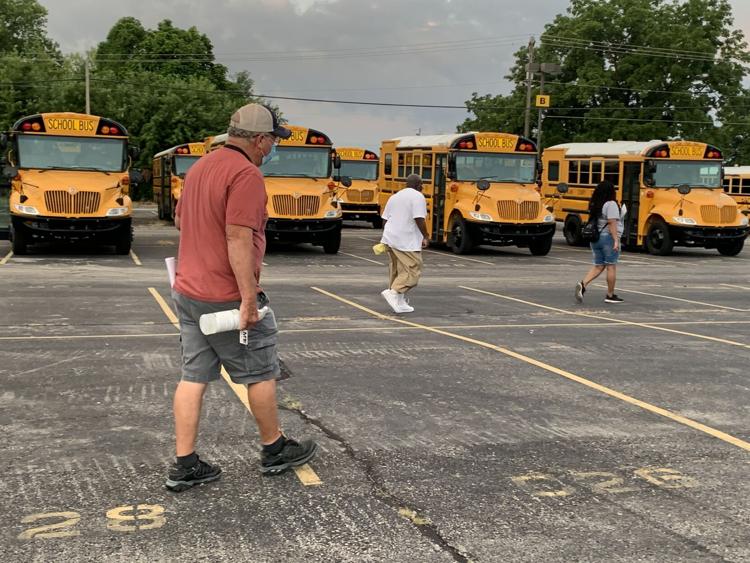 Since Indiana schools have open enrollment and can send their children to any school district, Laughner says he's compelled to follow the desire of his community and offer in-person learning.
Protecting the district's enrollment was among the three top priorities for GCCS for this school year, he said.
"I want to keep everybody safe and that's the number one priority, but the last I want to do is lose enrollment and then possibly have to reduce staff, layoff staff and things of that nature," Laughner said, noting that 45 elementary teachers are working remotely for the district's mySchool Online option.
At the secondary level, teachers must teach both virtual and in-person classes to maintain their certifications, he said.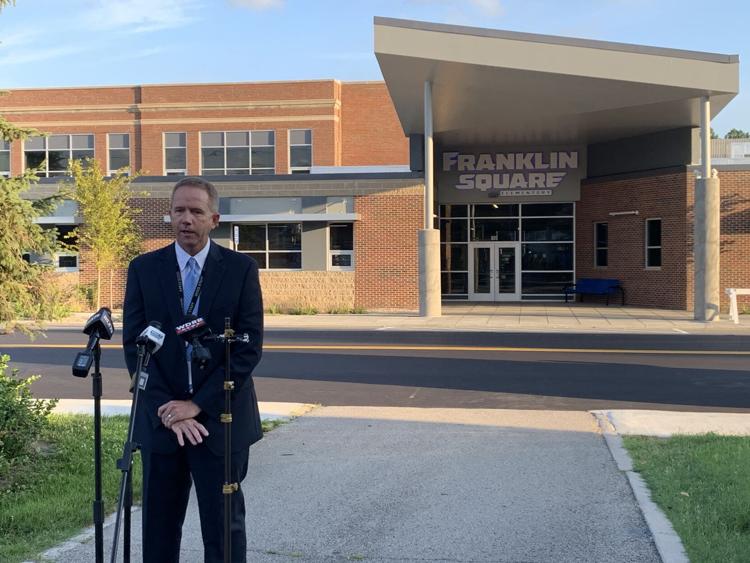 The community's desire for in-person learning is "totally understandable" for Felix given school funding issues associated with enrollment drops.
Still, more consideration could be given to the safety of all involved in the learning process during a global pandemic, he said.
"It's a very, very hard situation to balance, and it just seems like the state of Indiana has put public education in a position where we are the one-stop shop for everything," he said. "Now we're basically becoming a daycare so people can go back to work, and we've always been that, but it was a little bit different situation.
"We've got COVID. We're putting ourselves at risk so other people can go back to work."
Copyright 2020 WDRB Media. All Rights Reserved.