LOUISVILLE, Ky. (WDRB) -- Jefferson County Public Schools Superintendent Marty Pollio will ask the school board to approve his recommendation to continue distance learning until late October if the local COVID-19 caseload improves, he announced Friday.
The Jefferson County Board of Education is scheduled to vote on Pollio's recommendation Tuesday.
"I'm not saying six weeks at this time because I want to give the opportunity for us to be flexible and get back to school as quickly as we can," Pollio said, adding that students could begin returning to classrooms as soon as Oct. 22 with consistent declines in local COVID-19 cases.
"It does put a little pressure on us because we will be voting again several weeks later, but we want to give every opportunity for our children to get back if the cases decline," he said.
The board previously voted to start the 2020-21 school year with at least six weeks of nontraditional instruction, which the district has called "NTI 2.0."
Some board members have expressed concerns about reopening schools to students and staff during the COVID-19 pandemic, and Pollio has said state and local metrics will help determine when JCPS can bring students back to classrooms.
Pollio reiterated that point Friday and said he wanted to see regular declines in the local COVID-19 caseload before schools reopen. He urged those in Jefferson County to follow public health guidance to help students return to schools.
"If we want our kids back in school, we need the cases per 100,000 (Jefferson County residents) to drop," he said. "It's that simple."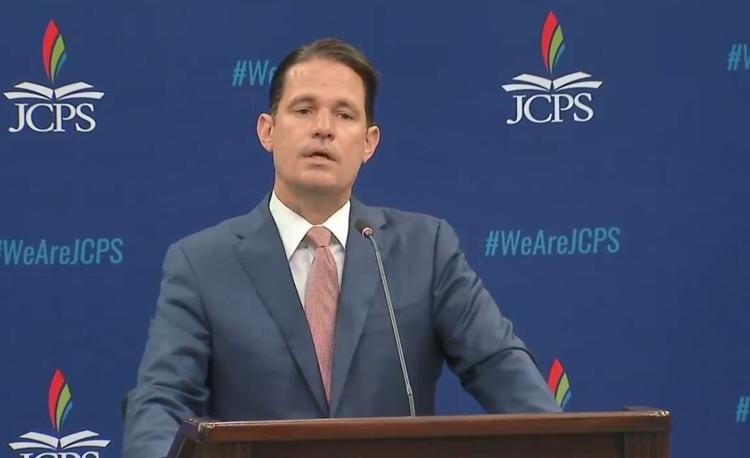 The district plans to gradually phase students back into classrooms, starting with elementary school students on Oct. 22, he said. If the local COVID-19 caseload continues to decline, sixth-grade and ninth-grade students would be allowed back inside schools on Oct. 29, he said.
Pollio said other middle and high school students could return to schools on Nov. 2 and that families will be given a choice between in-person and virtual instruction after Tuesday's board meeting.
JCPS may also assign educators with high-risk health issues to teach in the district's virtual academy, he said.
"Pairing up staff who are high-risk with families who want the virtual option and ensuring that number is correct, that we still have enough staff to support in-person learning is a huge hurdle for us," Pollio said, noting that the district will continue to prioritize health and safety in its reopening plans.
The school board will receive a detailed plan on how JCPS will operate during the COVID-19 pandemic "several weeks" before voting to reopen schools, Pollio said.
"We want our kids back in school," he said. "Every single on of us going into this profession so that we could interact with kids on a daily basis."
The state's new color-coded map tracking daily COVID-19 cases by county combined with the local testing positivity rate will be key metrics in determining when JCPS can safely reopen schools, he said this week.
Jefferson County currently averages more than 16 new COVID-19 cases per 100,000 residents each day over the past week, putting it in the state's "orange" category with other counties averaging between 10 and 25 daily cases per 100,000 residents.
Schools in those counties should consider transitioning to virtual learning, according to state guidance. Jefferson County's COVID-19 testing positivity rate is 5.2% as of Thursday, according to the Louisville Metro Department of Public Health and Wellness.
Pollio said Jefferson County's average daily caseload needs to at least be trending toward the state's yellow phase, between one and 10 new COVID-19 cases per 100,000 residents each day, before schools JCPS can reopen.
Although he said some board members had previously expressed a desire for Jefferson County to be in the yellow phase of the state's color-coded map for two weeks before reopening schools, close might be enough. Pollio noted that such decisions will be up to the school board.
"I think the more important thing is the consistent trend in the community and moving towards that yellow," he said. "... If it goes one week to 9.0 (average COVID-19 cases per 100,000 residents) and let's say the next week 10.1, I think we would have flexibility to say it's close enough for us to return to school."
But two unions representing JCPS employees say Jefferson County needs to be consistently in the state's yellow phase before reopening schools. 
The Jefferson County Association of Educational Support Personnel wants Jefferson County to land in that category for at least 10 days before the district reopens schools.
"Actions taken to return to in-person instruction cannot be hurried, as thousands of young and adult lives and long-term health effects will be determined by that decision," JCAESP and AFSCME Local 4011 President Sue Foster said in a statement.
JCTA President Brent McKim said in a statement before Pollio's announcement that he wants to see a two-week decline in the state's yellow phase followed by a two-week notice that schools will reopen.
Teachers should also have two days to prepare for a return to classroom instruction before students return, he said.
"Any discussion of returning in-person as early as some specific date absolutely must very clearly indicate that any return to in-person student learning must, at the very least, follow the guidance from the state by not returning while Jefferson County remains in the orange category," McKim said in his statement.
Some parents were also dismayed by Pollio's announcement that nontraditional instruction will continue for at least another month.
"To see my 6-year-old anxious and depressed and frustrated is heartbreaking," said Sara Hagan, whose son is a JCPS first grader.
Hagan and her husband work full-time jobs, which require 12-hour days during this time of the year, she said, so they enrolled their son in a nontraditional instruction camp.
"We're paying over double our normal child care for him to be taught," she said. "My husband and I are on calls all day, and we don't have the ability to do that."
Julie Ciriano, a Louisville-based therapist and JCPS mom of three said she has concerns about prolonged distance learning.
"I'm worried about increased depression, anxiety, and isolation," she said. "... I was hoping that they would present a plan to give parents a choice of what would be best for their family. I want my kids to go back to school."
Transporting students to and from schools will be a "major hurdle" and "significant challenge" for Kentucky's largest school district, Pollio said. State guidance requires students to wear masks while riding school buses.
"We will have enough bus drivers, but we are always hiring for bus drivers," he said.
Copyright 2020 WDRB Media. All Rights Reserved.