FRANKFORT, Ky. (WDRB) -- The Kentucky General Assembly voted Wednesday to override Gov. Andy Beshear's veto of legislation banning transgender females from competing in women's sports in middle school through college.  
The Senate voted 29-8 to send Senate Bill 83, sponsored by Republican Sen. Robby Mills of Henderson, to the House for further consideration of Beshear's veto. The House later voted 73-23 to reject the Democratic governor's veto, making the measure law.
Beshear vetoed the measure April 6, saying he shared concerns with governors of Utah and Indiana such legislation would prompt lawsuits claiming equal protection violations "because it discriminates against transgender children seeking to participate in girls' or women's sports."
Despite the possibility of legal challenges on the horizon cited by Beshear, the Senate rejected the governor's veto.
"The General Assembly stands in support of female athletes all over the state of Kentucky and everywhere in this nation, and we want to encourage their hard work and achievements and pushing for their goals and dreams in the future," Mills said of SB 83, dubbed the "Fairness in Women's Sports Act."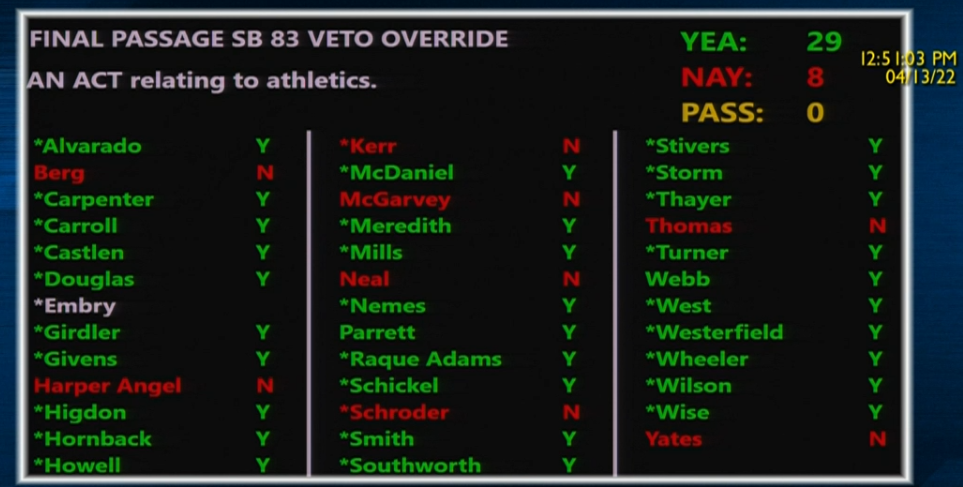 Mills brought University of Kentucky swimmer Riley Gaines, who has attracted national attention after finishing in a fifth-place tie with Lia Thomas, a transgender swimmer for the University of Pennsylvania, in the women's 200-year freestyle at the NCAA championships in March.
"Having lived through from the origination of Title IX till now, I'm going to protect Title IX and its intent and the opportunity for women in athletics," Sen. Robin Webb, D-Grayson, said in support of SB 83.
The U.S. Department of Education is expected to finalize a regulation soon that would make discrimination against transgender students a violation of Title IX, according to reports.
Opponents of SB 83 said the legislation would have not impacted NCAA competitions and instead punishes transgender youths who want to participate in school sports.
Sen. Karen Berg, D-Louisville, called SB 83 "politically motivated."
"There's been a number of my colleagues who have stood up today and talked about how important student athleticism and being able to participate in student athletics is to growth and development," she said. "You are talking about children who have the highest propensity for suicide of any group."
"We have an opportunity to send a message as a body that these kids matter, that we care, that we care about their mental health," said Rep. Lisa Willner, D-Louisville. "We care about their trauma."
The Family Foundation praised the legislature's decision to override Beshear's veto of SB 83. David Walls, the group's executive director, said the governor "turned his back on girls in Kentucky" with his decision.
"Female athletes deserve a fair and level playing field," Walls said in a statement. "As we have increasingly seen, when males are allowed to compete in girls' sports, they take championships, recognition, and opportunities that belong to female athletes. Thankfully, with SB 83 becoming law, girls in Kentucky can know they have a fair opportunity to compete and take advantage of sports opportunities meant for them."
The American Civil Liberties Union of Kentucky said SB 83 "is rooted in hate and unconstitutional." The bill could also jeopardize colleges' and universities' participation in NCAA competition, ACLU of Kentucky spokesman Samuel Crankshaw said in a statement.
"Trans kids, just like all kids, simply want to participate in the activities they love, including athletics," Crankshaw said.
"Trans students participate in sports for the same reasons other young people do: to challenge themselves, improve fitness, and be part of a team. Excluding trans students deprives them of opportunities available to their peers and sends the message they are not worthy of a full life."
Related Stories:
Copyright 2022 WDRB Media. All Rights Reserved.