LOUISVILLE, Ky. (WDRB) -- As Officer Katie Crews advanced toward David McAtee's BBQ shop last June, under orders to disperse a crowd at 26th and Broadway, she saw a woman standing in the doorway refusing to go inside. Crews then fired pepper balls at her and the business.
The Louisville officer's account, given later to police investigators and obtained by WDRB News, and surveillance video raise questions about whether she violated internal department policies that permit chemical agents like pepper balls when officers believe "a degree of force is necessary to overcome actual, or anticipated, resistance by the suspect."
"She was standing in, I don't want to say, an aggressive manner, but as a manner that she was not going to go inside," Crews said of McAtee's niece, Machelle, who was working at YaYa's BBQ that night.
"After giving verbal commands, I did shoot more pepper balls in her direction," Crews told investigators in a June 5, 2020 interview. "She still refused, so I did shoot off more non-lethal pepper balls in her direction."
Video shows that as Machelle McAtee is pulled inside by David McAtee, he leans out the door and fires a bullet. When he reaches out and fires again seconds later, Crews, LMPD Officer Allen Austin and two members of the National Guard returned fire, 18 shots in total.
Attorneys for McAtee's family say Crews initiated the sequence of events leading to McAtee's death, shooting pepper balls at people in front of YaYa's, forcing them to run inside the restaurant's kitchen door and then continuing to fire, hitting McAtee's niece multiple times.
An unidentified guardsman fired the only bullet that struck and killed McAtee, 53. He was shot once in the chest. The investigative files obtained by WDRB did not contain any interviews with members of the National Guard.
At the time Crews initially began moving toward YaYa's, she said she fired an initial pepper ball at the ground, sending people rushing inside the business, crowding the doorway.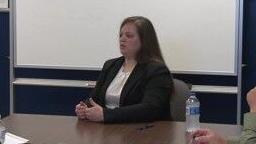 Machelle McAtee appears to have her hands behind her back leaning against the door as initial shots were fired. 
Machelle McAtee told VICE News she didn't hear any verbal commands from Crews and she was on private property. The videos, first reported by VICE, do not have audio.
"We're not on the sidewalk, we're not on the street," she told VICE. "I was blindsided."
She can be seen on surveillance video standing in YaYa's doorway ducking inside as pepper balls hit her and explode in puffs of smoke around her. Crews continues moving onto the property firing repeatedly from just feet away.
Police had arrived at the scene only a few minutes earlier.
Machelle McAtee was hit multiple times, her head and black shirt both splotched with white powder, according to police body camera videos obtained by WDRB.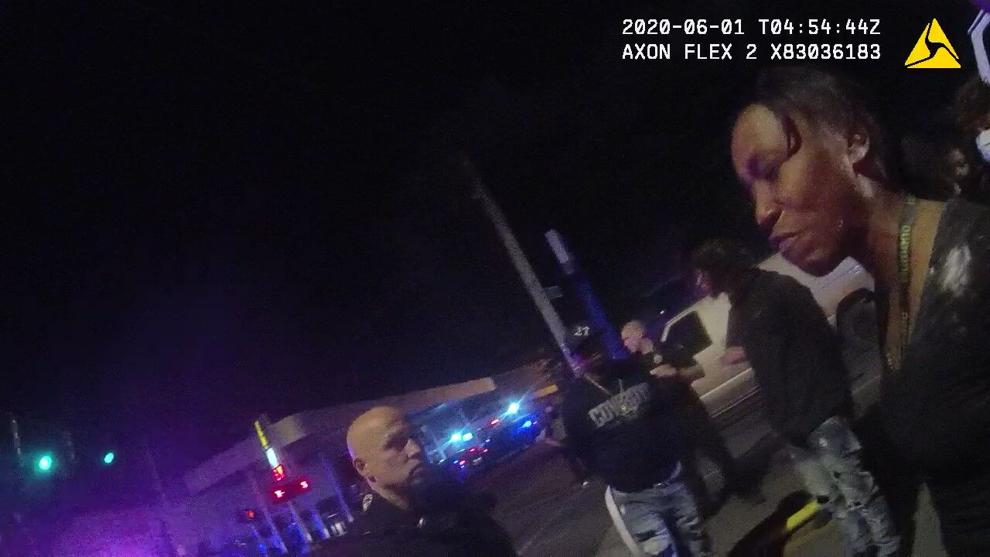 David McAtee's family and attorneys say he didn't know who was shooting at his restaurant and fired up in the air, not at officers. Police have said McAtee fired at officers. Available video is inconclusive.
"I noticed she got pulled into the building by her arm and all in the same motion that is when I seen a Black male that had white on his shirt come out and … saw the muzzle flash of a gun being shot at us," Crews said.
Austin told investigators he turned to see Crews "taking fire. I could see the round sparking, I guess you could say, off the ground and the smoke that it gives off. So I knew exactly where the shots were coming from."
LMPD and Kentucky State Police, which also investigated the shooting, have both declined requests under Kentucky's open records law to release their work. Both are complete.
WDRB obtained part of LMPD's investigation, including interviews with Crews and Austin, dozens of police body cameras capturing the scene after the shooting, hundreds of pictures and multiple calls to 911.
Police have released footage from street cameras operated by LMPD's Real Time Crime Center.
Immediately after David McAtee is shot, as Machelle McAtee is being detained, she yells at officers, "That's my uncle in there," according to LMPD body cam videos. "My uncle is in there dead!"
In a 45-minute interview with LMPD Sgt. Jeremy Ruoff with the department's Public Integrity Unit and Kentucky State Police Sgt. Gabe Welch, Crews acknowledges shooting Machelle McAtee with pepper balls - even though she was standing in the doorway of a private business.
LMPD standard operating procedure authorizes pepper ball use to move a disorderly or unlawful crowd but prohibits officers from aiming at a person, requiring shots be fired at the ground or above people.
"Officers should not aim pepper ball munitions at the body of an individual unless the individual is presenting a safety threat to the officer or another person or is engaged in arson or serious property," according to the procedures.
Officers are also required to give people a reasonable time to comply with orders to disperse.
Crews said that while other people were running into YaYa's, Machelle McAtee "was not compliant to my verbal commands so I did send off more pepper balls in her area."
When she still didn't comply, Crews said, "I did shoot more that did strike her."
In his interview, Officer Austin said he never fired any pepper balls.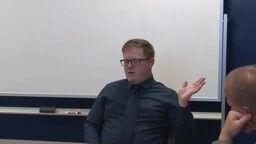 "Three nights I had it, I never used it," he said.
In the body camera videos obtained by WDRB, several people on scene that night or in YaYa's question police about their tactics.
While sitting in the back of an officer's cruiser, one of the men who was in YaYa's at the time of the shooting told police pepper balls were being fired at people while they ran in the business, according to video.
Machelle McAtee was standing at the door "getting lit up by them pellets," the man told the officer. "There's no way in Hell you all should have let this happen."
And another man yelled at officers, "You all shot at us first for nothing!" according to police body cam videos. "That's why everybody ran into the building. You all shot us first. … We didn't do nothing."
Investigators did not ask Crews why she fired pepper balls at a woman standing in the doorway of a business on private property or continued firing as people took cover in YaYa's.
Maj. Paul Humphrey, commander of LMPD's training division, said during a news conference shortly after the shooting that it wasn't clear what drew officers to McAtee's business, across the street from Dino's.
He said it appeared officers were "addressing some individuals" near McAtee's business after they were first on the Dino's Food Mart lot trying to clear a crowd. The city had a 9 p.m. curfew at the time and had called in the National Guard following days of protests about the fatal police shooting of Breonna Taylor, a 26-year-old unarmed Black woman, and the May 25, 2020 death of George Floyd while in police custody in Minneapolis.
"As the officers are addressing those individuals, Mr. McAtee appears to fire at the officers, and they take cover and return fire," Humphrey said. "But without the audio and without having interviewed the officers yet, that is yet to be determined, exactly how those incidents occurred."
In her interview with police, Crews did not say that officers were threatened by anyone at YaYa's before she started shooting pepper balls.
A lawsuit filed on behalf of McAtee's mother accuses law enforcement of making a series of escalating mistakes, including firing pepper balls at fleeing citizens on private property, trespassing, turning off body cameras and using deadly force without justification or warning.
"Police fired first into his home with no warning," attorney Steve Romines, who represents McAtee's family, tweeted in the days after the shooting. "LMPD's effort to smear David by releasing selected clips and alleging he was the initial aggressor only makes their actions more egregious[.]"
Body cam an afterthought
LMPD and the state National Guard were dispatched to Dino's Food Mart at 26th and Broadway a little after midnight on June 1.
Crews said officers were clearing the area because at the time there was a 9 p.m. curfew.
"Whenever people were not going inside the building or making an effort to move, I did shoot off one round of non-lethal pepper ball onto the ground," she said.
After she shot pepper balls at people and into the business, McAtee shot his weapon and Crews returned fire.
"In that instance, in fear of my life and for everybody else behind me, that's whenever I decided to return fire, Crews said. "I did not stop shooting until the threat was neutralized."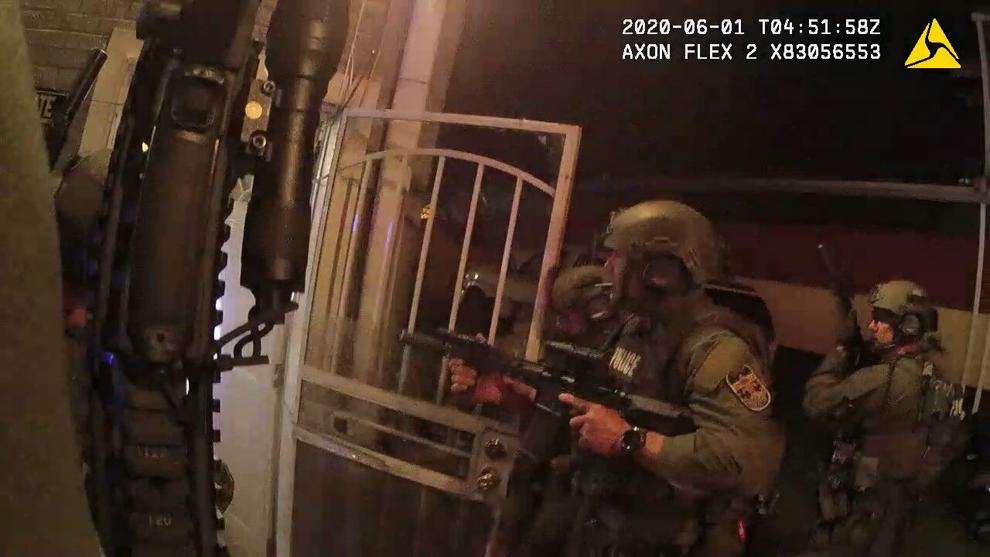 In her interview, Crews said "tensions were high" but "most people" were complying with orders to disperse.
Mayor Greg Fischer fired LMPD Chief Steve Conrad when he learned that Crews and Austin, among other officers, had no body camera footage of the McAtee shooting.
In her interview, Crews said she had a body camera with her but "with the totality of everything going on in general, that just did not cross my mind."
She said she had taken it off to put on riot gear and then forgot to replace it.  
"That's the last thing to cross my mind," she said. "With everything going on, I just wasn't thinking of putting it back."
Officer Austin told investigations his riot gear prevented him from wearing his body cam.  
McAtee was inside his home and business grilling. At the time, there had been four nights of protests over Taylor's March killing by Louisville police.
According to the lawsuit filed by McAtee's family, people were "not protesting, vandalizing or looting" when police and guard members "swarmed" the area in unmarked vans and armored vehicles and began yelling for people to leave.
An analysis of the bullet fragments recovered from McAtee's body show they were fired from a guard member, but investigators have not been able to identify which rifle they came from. He died from a single gunshot wound to the chest. 
Two shell casings from a 9mm pistol were found near the doorway of the business, one inside and one outside.
Police have released surveillance video of the shooting they say shows that McAtee fired a gun before officers returned fire. 
McAtee was wearing a gun holstered on his right hip. The lawsuit claims police had in the past told him he needed to carry a weapon to protect himself and his business. 
Romines has said McAtee was firing warning shots into the air. 
McAtee and his niece had committed no crime or disobeyed any commands from law enforcement, the suit says.
Also, before the shooting, Crews had "publicly stated her desire to inflict harm on protesters "in a social media post, according to the lawsuit.
Crews posted a photo on social media of a protester putting flowers up to her chest and wrote, "She was saying and doing a lot more than 'offering flowers' to me. Just so for it to be known. For anyone that knows me and knows that my facial expression tells everything. P.S I hope the pepper balls that she got lit up with a little later on hurt. Come back and get ya some more ole girl, I'll be on the line again tonight."
The Facebook post is included in the lawsuit, which said that "tragically, Crews' aggression and desire to inflict harm on others was taken out on David McAtee and his niece."
Crews was placed on administrative reassignment while under investigation. She is still on administrative leave, according to her attorney, Steve Schroering.
He declined to comment for this article.
The night of the McAtee shooting, police had fired flash bang grenades and tear gas at protesters in Jefferson Square Park and were, the suit says, "amped up, armed to the hilt, and still spoiling for a fight" when they arrived at 26th and Broadway. 
Members of the guard were not supposed to make arrests or fire their weapons without instruction from commanding officers, the suit claims. The National Guard hasn't identified the two members involved in the shooting.
After McAtee was killed, police left his body on the ground at the scene for more than 12 hours, which is not typical procedure, the suit says.
Copyright 2021 Media. All Rights Reserved.