LOUISVILLE, Ky. (WDRB) – A nationally regarded civil rights lawyer said Monday that a man who received a controversial pardon by former Gov. Matt Bevin was wrongfully convicted after misconduct by Kentucky State Police, who allegedly ignored evidence and a different suspect.
Patrick Baker, who was convicted of killing a man during a home invasion in Knox County in 2014, was one of hundreds of people Bevin pardoned in his final days in office earlier this month. 
The pardon has drawn national scrutiny because Baker's family raised $21,500 for Bevin at a political fundraiser last year. Baker's two co-defendants are still in prison.
Bevin wrote in the December 6 pardon that the evidence against Baker was "sketchy at best." In fact, Baker's lawyers said Monday that DNA left at the scene exonerates him.
Chicago-based attorney Elliot Slosar, who has a track record of overturning convictions, said Baker's relatives have been "unfairly attacked and accused of 'paying' for a pardon. Nothing could be further from the truth."
Baker, 41, said in a prepared statement on Monday he is "grateful for the courageous actions of Governor Bevin."
"After being presented with evidence of my innocence and allegations of misconduct against the police officers in my case, he gave me a chance to have my life back," Baker said in the statement provided by Slosar. "I hope that the true killer of Donald Mills is ultimately apprehended and that the Mills' family gets closure in the end by having the right person in prison. I did not kill Donald Mills and my family did not pay for my release."
Knox County Commonwealth's Attorney Jackie Steele, whose office prosecuted Baker, did not immediately respond to a request for comment on Monday.
Slosar attacked the credibility of the troopers who investigated Baker, saying they have been named in two federal wrongful conviction lawsuits and have "made startling admissions" of misconduct in unrelated cases, including giving false grand jury testimony and falsifying search warrant affidavits.
In the Baker case, Det. Bryan Johnson and Det. Jason York were told that the shooter had brown eyes and a tattoo on his bicep, according to Slosar.
"Mr. Baker had neither," Slosar said. "These officers further developed evidence implicating an alternate suspect who matched the details provided by the eyewitnesses. The alternate suspect was never charged."
Allegations of previous misconduct by detectives Johnson and York were brought up during Baker's 2017 trial. Baker's then-attorneys asked the judge to force prosecutors to turn over evidence of misconduct by the detectives in other cases, according to court records.
The defense attorneys claimed Steele was "fully aware of the allegations of improprieties" of the detectives and had failed to turn the information over, as required.
"There has never been an investigation into the two of them in relation to the Baker case because there have been no allegations of misconduct in that case," said Kentucky State Police spokesperson Sgt. Josh Lawson. "That conviction was appealed to the Kentucky Supreme Court and the appellate court upheld the conviction." 
Slosar has taken on several high-profile wrongful conviction cases in Kentucky. He secured $7.5 million for Kerry Porter, a Louisville man who spent 11 years in prison for a murder he didn't commit.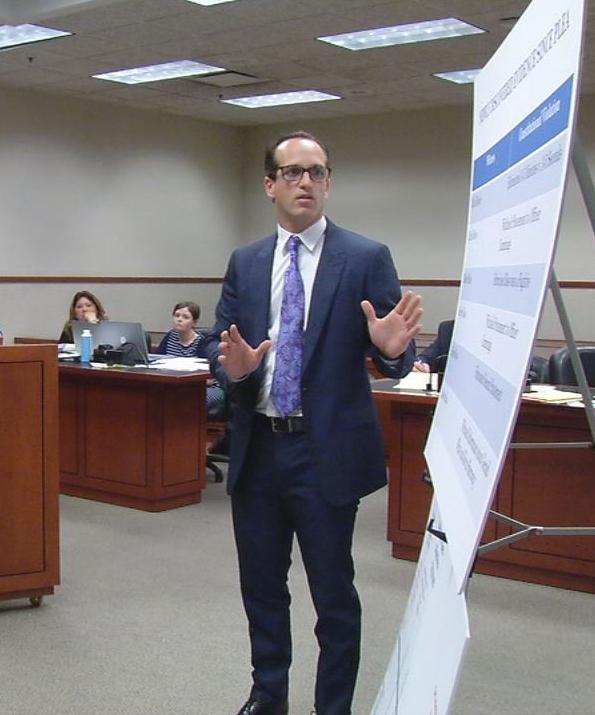 Slosar and his Chicago-based firm, Loevy & Loevy, are calling for a criminal investigation of the troopers. Slosar wouldn't comment on Monday about his next steps, but he has scheduled a news conference for Tuesday afternoon in Lexington.
Because of the "close relationship between the local prosecutors and law enforcement" in Knox County, Slosar said he is asking Gov. Andy Beshear to authorize the attorney general's office to conduct the investigation.
Slosar said the detectives are still with the state police despite admissions of misconduct. Both were sued last year and accused of framing two people in Knox County for the murder of a woman in 2010.
In the lawsuit, which is unresolved, Cousins Amanda Hoskins and Jonathan Taylor claim the two troopers "knowingly initiated false charges" against them and fabricated evidence in the case.
Hoskins and Taylor spent eight years in prison in connection with the murder of Katherine Mills of Flat Lick, Ky., before the charges against them were dismissed, according to the complaint.
In a separate case, York is accused of framing William Anderson in the 2016 murder of Bobby Wiggins. His body was found in 2011 in Bell County. Anderson's co-defendant pleaded guilty to killing Wiggins.
An audio recording of part of one of the interrogations in that case appears to show York screaming at a witness to back off of a story that Anderson was with him at the time of the murder. Slosar provided the recording to WDRB News.
 "I'm going to put you in f---ing prison, you god ---- lied to me. I'm so sick of this f---ing --- damn bull----," York screams in the recording as it sounds like he breaks something. "F--- you, f--- you, f--- you! Let's put his ass into f---ing jail."
Anderson was acquitted in 2016 of the murder.
The Courier-Journal first reported last week that Baker's family raised $21,500 at a political fundraiser last year to retire debt from Bevin's 2015 gubernatorial campaign. In addition, Baker's brother and sister-in-law gave $4,000 to the campaign, the newspaper reported.
Slosar said in the statement that the Baker's support of Bevin's reelection campaign was "neither illegal nor unethical. Above all else, it was unrelated to Patrick's wrongful conviction."
Baker was convicted of reckless homicide, robbery, impersonating a peace officer and tampering with evidence. He was two years into a 19-year prison sentence when Bevin pardoned him.
In his pardon, Bevin said Baker had made "a series of unwise decisions in his adult life" and that his drug addiction "resulted in his association with people that in turn led to his arrest, prosecution and conviction for murder."
"I am not convinced that justice has been served on the death of Donald Mills, nor am I convinced that the evidence has proven the involvement of Patrick Baker as murderer," Bevin wrote.
Two Democrats singled out Bevin's pardon of Baker during a press conference last Friday.
Sen. Morgan McGarvey of Louisville and Rep. Chris Harris of Forest Hills in Pike County called on incoming Attorney General Daniel Cameron to appoint a bipartisan team of special prosecutors to investigate whether the political donations influenced Bevin's decision.
"The two who are accused of being accomplices are sitting in prison for 50 years right now," McGarvey said last week. "The person who pulled the trigger and killed another human being is free. That person's family raised $21,000 that went directly into the governor's pockets, and when he issued this pardon on his last day in office, he didn't notify the victims, the other defendants or the attorneys involved."
Bevin appeared at the July 2018 fundraiser at the home of Eric and Kathryn Baker, according to a photo published by the News Journal in Corbin.
Bevin defended his actions on Friday, saying in a series of tweets that he spent hundreds of hours reviewing each application for pardons and commutations. He said any question of his motives is "highly inappropriate and irresponsible."
"The myriad statements and suggestions that financial or political considerations played a part in the decision making process, are both highly offensive and entirely false," Bevin wrote on Twitter. "To repeat such uncorroborated rumors and lies is reprehensible."
In an interview with The Courier-Journal published Sunday, Bevin called the Baker conviction "a remarkable miscarriage of justice" and mentioned the allegation that the killer's physical description differed from that of Baker.
Bevin issued 284 pardons and 419 commutations in his final days in office, according to online records from the Kentucky Secretary of State's office.
Besides the controversial pardon of Baker, the former governor also has faced criticism for pardoning a family friend charged with trying to hire a hit man to kill ex-husband and his new wife and a convicted child rapist who was sentenced to 23 years in prison last year for raping a 9-year-old girl in Kenton County, Ky. 
Kentucky Sen. Chris McDaniel said last week that he will introduce a constitutional amendment in the upcoming Kentucky General Assembly that would eliminate a governor's pardoning abilities during the month before an election and until a new governor is sworn in.
McDaniel, a Republican from northern Kentucky, said in a statement that Bevin's pardons make it clear that reform is needed.
"If a governor wants to use the power to commute and pardon, he should be willing to stand in front of the voters and be held accountable for those actions," he said.
State lawmakers from both parties have called for a federal probe into Bevin's pardons. Kentucky Senate President Robert Stivers called on the U.S. Attorney's office to open an investigation.
"From what we know of former Governor Bevin's extreme pardons and commutations, the Senate Republican Majority condemns his actions as a travesty and perversion of justice," Stivers said in a statement Friday. "Our citizens, and especially the crime victims and their families, deserve better."
Copyright 2019 WDRB Media. All rights reserved.