LOUISVILLE, Ky. (WDRB) – Tami Charles and Donnie Bridges are looking for their new normal after their 10-year-old son Seven, their only child, committed suicide Saturday.
Charles, who found her son hanging in his closet after returning from the grocery around 10:30 a.m., said the family "absolutely" plans to take legal action against Jefferson County Public Schools, saying Seven was a victim of repeated bullying at Kerrick Elementary and on the school bus.
"JCPS: You all failed my baby," an emotional Charles said during an interview Monday.
JCPS Communications Director Renee Murphy, who declined to comment on any litigation that might be filed, said the district will "launch a full investigation" into how any complaints raised by Seven's family were handled.
"We are devastated by this," Murphy said. "Our hearts are breaking for this family. The school community is hurting right now."
A crisis team will be on hand Tuesday as Kerrick students and staff return from Martin Luther King Jr. Day, Murphy said.
Seven was born with a bowel condition and endured 26 surgeries as doctors unsuccessfully tried to fix the issue, Charles said. Kids at school and on the bus would often make fun of the smell that stemmed from his condition, she said.
In August, Charles says Seven, a fifth grader who was set to attend the W.E.B. DuBois Academy when he entered middle school next school year, was choked and called a racial slur while riding the school bus, and since he nearly lost consciousness and complained of dizziness afterward, she took him to the hospital for a CT scan.
The district eventually opened an investigation into the incident after Charles says she raised the issue to JCPS administrators. It's unclear whether the student who attacked Seven was disciplined. Murphy declined to comment on the outcome of that incident.
"We can't get into student discipline at this time, and again, we're going to be reviewing everything to see how we handled things on our end," Murphy said.
Charles and Bridges say their son never raised his fists or said a cross word in response to the physical and verbal harassment he faced.
"Seven knew the Lord," Bridges said. "He knew right from wrong. We instilled that in him at a young age. He went to church."
"He couldn't fight back," Charles said. "He didn't know how to hurt you. He had no malice, none, and I'm just looking at him like, 'Are you even my child?' Because I would've gave that little kid a two-piece and a biscuit.
"But he didn't have that in him. All he did was pray for the boy."
In the weeks leading up to his death, Charles said her son was uncharacteristically melancholy and seemed depressed.
After she pressed school and district officials for action following the choking incident, Charles said Seven was ostracized by students and some teachers at Kerrick. He was labeled a "snitch" by some of his classmates and some teachers "started treating him differently," she said.
"Because I was so aggressive in advocating for him, they started to act differently toward him," Charles said.
About three weeks before he took his own life, Charles and Bridges found him crying uncontrollably in his bed. Seven, Charles said, told them that he had tried to "let the past be the past" but his old friends continued to push him away.
"We cried that night," she said.
Charles never once suspected Seven, who was fitted for braces last week and had been growing his hair out, would commit suicide. She burst into tears while watching videos of Seven, dressed as the Marvel comic book character Wolverine, excitedly exploring SuperCon at the Kentucky International Convention Center last month.
Across the country, the number of suicides has climbed steadily in recent years. Since 1999, the suicide rate has jumped 30 percent and is the second-leading cause of death for those aged 10-34, said Megan Barnett, chair of the Kentucky chapter of the American Foundation for Suicide Prevention.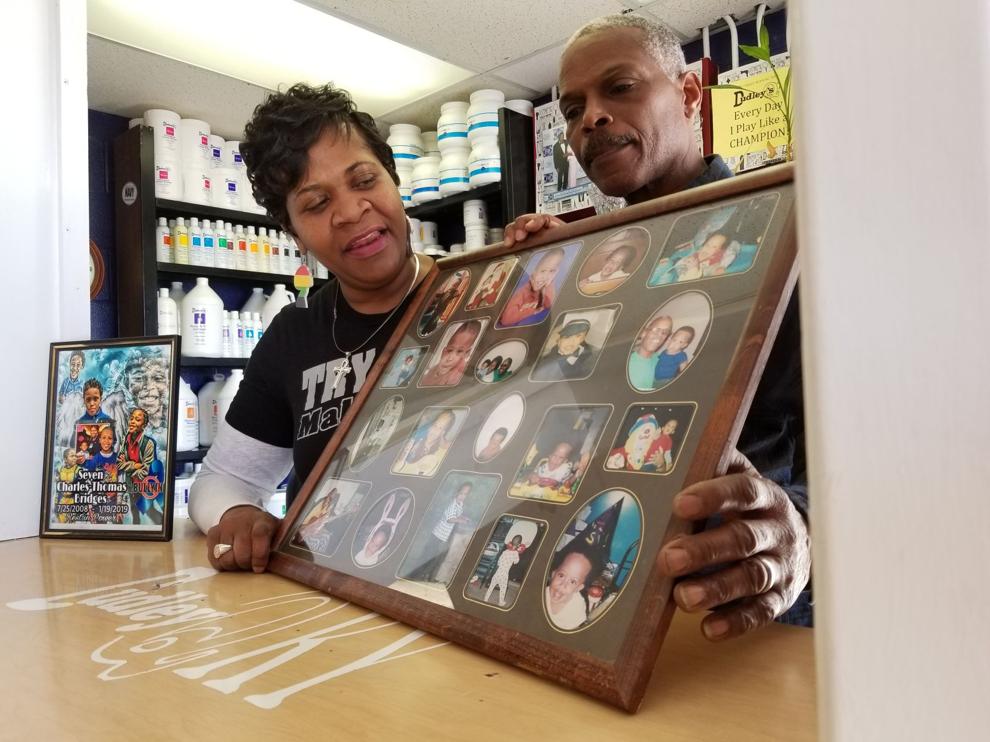 Barnett said bullying can be just one factor that comes into play when someone decides to end their life.
"So often with bullying being involved in suicide, we tend to oversimplify it and create a simple cause and effect scenario, but it's always a combination of factors that lead to a suicide death," she said.
"While children who are involved in bullying, whether they are being bullied or bullying others, they are at an increased risk of suicide, and we need to get that population connected with mental health services," Barnett added.
Murphy said a number of resources are available for JCPS students and parents who are concerned about bullying or suicide, such as speaking with a mental health counselor.
"We can connect them to services, and there is help," she said. "We do provide help. We take bullying very seriously."
Charles says that advocating against bullying will likely be in her future after losing Seven. She's heard from a number of parents on social media whose children have been victims of bullying.
"It seems like it's driving to that," she said.
Her family has set up a GoFundMe page with a $60,000 goal to assist with funeral expenses, lost wages and legal aid.
Related Content:
Reach reporter Kevin Wheatley at 502-585-0838 and kwheatley@wdrb.com. Follow him on Twitter @KevinWheatleyKY.
Copyright 2019 WDRB Media. All Rights Reserved.