LOUISVILLE, Ky. (WDRB) -- A bill moving in the Kentucky legislature would let thousands of police officers, judges and other elected and appointed officials — including Gov. Andy Beshear and Attorney General Daniel Cameron — remove some personal information from public records.
Senate Bill 63, sponsored by Republican Danny Carroll of Benton, passed the Senate in February on a mostly party line vote and now awaits action in the House of Representatives.
Carroll said the measure is "designed to protect the personally identifiable information of members of the criminal justice system," from federal judges to police officers to elected prosecutors and circuit court clerks, as well as their spouses, children and other immediate family members.
It's warranted, he argued, because of an increase in threats to federal judges and a rise in intentional killings of police officers in the line of duty.
But opponents, including open government advocates and representatives of the state's news media, contend the bill duplicates existing protections and creates a host of challenges for public agencies. Those concerns are echoed by some organizations and officials whose offices routinely handle real estate documents that would be subject to redactions or removal.     
An analysis by the nonpartisan Legislative Research Commission says the bill could prevent local governments from selling unpaid tax bills to third-party collectors and publishing information about delinquent taxpayers. The legislation also could "increase duties in already understaffed offices" of county clerks and other local record keepers.
"I think this bill is probably way too broad," said Bobbie Holsclaw, the Jefferson County Clerk, whose office lists delinquent taxpayers online and has a vast internet database of land records, ranging from mortgages to property liens.
Holsclaw, a Republican, said the bill would surely increase her office's workload, especially "in a county this size."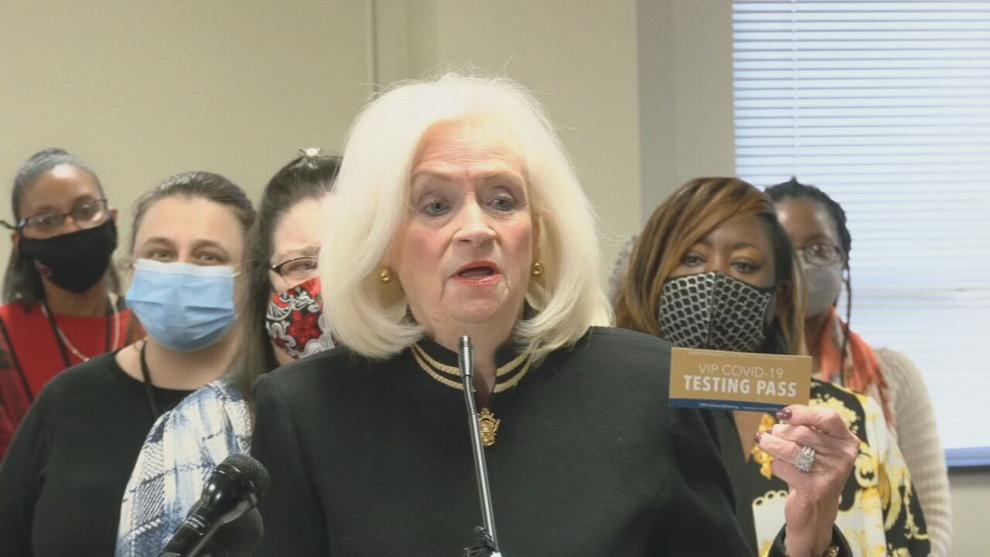 A similar bill passed both chambers of the General Assembly last year but was vetoed by Gov. Andy Beshear, a Democrat, after the session ended. That gave the GOP-dominated legislature no chance to override the governor's veto. Beshear wrote in his veto message in 2021 that state open records law already provides some of the privacy protections in the bill, which he said could impair the operations of public agencies.
SB 63 creates 11 categories of "public officers," allowing them and their immediate family members to request that information such as addresses on property tax records be withheld from public view. Estimates attached to the bill assume that at least 38,000 public officers alone would qualify.
The public agency getting the request must redact or remove the data within three days or explain why it's not possible. The bill also lets the public officers sue anyone who "disseminates" their or their immediate family members' personal information in an effort to influence an action or harass them, among other motivations.
Former Kentucky attorneys general, like Beshear, as well as Cameron, the current office holder, could ask for information to be kept out of the public domain. Current and former county attorneys also would be eligible, as would current, former and retired elected jailers and commonwealth's attorneys.
The bill would amend the state's open records law — which already lets public agencies deny requests they deem an "unwarranted invasion of personal privacy" — to solidify those protections. But it also would apply to data already available on government websites and in deed rooms across Kentucky. At the request of a public officer, agencies "shall not post, re-post, publish, or otherwise make known" that information.
William "Mack" Bushart, executive director of the Kentucky Property Valuation Administrator's Association, said in an interview in February that he was still trying to understand the bill's implications. But he believes it would likely require changes to software used by local officials.
The bill provides no funding.
"I know we'd have to take things off the internet," Bushart said. "You know, there are some places where we have tax information, tax roll information on the internet. So that would have to be redacted."
Fayette County Clerk Don Blevins Jr. said SB 63 would create several challenges for his office, which oversees voter registration and vehicle information, as well as land records like deeds and mortgages. All three departments have their own software systems and storage practices, he said.
Blevins said he also would likely purchase new software that allows for redactions. But he said it's not clear how to comply with requests to redact certain paper records, such as those with addresses, that are now publicly available.
"Modification of existing documents is a big 'no-no' in county clerk land," Blevins said. "So that's another one of the questions I would have for how to practically do this. There's book after book out here in my vault with these in them."
The bill says public agencies can refuse to redact or remove information when it is "not practicable."
And it would allow agencies to use unredacted information "to perform the routine functions of the agency or routine functions necessary to complete business transactions between consumers when the transaction involves a public officer or his or her immediate family members."
Carroll did not respond to phone and email messages seeking comment, including about whether that language would ensure that real estate professionals have access to documents they now use. But he indicated on the Senate floor on Feb. 25 that he would be open to changes if needed.
"I have committed that should there be unforeseen incidents or things that happen as a result of this bill that we have not anticipated, that I will work with those affected to correct the bill to alleviate any issues that might stem from the bill," he said.
As it's written, SB 63 would be a "logistical nightmare" to implement, said Colleen Younger, the property valuation administrator in Jefferson County.
Younger's office hosts an online database that lets subscribers access detailed property information for all addresses in the city — including listing the owner — and an embedded interactive map. It is also now required by Kentucky law to maintain property tax rolls as a public record.
"A much easier way to correct this whole issue would be for those who are concerned about their information being published should put their property in a trust and then nothing would have to be changed," said Younger, a Democrat.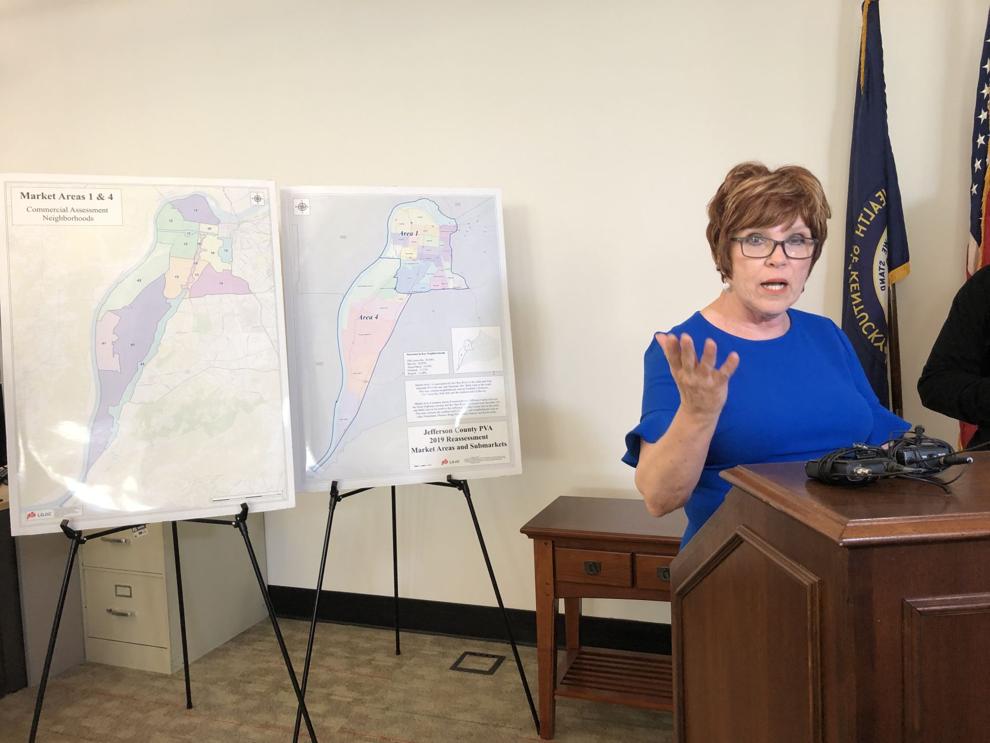 The Kentucky Land Title Association has not taken a position on the bill, legislative co-chair Brent Eisele said.
Officials with Kentucky County Clerks Association and the Kentucky Municipal Clerks Association did not respond to requests for comment for this story.
Several states shield information like home addresses of police officers in public records. Arizona and Minnesota are examples of "effective state programs," said Jeremy Yohe, vice president of communications for the American Land Title Association.
"We support the safety of these public officials — judges, police officers — whoever is included," Yohe said. "The best way to shield this information is to limit who has the access to the data without removing or altering the public record."
His association and the Property Records Industry Association recommend specific approaches to ensure that real estate transactions aren't impeded. They include giving access to otherwise confidential information to licensed attorneys, title professionals and assessors, as well as other entities that sign confidentiality agreements.
SB 63 does not explicitly provide that access. But it does follow one of the associations' recommendations: Set a time limit to shield information. The Kentucky bill would allow for renewals after three years.  
A high-profile example of legislation that recently shielded personal information was in New Jersey, where state legislators passed "Daniel's Law" in 2020. It is named after Daniel Anderl, the 20-year-old son of a federal judge who was shot and killed at the family's North Brunswick, New Jersey, home.
The bill was amended earlier this year to address concerns about how it would work. The New Jersey State League of Municipalities, for instance, called it a well-intended law that was "fraught with implementation challenges."
The revised bill, which was approved and became law in January, made a number of changes.
It created a new state agency to handle the requests and required officials to request privacy. The new measure also established that businesses such as title insurance and other real estate companies can view unredacted documents, as can real estate brokers.
And it made clear that candidates and political party committees can have access to original voter records. SB 63 in Kentucky does not provide that clarity.   
Neither the Kentucky Democratic Party nor the Kentucky Republican Party responded to requests for comment for this story.
Perhaps the most outspoken opponents of the legislation have been representatives of the Kentucky Press Association and the Kentucky Broadcasters Association.  
"I think this bill would have a chilling effect for investigative journalism in our state, and would create challenges for journalists and records custodians, lead to potentially costly legal battles and give potentially bad players the ability to hide from the public's watchful eye," Robert Thomas, news director of WKYT-TV in Lexington, told members of the Senate Judiciary Committee in February.
Reporters routinely use — but don't publish or air — publicly available addresses in property and business records to verify information about public officials.
"We use it to cross reference, making sure that reporting is accurate," Thomas said.
Some state legislators also could qualify under the bill because of their past work as law enforcement officers and attorneys and in other capacities.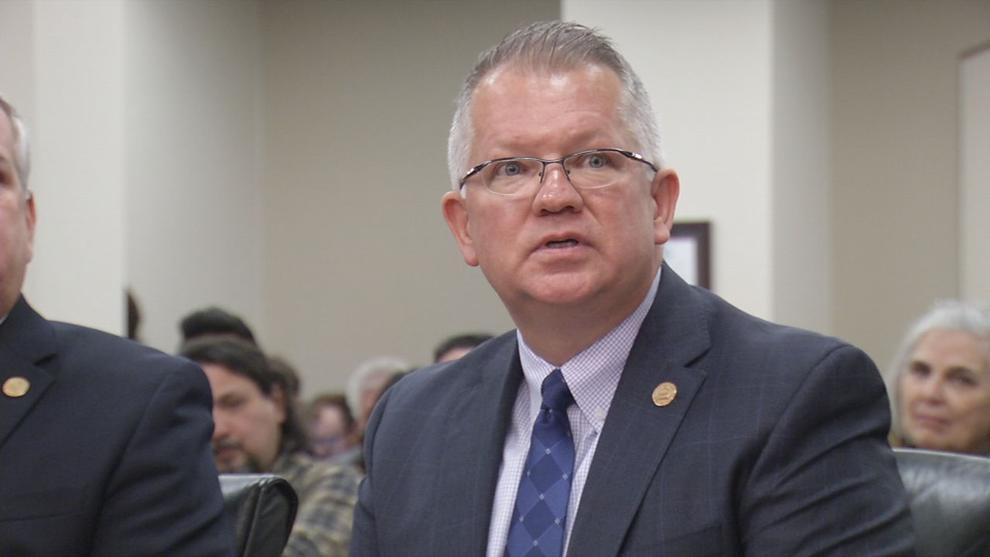 Carroll, the bill's sponsor, is a former assistant police chief in Paducah. Louisville Democratic Sen. Morgan McGarvey said as a former assistant attorney general he would be eligible to have his information withheld.
Democratic State Rep. Buddy Wheatley told WDRB News he would qualify because of his career as fire chief in Covington.
"For former officers like myself who get into public office, it shields people from knowing some things about me and my past that might be important," he said.
If approved, the bill also could pose conflicts with existing Kentucky legislative ethics law that requires members of the General Assembly to file disclosures listing all properties besides their main residence in which they, their spouse or children have an interest of at least $10,000.
"We would hope that it would maintain the disclosures in the ethics code," said Laura Hendrix, executive director of the Kentucky Legislative Ethics Commission. "But, of course, our code is written by the legislature."
SB 63 has not been assigned to a House committee yet. It passed the Senate on a 24-8 vote.
Carroll argued on the Senate floor on Feb. 25 that the bill is needed. In his speech, he alluded to the shooting at the campaign office of Louisville Democrat Craig Greenberg, a candidate for mayor, on Feb. 14.
"Events that have happened within the last week or two within our Commonwealth clearly show the danger that public figures are in," he said.
Sen. Robin Webb, D-Grayson, argued that the measure provides a "false sense of security" and isn't realistic with so much personal data already online.
"It's not going to do what people are wanting it to do, because that information is already out there," she said.
Senator Wil Schroder, R-Wilder, voted for the bill, saying that legislators are constantly doing a balancing test. "And in this case," he said, "we're balancing some of this information with the safety of individuals."
The only Republican to vote against the bill was Sen. Adrienne Southworth of Lawrenceburg. She took issue with what she viewed as a fundamental change to public information.
"What this bill does is it puts in reverse longstanding precedent in how we've operated government information, public official information and so forth for decades," she said. "Because for decades the assumption is: Everything's open unless it's closed. And this bill reverses the trend."
Copyright 2022 WDRB Media. All Rights Reserved.