LOUISVILLE, Ky. (WDRB) – The Indiana State Teachers Association wants Hoosier lawmakers to raise starting pay for educators as they take on new responsibilities during the COVID-19 pandemic in next year's legislative session.
ISTA laid out its legislative priorities on Monday, the day before lawmakers return to Indianapolis and organize ahead of the 2021 session.
Keith Gambill, the union's president, said teachers throughout Indiana have dedicated more of their personal time and money for their students during the COVID-19 pandemic, which has pushed schools to offer both in-person and virtual learning options.
Teachers who spoke during Monday's virtual news conference said keeping schools open in both formats has greatly increased their workloads. Jack Hesser, a science teacher at Harshman Magnet Middle School in Indianapolis, said planning a week's worth of in-person and virtual instruction has doubled or tripled the amount of time Indiana educators spend on lessons outside of class.
"We are overworked, underappreciated, questioned and oftentimes blamed for things that are simply out of our control," said T. Washington, a science teacher at Early College Preparatory Academy in Richmond. "I have seen my colleagues cry in their classrooms due to the huge amount of stress that has been placed upon us this year."
Amy Foley, an Advanced Placement physics teacher at Mishawaka High School in Mishawaka, said the temptation among teachers to simply leave the profession "is strong and growing."
"We witness the struggles of our students and their families and decide that our own struggles are less significant, and we remain silent," Foley said. "Maybe our struggles are less significant, but maybe they're not. Maybe we're just too tired or too afraid to admit that these struggles are destroying us."
ISTA's primary focus for the upcoming session, in which lawmakers will be crafting the next biennial budget, will be upping pay for teachers.
Gambill said the union supports increasing initial salaries for educators to at least $40,000 per year. Average starting pay for Indiana teachers was $36,498 per year in fiscal year 2019, which was 38th nationally according to a study by the National Education Association.
Compensation is "a prime reason" that some Indiana teachers are looking for work in other states or out of classrooms entirely, he said.
"Educators are doing an amazing job for our students working long hours, mostly uncompensated," Gambill said. "Indiana's lawmakers must act before Indiana's teacher shortage is worsened."
Gov. Eric Holcomb, who convened a work group to study teacher compensation issues, endorsed the idea of boosting pay for first-year teachers to $40,000 per year during a gubernatorial debate in October, according to the Indianapolis Star. Gambill said he expects the Next Level Teacher Compensation Commission's findings will be released in December.
"The Governor remains committed to improving teacher pay and looks forward to reviewing the commission's report," Rachel Hoffmeyer, Holcomb's press secretary, said in an email. "The report will be finished and released before the end of the year."
School corporations should also give teachers, particularly union representatives, greater input in the COVID-19 planning process, Gambill and others said Monday.
"It's uneven across the state," he said. "Some school districts are providing robust discussion time with their representatives, but too often we have districts that are making a quick decision then bringing the representatives in to discuss it and there's no time for input."
At times, Gambill said staff members are notified of changes in school operations during the pandemic just hours before families get that information. Getting teachers more involved in districts' COVID-19 plans will likely be included in upcoming collective bargaining talks, he said.
"We all need a seat at the table or else we're on the menu," Washington said, referencing her desire for more input from teachers and staff in COVID-19 planning.
Monday's virtual news conference was far more low-key than last year's "Red for Ed" rally in Indianapolis, in which 15,000 teachers converged on the Capitol as lawmakers began organizing for the 2020 session.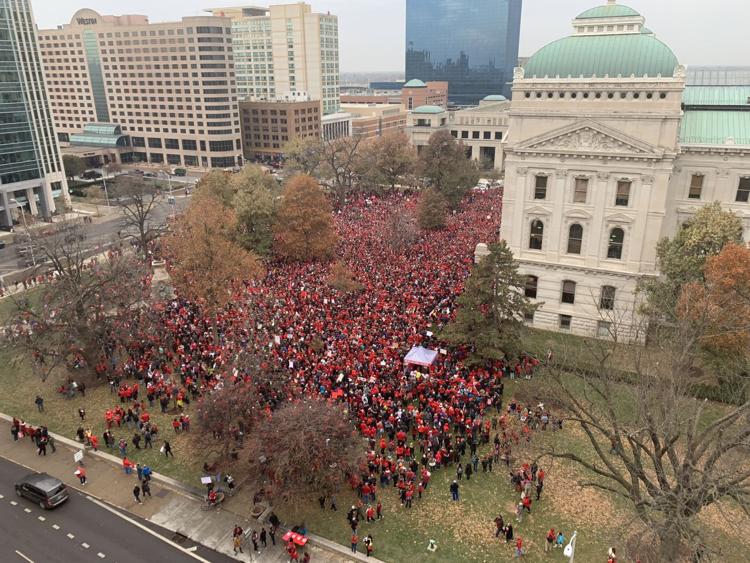 Gambill said Indiana teachers will need to find more creative ways to make their presence felt during next year's legislative session.
"I am confident that we will make our issues know and heard," he said. "It may just look very different than it did a year ago."
Copyright 2020 WDRB Media. All rights reserved.