LOUISVILLE, Ky. (WDRB) – When top Kentucky education officials traveled to Washington, D.C., about a year ago for a conference, they accepted plane tickets, hotel rooms and conference fees from an organization that is closely affiliated with a group that lobbies the department to support its education reform agenda.
The Kentucky Department of Education said Education Commissioner Wayne Lewis, Board of Education Chairman Hal Heiner and others did nothing wrong in taking the freebies described as "scholarships" from the Foundation on Excellence in Education for the group's 2018 National Summit on Education Reform.
The department got an informal blessing for the trip from the executive director of the state's ethics agency, but in doing so, the department did not tell the ethics watchdog that the group that paid for trip has close ties to another organization that lobbies the state on education issues.
With some exceptions, state rules prohibit government officials from taking gifts from lobbyists. In any event, the ethics official, Katie Gabhart of the Executive Branch Ethics Commission told WDRB News that it's actually up to the state Finance and Administration Cabinet to determine whether the education officials acted properly. But the education department never asked for the cabinet's guidance.
There's only a thin line between the Foundation on Excellence in Education and Excellence in Education National, which does business as Excellence in Education in Action and has been registered to lobby both KDE and the state education board since January 2016.
Both groups were founded by former Republican Gov. Jeb Bush of Florida, who serves as president and chairman of both organizations' boards of directors. They are "related" organizations in their tax filings and have been referred to as "sister" groups in at least one ExcelinEd news release.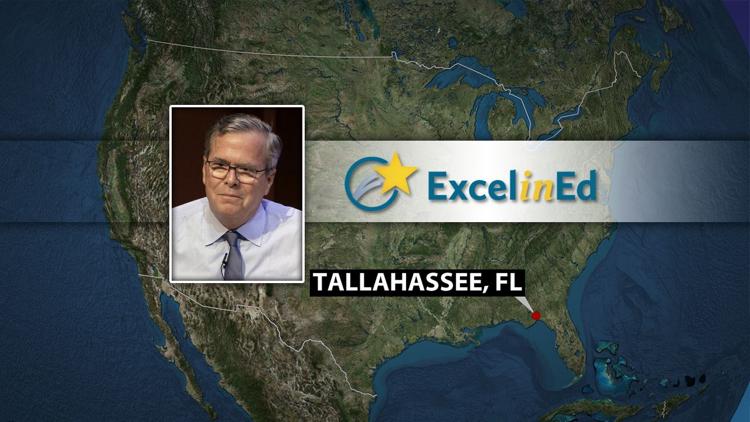 The nonprofits share a Tallahassee, Florida, address, and all but two members of ExcelinEd in Action's seven-member board also serve on the foundation's 11-member board.
The Foundation for Excellence in Education, called ExcelinEd for short, has multiple planks in its platform for education reform, including school choice, stronger career and technical programs, and early literacy. Those are topics that ExcelinEd in Action has lobbied for in Kentucky, according to the group's ethics filings.
Bush, who unsuccessfully sought the Republican presidential nomination in 2016, has been highly critical of the traditional public education system as he advocates for change, describing efforts to reform that system of government as "a big struggle" against unions, administrators and even like-minded advocates during his opening remarks at ExcelinEd's 2014 conference in Washington, D.C.
"If we were designing our school systems from scratch, what would they look like?" Bush said. "I know one thing, we wouldn't start with more than 13,000 government-run, unionized, politicized monopolies who trap good teachers, administrators and struggling students in a system that nobody can escape. It would be insane if we recreated what we have today."
Republican Gov. Matt Bevin has appointed members to the state board of education that have supported reform efforts like charter schools, including advocating for charter-school funding as part of its most recent legislative platform, and Lewis has been a vocal advocate for school choice reforms since before his time as education commissioner.
But Democratic Gov.-elect Andy Beshear has promised to reorganize the education board, which might then oust Lewis as the state's education commissioner.
Despite overlaps in areas like leadership, staffing and the groups' headquarters, both KDE and ExcelinEd said the groups are entirely separate.
"ExcelinEd does not engage in lobbying and has internal procedures in place to ensure that it in no way subsidizes" the sister group, called ExcelinEd in Action, according to Joe Follick, ExcelinEd's director of state communications.
KDE spokeswoman Jessica Fletcher acknowledged the ties between the organizations but said, "
to attend the foundation's 2019 gathering in San Diego, California, that kicks off Tuesday.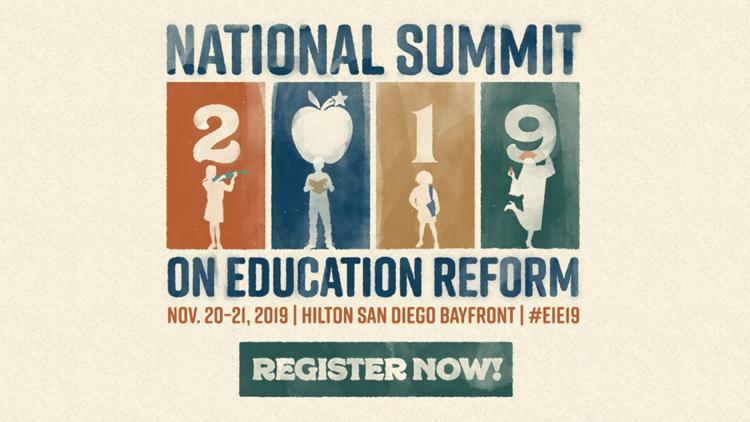 Fletcher said the state decided to foot its own bill for the conference as a "precautionary" measure "in the event that any possible conference sponsors could be vendors or potential vendors to the agency."
Some question whether the 2018 arrangement adheres to the spirit of the law, if not the letter.
"This is something that shouldn't be done or become a habit of being done, having their expenses paid because their loyalty, without them realizing it, it may be affected," said Richard Beliles, a lawyer and chairman of the government watchdog group Common Cause Kentucky.
"If there was 100% separation and no commingling whatsoever in any shape or form, you might make an argument," said David Karem, a former Democratic state senator who served on the state education board for seven years. "… But if there's even the tiniest crossing of lines, then that should be fully disclosed to the executive branch ethics committee so they could address that issue."
KDE sought guidance from the ethics commission before Lewis and Deanna Durrett, the agency's general counsel, applied for scholarships to last year's conference. But it omitted the fact that ExcelinEd in Action even existed, let alone was registered to lobby the department and the state education board. Fletcher said Durrett was not aware of ExcelinEd in Action's existence at the time but confirmed that the foundation "was not a prohibited source" of gifts under the state's procurement law.
Executive Branch Ethics Commission Executive Director Katie Gabhart responded to Durrett's request, saying she saw no issue with the situation so long as KDE double-checked with the Finance and Administration Cabinet under a law passed in 2017 that allows state agencies to take travel-related perks in certain situations. Lobbyists are considered prohibited sources under that law, which was amended by the General Assembly in 2017.
Gabhart wrote to KDE on Oct. 19, 2018 that she saw no issues with the foundation covering the officials' travel "since KDE does not do business with, regulate, etc. ExcelinEd."
Karem, who also served as chairman of the state education board, said Gabhart should have been given a "full tapestry of information" on ExcelinEd's involvement with Kentucky's education department, including its sister lobbying group, so she and the ethics commission could reach an informed opinion on whether the scholarships were allowable.
However, Gabhart told WDRB News that her advice to KDE was "perfunctory" because a 2017 law puts the issue before the Finance and Administration Cabinet.
The 2017 change relaxes the state rules to make it easier for government officials to accept gifts "for governmental purposes" and gives the Finance Cabinet the final say over what's permissible.
KDE did not take the matter to the Finance Cabinet, however. Fletcher said KDE's lawyer mistakenly thought Gabhart told her to ask the education department's own finance division.
Pamela Trautner, the finance cabinet's communications director, did not respond to messages seeking comment.
Blurring of lines
Email correspondence obtained under the Kentucky Open Records Act demonstrates the blurry line between the two ExcelinEd groups.
When education board member Houchens wanted to know whether the ExcelinEd foundation had any scholarships available for its 2018 conference, he reached out Ryan Mahoney, a lobbyist employed by ExcelinEd in Action, who also works for the ExcelinEd foundation.
In fact, Mahoney made more through the foundation, $91,286, than he did through the advocacy group, $22,793, in 2017, according to the group's most recent tax filing. Tax records show that most of Mahoney's time was divided between foundation work, 29 hours a week on average, and lobbying, 11 hours week.
After Houchens reached out, Mahoney replied minutes later and urged Houchens to hurry because there weren't many left, directing Houchens to apply through a link below his email signature, which refers to him as southeast advocacy and legislative director for both ExcelinEd and ExcelinEd in Action.
"Takes less than a minute," Mahoney wrote from his foundation email account in the Oct. 19, 2018, exchange. "Hope to see you there." (Houchens also accepted expenses paid by the ExcelinEd foundation to attend its 2017 gathering in Nashville, according to records obtained by WDRB News.)
The exchange with Houchens is one of several instances in which Mahoney appeared to be working on behalf of the foundation rather than as a representative of ExcelinEd in Action, almost always in connection with ExcelinEd's annual conference, according to email correspondence obtained by WDRB News.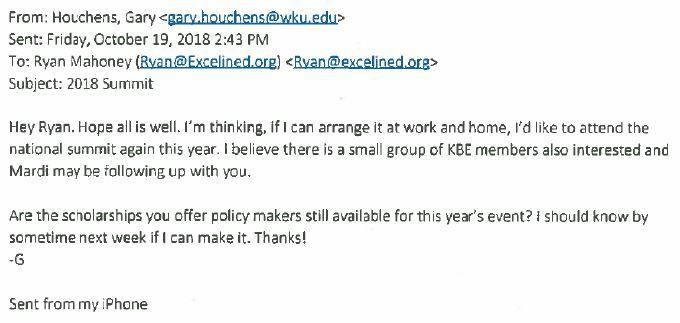 Less than a year later, in fact, Houchens reached out to Mahoney again for a link to ExcelinEd's scholarship application.
Records obtained by WDRB News show Mahoney, apparently unsolicited, also emailed Heiner, Lewis and Durrett links to the 2018 scholarship applications. He also emailed Lewis an application link for ExcelinEd's 2019 national summit.
"I understand one of your board members requested the scholarship invitation to our 2018 National Summit," Mahoney wrote to Heiner on Aug. 23, 2018. "… Please feel free to share with any board members who may be interested. We expect these spots will go faster than usual this year, so they may want to go ahead and apply. Hope to see you there again as well."
When Kentucky's delegation of education officials prepared to travel to Washington, D.C., for the 2018 summit, Mahoney wished them safe travels and said ExcelinEd was "looking forward to hosting you."
"I wanted to let you know that we've reserved a front row seat for you (an entire table, actually) during the Thursday lunch keynote that will feature speaker Chip Heath," Mahoney wrote in the Dec. 4, 2018, email. "… This is a great opportunity for camaraderie and discussion with fellow policymakers, and there will be signage indicating that the table has been set aside specifically for Kentucky."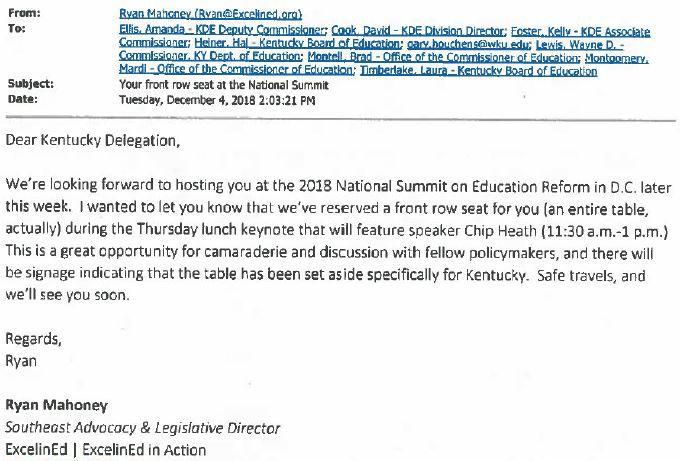 In a Nov. 30, 2018, exchange, Mahoney sent stage directions for Lewis's introduction of Eva Moskowitz, founder of Success Academy Charter Schools, for a Dec. 7, 2018, luncheon at the 2018 national summit.
Days later, he also informed Lewis that ExcelinEd's communications team "would love to interview" him on-camera "about the great work you're doing in Kentucky while you're in the green room," an invitation that Lewis accepted.
"Great!" Mahoney responded on the day of the luncheon. "I can meet you outside the ballroom at noon and walk with you back to the green room."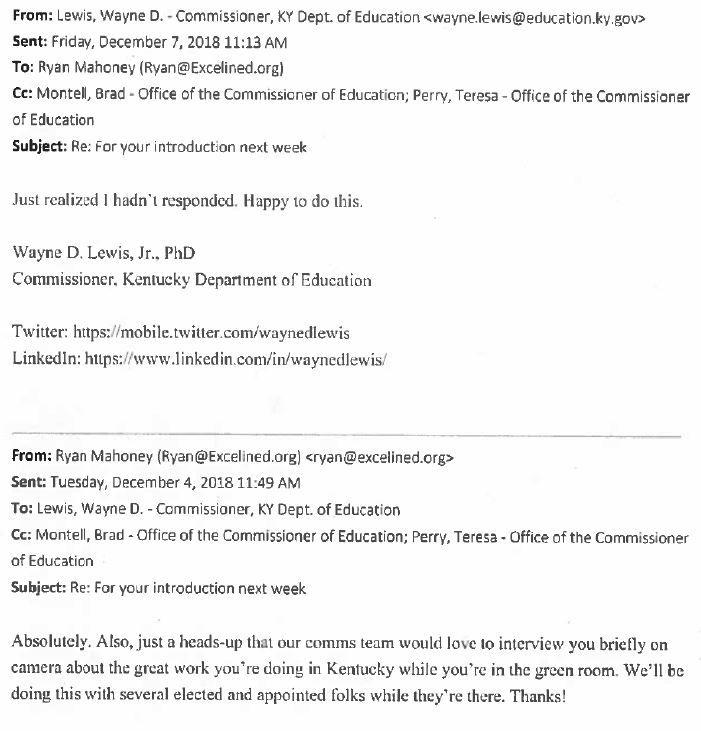 And when Mahoney reached out to Lewis on Jan. 18 to sign a media release form so ExcelinEd could use the interview he gave at the 2018 summit as part of a National School Choice Week video, the form Lewis signed later that day explicitly gave both the ExcelinEd foundation and lobbying group permission to use the footage as they deemed fit.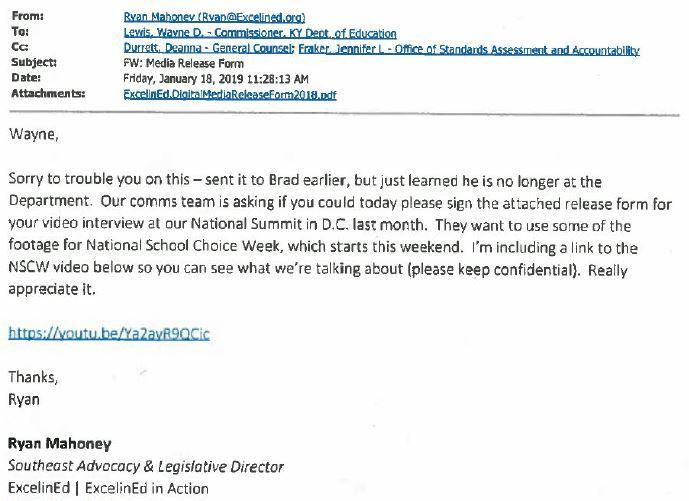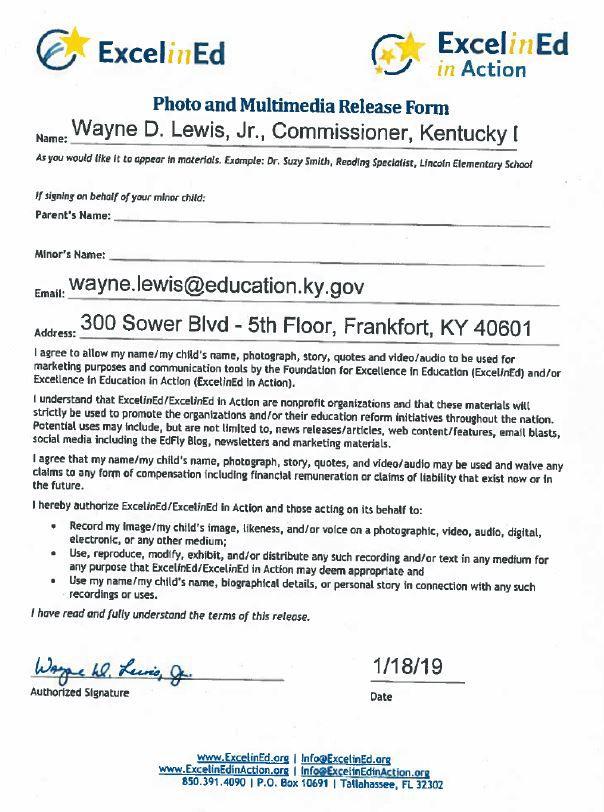 Even when Mahoney conducted work as a lobbyist, he often sent Lewis materials generated by the foundation.
For instance, after Mahoney sent Lewis slides from a foundation presentation on the effectiveness of a third-grade reading retention policy, Lewis copied Heiner in his response.
"As you know he has interest in this policy as well," Lewis wrote Aug. 19, 2018. "I won't make predictions, but I think there's a strong chance a comprehensive early literacy bill is part of our legislative agenda."
The board of education included such a policy as part of its 2019 legislative agenda at its Dec. 5, 2018, meeting, saying it would back legislation that included "additional required intervention at grade 3 for students who fail to meet a state-determined minimum standard for reading ability."
Mahoney also sent Lewis the foundation's reading retention research to help the commission rebut concerns raised by the Prichard Committee for Academic Excellence on House Bill 272.
That legislation, sponsored by Rep. James Tipton, R-Taylorsville, would have held third-grade students back if they did not score at least apprentice in reading and math on required state assessments or completed "intensive remediation." HB 272, once it was gutted by the House Education Committee, did not clear the Senate Education Committee in 2019 legislative session.
"You may find the attached helpful in dealing with their (the Prichard Committee's) comments in the article below," Mahoney wrote in his Feb. 15 email to Lewis, linking a Lexington Herald-Leader article.
Follick, ExcelinEd's spokesman, said the two groups "are separate and distinct legal entities" that are governed by different boards and have separate bank accounts, financial records and tax returns.
"The two entities are affiliated, with only (ExcelinEd in Action) engaging in lobbying activity at the state level (including in Kentucky)," he said. "While (ExcelinEd in Action) engages in lobbying at the state level, ExcelinEd is dedicated to raising student achievement by providing policy development and implementation expertise, technical assistance, sound and balanced research and public outreach."
While Mahoney is employed by both the foundation and lobbying group, "when Mr. Mahoney lobbies, he does so exclusively in his (ExcelinEd in Action) capacity."
Such crossovers did not concern KDE because the agency "does not believe it has engaged in any action that violates" the state's model procurement code, Fletcher said.
"As for the activities of an outside association," she said in a statement, "please speak to ExcelinEd about their business practices."
Copyright 2019 WDRB Media. All Rights Reserved.