FRANKFORT, Ky. (WDRB) – Drivers pay a 26 cents-per-gallon state tax when they fill up at Kentucky gas stations, a charge that mostly helps build and repair roads and bridges across the Commonwealth.
But the rise of fuel-efficient, electric and hybrid vehicles has strained Kentucky's road fund. As the largest part of that account, gas tax revenues have only grown modestly in recent years and lag far behind the levels of just five years ago.
And, within the next year, the state expects to lose a pool of credits that has served as matching funds on federal projects -- spreading transportation dollars even thinner.
Ahead of next year's legislative session, a group of lawmakers and Gov. Matt Bevin's administration are now taking a hard look at a new way to generate road money: Charge drivers based on how far they travel, not the amount of gas they pump.
"Used to, you'd get 40 gallons to the mile," said Republican state Rep. Ken Upchurch, co-chair of the state Mileage Based Transportation Funding Task Force, at the panel's inaugural August meeting. "Now, we're getting 40 miles to the gallon. So that's the point."
Per-mile funding is in its infancy in the U.S. The only state where it's used regularly is Oregon, where a voluntary program lets drivers pay 1.7 cents per mile using GPS tracking or other technology and get a credit on state gas taxes. Utah plans to let drivers of alternative-fuel vehicles choose a per-mile payment instead of a flat registration fee starting in 2020.
Hawaii launched a three-year test of mileage fees earlier this year. California, Colorado, Minnesota and Nevada are among other states that have done trials but stopped short of enacting permanent fees.
Kentucky's interest in a mileage-based program comes after state lawmakers balked at raising the state's gas tax earlier this year. Among other things, the measure called for a "highway user fee" for electric vehicles and increased costs for renewing the license plates of most passenger vehicles.
The bill, which died in a legislative committee, would have generated an estimated $500 million a year more for road work.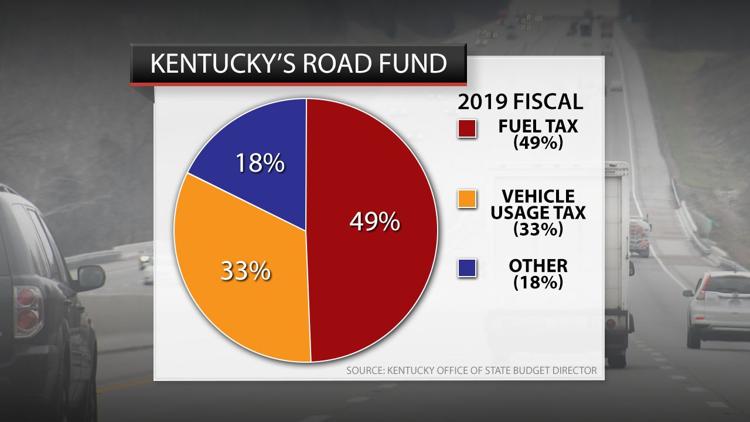 The Kentucky Chamber of Commerce and the regional Greater Louisville Inc. chamber were among the prominent supporters of raising the state's gas tax. But Bevin said the gas tax plan didn't generate enough money and suggested it ought to be broadened.
After the bill stalled, Senate President Robert Stivers told WDRB News that the state needed a "holistic" approach to transportation funding that accounted for electric and hybrid vehicles on Kentucky's roads – cars that aren't paying the same fuel taxes as other vehicles.
In May, Republican leaders Stivers and House Speaker David Osborne created the task force that's now looking at mileage-based fees. Besides legislators, the group includes representatives from the Kentucky Transportation Cabinet, the state Finance and Administration Cabinet and Bevin's office.
It was ordered to submit "findings and strategies and any proposed legislation" by late November.
'Everything on the table'
At the task force's first meeting in August, Upchurch and co-chair Sen. Jimmy Higdon both suggested the panel tackle how alternative-fuels vehicles such as electric and hybrid cars pay into the road fund.
There are relatively few electric cars in Kentucky, but the number is growing. In all, 787 were sold in 2018, up from 360 in 2017 and 280 the year before – a 181 percent jump in two years.
Among states bordering Kentucky, only Illinois and Ohio don't have fees on alternative-fuel vehicles, according to the National Conference of State Legislatures.
Higdon, a Republican whose district takes in part of Jefferson County, said a flat-fee approach for electric and hybrid vehicles also could pose problems in the case of drivers who log many miles for ride-sharing services like Uber and Lyft.
In an interview last week, Higdon said he doesn't expect the task force will propose moving Kentucky away from the gas tax entirely. Instead, he predicts it will tackle revenues from vehicles that don't rely on gas.
"In the near future, we will have to put in statute that electric cars do have to pay something to the road fund every year, whether it be just a flat fee or that we work on something to do with mileage-based technology," he said.
The Kentucky Conservation Committee advocacy group, which supported the task force's creation, isn't backing any specific proposal and is waiting for the group to finish its work before commenting on any possible new legislation, executive director Lane Boldman said.
But she said her organization is concerned that excessive flat fees could chill purchases of cleaner-running cars.
"If they do this wrong, they're going to be over-penalizing electric cars and alternative fuel vehicles at a time when they're picking up market share," she said. "And that's not the right way to go about it."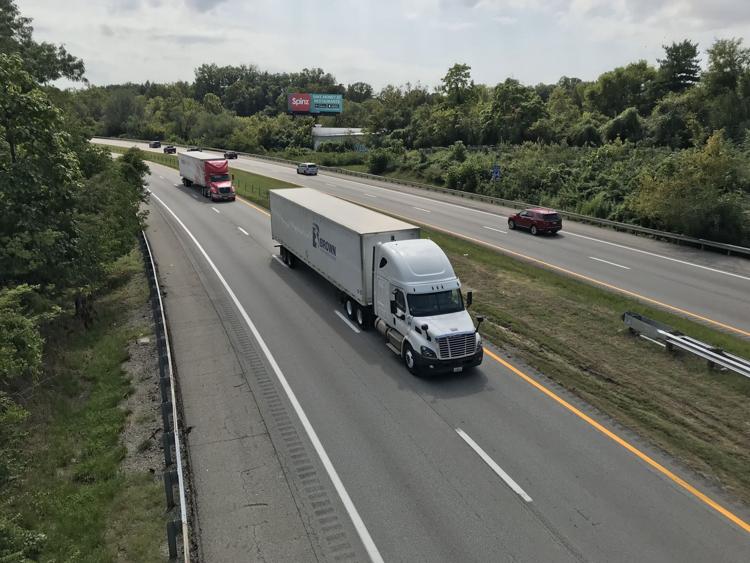 The federal 18.4 cents-per-gallon gas tax was last raised in 1993. In Kentucky, where fuel taxes are tied to wholesale prices, lawmakers passed a bill in 2015 that stabilized plummeting tax revenues as gas prices fell. The tax has remained at 26 cents per gallon since then.
Meanwhile, cars and trucks are traveling farther on less gas. Vehicles built in 2017 had record fuel efficiency of 24.9 miles per gallon, up five miles since 2005, federal data show.
Even though Kentucky state government took in more fuel taxes than expected last year, the growth has been "tepid," the state budget office said in announcing fiscal year revenue. 
Overall, fuel tax revenues climbed by 1.1% to $773 million during the fiscal year that ended in June. But those collections are down by $100 million from levels in the early- to mid-2010s and not keeping up with inflation.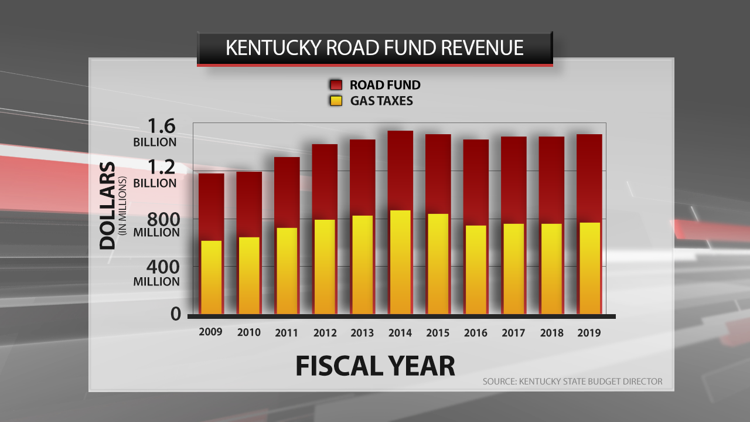 "I think it's important for everyone that's looking at this issue from a transportation standpoint to understand what fuel efficiency has done," said Bryan Sunderland, Bevin's deputy chief of staff and legislative director, at the task force's August meeting. "Because I think there's a concern among some that someone's going to end up paying more. And I think what the actual truth is that most people are paying less to use the roads now – not just those who are driving hybrid vehicles or electric vehicles."
Sen. Gerald Neal, a Democrat and the only Louisville member of the task force, said he's looking forward to learning more before commenting in detail.
Republican state Rep. Sal Santoro, a task force member and lead sponsor of the gas-tax bill, said nothing is off limits as the group begins its work.
"We want to put everything on the table and see what we can come up with, if anything," he said.
If the Kentucky task force moves forward with a system of user fees, the group also will likely have to address multiple challenges: How would money be collected? Who monitors a driver's miles traveled? Would road-pounding trucks be charged more than light cars?
But Santoro acknowledged there would be other obstacles, including how a program would account for drivers passing through the state on interstate highways. "That's where we are really penalized," he said.
Privacy a 'major issue'
In fact, figuring out how to deal with drivers from other states is one potential sticking point as states weigh mileage-based fees. One solution is a nationwide system of programs that talk to each other, allowing drivers to be charged when they cross state lines.
"If just one state does it and none of the surrounding states do it or have it in place, it's going to be hard to make it work," said Lou Neudorff, the project manager for the I-95 Corridor Coalition, a group of 13 eastern states studying a pay-as-you-go technology.
In its first test run last year, Neudorff said, the coalition found that about 23% of the miles driven occurred outside volunteer drivers' home states. Participants received monthly invoices that showed how much they would have paid in a mileage-based system.
Those costs varied by state based on gas tax rates. For example, a Virginia resident who drives 1,000 miles per month in a car that averages 23 miles per gallon would pay $11.67 in mileage fees per month, slightly higher than the $9.36 in state fuel taxes. Last year's experiment included government employees, congressional staff and other officials, but Neudorff said a second pilot program that began this summer will include hundreds of Pennsylvania residents.
The coalition offered three ways to report miles traveled last year. Most people (84%) chose a plug-in device or smartphone that tracked their location, while 16 percent used a device that logged their miles but not their whereabouts.
"Privacy remains a major consideration," Neudorff said, although the share of participants with high privacy concerns dropped once they finished last year's program.
The American Civil Liberties Union of Kentucky is encouraging the task force to look at mileage-based models that give drivers options such as a flat fee, odometer reading and a GPS device.
"Location tracking can of course expose very personal details about a person – everything from where he or she chooses to worship, to what political associations he or she may have, to information about any mental or physical conditions for which he or she may seek treatment," spokeswoman Amber Duke said in a statement.
In Oregon, she said, the ACLU worked with state officials to safeguard the personal information of drivers and disclose it only to administer the program.
"The ACLU of Kentucky is similarly willing to work with members of Kentucky's task force to ensure an innocent driver's comings and goings are guarded from snooping, abuse, or misuse," she said.
Reach reporter Marcus Green at 502-585-0825, mgreen@wdrb.com, on Twitter or on Facebook. Copyright 2019 WDRB Media. All rights reserved.