LOUISVILLE, Ky. (WDRB) – When AT&T Mobility sought state permission last year for a 320-foot-tall cell phone tower in Powell County, Ky., it published a notice in the Clay City Times and sent nearby property owners a map of the project area.      
When Kentucky Power Co. moved forward in 2018 on a 5-mile electric transmission line through Pike and Floyd counties, the company did similar outreach. People living in the line's way were told, for example, that the project was P.S.C. Case No. 2018-00209, and they could request a public hearing or ask to participate in the case before state utility regulators.
But Louisville Gas & Electric Co. didn't take any of those steps as it introduced plans to build a 12-mile, natural gas transmission pipeline in Bullitt County in 2016. In fact, some landowners say they didn't even know the line would carve through their property until after state regulators approved it.
"Other than catching people out surveying on our land, that was how we were notified and we knew that something was going on," said Kimberly Rummage, whose 300-acre, fifth-generation family farm in eastern Bullitt County sits in the pipeline's path.
She insists her family won't sell land for an easement for the pipeline backed by Bullitt County's economic development agency and business interests, forcing LG&E to take it through condemnation. "A lot of people talk about, 'You can't stop change and you can't stop growth,'" Rummage said. "But what you can do is adequately make sure that the public is aware and that they're informed."
Instead, Kentucky takes an uneven approach to public notice for large infrastructure projects. While state law and regulations force utilities and other companies to tell affected property owners and local citizens about mammoth electrical lines, cell towers and other imposing structures, they fail to address large underground pipelines like the one LG&E is planning.
As a result, as the Rummages and other Bullitt County residents discovered, property owners can be left unaware that massive projects are targeting their land and with no chance to weigh in before key approvals happen.
"It's a big gap," said attorney Tom FitzGerald, who is representing the Isaac W. Bernheim Foundation. The pipeline would cross about eight acres on land Bernheim Arboretum and Research Forest bought as part of a broader conservation corridor north of its public forest.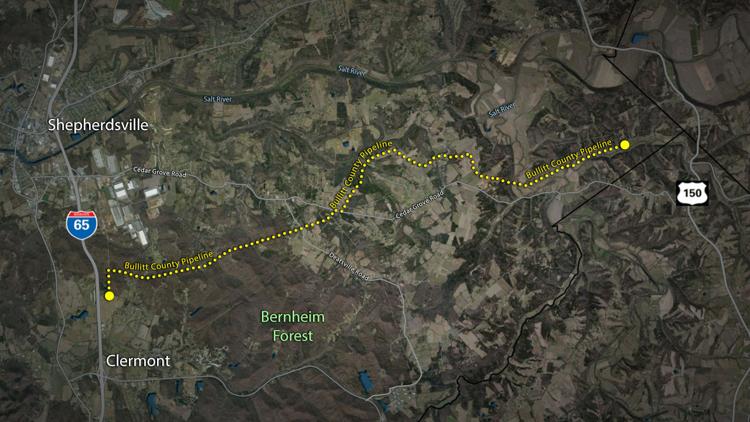 LG&E included the pipeline in an application to raise its customers' rates. The line's first mention came on page 209 of a detailed 1,776-page filing with the Kentucky Public Service Commission in November 2016.
FitzGerald claims Bullitt County residents had no reason to know that a rate case included a pipeline set to cross their land.
That resulted in a process in which "the public finds out last after all the decisions have been made," he said. "That is a recipe for confrontation, a recipe for heightened perceived risk -- and a recipe for disaster."
He said one solution is for the Public Service Commission to craft new rules giving landowners in the path of state-regulated pipelines the same notification requirements that now exist for large electric transmission lines.
"The commission has the authority to change that," FitzGerald said. "They could extend the public notice. They should extend the public notice. There's really no excuse not to."
Commission spokesman Andrew Melnykovych noted that the regulations giving a voice to people impacted by electric transmission lines of a mile or longer stem from a bill Kentucky legislators passed in 2004.
"The PSC's position is that a similar requirement that would be placed on natural gas transmission lines would have to similarly be the result of a statute enacted by the General Assembly," he said.
State Reps. Russell Webber and Thomas Huff, Republican House members who represent areas of Bullitt County in the pipeline's path, did not respond to requests for comment for this story.
GOP state Sen. Dan Seum, whose district takes in Bullitt County and part of Jefferson County, did not return a phone call seeking comment.
For its part, LG&E contends it first mailed letters to property owners in March 2017, some four months after it first disclosed the pipeline in the rate case.
But those letters did not mention that the pipeline was part of an application pending before the Public Service Commission or that it hadn't yet been approved, according to a sample version provided by LG&E. (In fact, that didn't occur until July 2017 -- after the agency had signed off, according to LG&E.)
In April 2017, the utility provided a notice about a May public meeting to 18 newspapers in the Louisville area, including the Pioneer News, which covers Bullitt County. The notices told readers of a hearing in Frankfort on May 9 for LG&E's application for "an Adjustment of Its Electric and Gas Rates and for Certificates of Public Convenience and Necessity."
There was no mention of a proposed pipeline in Bullitt County.
As LG&E worked its way through the Public Service Commission, it asked in filings with the agency to keep maps of the pipeline's route and other related documents hidden from view.
A month before sending letters to property owners, in February 2017, two of the utility's lawyers argued in a letter to the commission that it was important to keep the information confidential.
"If the location of the proposed pipeline route was disclosed, the land through which the pipeline crosses may increase in value or landowners may resist construction, forcing LG&E to spend more to construct the pipeline, to the detriment of the Company and its ratepayers," wrote Kendrick R. Riggs of Stoll Keenon Ogden and Allyson K. Sturgeon, LG&E's senior corporate attorney.
Two years later, after LG&E finalized the route and acquired the bulk of the easements, the commission agreed to the request. During that time, the route remained confidential.
2004 law adds transparency
But other projects are required to give neighboring landowners and local citizens explicit notice.
Kentucky lawmakers put new scrutiny on large electric lines in 2004, passing legislation that requires utilities to apply for a "certificate of public convenience and necessity" when they want to build 138 kilovolt transmission lines of at least one mile.
Those certificates are needed for major capital projects. The bill, Senate Bill 246, said that anyone who owned land crossed by a proposed transmission line could ask for a public hearing in their county and also seek to intervene in the case.
The legislation came as LG&E was planning 7.5 miles of high-voltage lines along the Gene Snyder Freeway in eastern Jefferson County, a move that caught some elected officials off guard, according to reports in The Courier-Journal.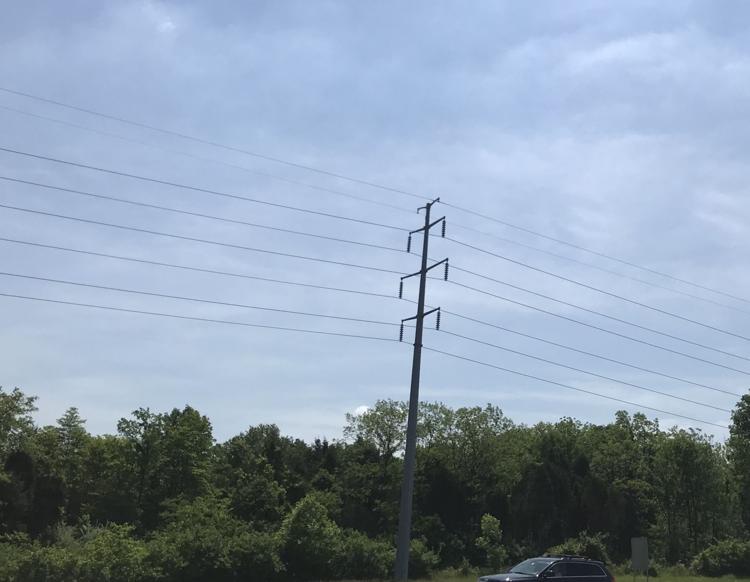 Then-Louisville Metro Council member Hal Heiner, who now is chairman of the Kentucky Board of Education, told the newspaper he was "surprised to hear they are proceeding without public discussion of the route for this line." And he said he hadn't heard from his constituents because they likely weren't aware of the plan.
The Kentucky General Assembly overwhelmingly approved the bill, with only five votes against it in both chambers. Seum, the Senator who represents Bullitt County, voted for it. Then-Gov. Ernie Fletcher later signed the measure into law.
In fact, LG&E was the "major proponent" of the legislation, the Public Service Commission's vice chair, Ellen C. Williams, wrote in 2005.
State regulations that followed went further. They made utilities publish notice of the projects in local newspapers and include a map, as well as let people know they can ask for a public hearing and intervene in the case.
LG&E hasn't tracked whether the 2004 law has increased the costs of projects, spokeswoman Natasha Collins said in an emailed statement. She declined to say if the utility would generally support or oppose similar public notice requirements for natural gas transmission pipelines, such as the Bullitt County proposal.
"LG&E is committed to complying with local, state and federal guidelines related to the natural gas service we provide for our customers while also working to continue safely and reliably serving our existing customers and planning for expected growth across our service territory," she said.
Rules vary by state
Across the U.S., states apply different levels of transparency to pipelines that they regulate. The Federal Energy Regulatory Commission, for example, has oversight of natural gas pipelines that run between states.
But natural gas transmission lines that don't cross state borders – like the LG&E project in Bullitt County -- are left up to individual state agencies like Kentucky's Public Service Commission.
In Indiana, there is no public notice requirement for utilities building gas pipelines within the state, but the Indiana Utility Regulatory Commission "does encourage utilities to be communicative with local landowners well in advance of any project," agency spokeswoman Stephanie Hodgin said.
Other states require more.
Massachusetts makes developers of mile-long natural gas pipelines mail nearby land owners and publish notices in local newspapers and online. The state's Energy Facilities Siting Board "regularly holds these public comment hearings in the affected community," said Peter Lorenz, spokesman for the Massachusetts Office of Energy and Environmental Affairs.
In Minnesota, regulators hold at least one public meeting in every county in a pipeline's path to answer questions.
Paul Blackburn, a Minnesota-based energy and environmental attorney who has worked on pipeline projects, said public notice requirements are meant to level the playing field.
 "If we're going to ask landowners to do things for our country by giving us the property for eminent domain, then they should be compensated not just for the market value but also for the hassle and the other kinds of damages that pipeline construction does to their property," he said.
"And by having notice and some regulatory process, it essentially creates an opportunity for landowners to negotiate with the companies to get a better deal and protect their properties."
Reach reporter Marcus Green at 502-585-0825, mgreen@wdrb.com, on Twitter or on Facebook. Copyright 2019 WDRB Media. All rights reserved.