LOUISVILLE, Ky. (WDRB) – University of Louisville trustees expressed their appreciation for new university President Neeli Bendapudi in words and dollars on Thursday, giving her a glowing evaluation after a year on the job and boosting her pay by 12% to $875,000 per year.
UPDATE, 10:20 pm: Bendapudi said on Twitter late Thursday night that she would donate the raise to the university.
The year has flown by!! Thank you, Cardinal family! It is an honor to be your Presidnt. I am so grateful to the Board for the praise and the raise! In honor of the Cards who are graduating this weekend, it is my honor to donate the raise to U of L. Go Cards!!

— Neeli Bendapudi (@UofLPresNeeli) May 10, 2019
"This marriage between Neeli and the university has worked out probably beyond our fondest dreams," trustees chairman J. David Grissom said during Thursday's board meeting.
The board of trustees won't develop quantifiable performance goals for Bendapudi until her second year on the job, Grissom said.
But board members praised her "can-do" attitude, accessibility and leadership skills on Thursday.
"She has been a beacon of light for a lot of people who have seen some very dark times in the university's history," said trustee Dr. Ron Wright.
Bendapudi's raise puts her "right in the middle of the pack," Grissom said, of a group 29 university presidents' compensation and right on par with University of Kentucky President Eli Capilouto. Parity with UK "sends a strong signal," Grissom said.
This will be hard to read but here is the data @uofl compiled on comparable presidential salaries. Grissom said it is from 2016-17 but with an inflation adjustment applied pic.twitter.com/FjFRPmKCLe

— Chris Otts (@christopherotts) May 9, 2019
Bendapudi currently earns $780,000 a year, including a guaranteed $130,000 bonus. Her salary will rise to $725,000, with a $150,000 bonus that is guaranteed.
Bendapudi's raise comes as the university still faces financial challenges. It will likely hike tuition by the maximum allowed, 2.5 percent, for the upcoming academic year, and plans to raise faculty and staff salaries by a modest 2 percent, on average.
On Thursday, the university announced it would close its employee gym to save $1 million a year.
Some objected to Bendapudi's increase at a time when rank-and-file employees aren't set to get nearly as much.
"I am certain there will be widespread disappointment, anger, and frustration amongst faculty and staff about this," U of L philosophy professor David Owen said on Twitter.
I am certain there will be widespread disappointment, anger, and frustration amongst faculty and staff about this. I'd like to know why he doesn't think there is a parity issue.

— David S Owen (@davidscottowen) May 9, 2019
Grissom said he has no problem with Bendapudi's raise outpacing rank-and-file U of L employees, and he noted that the three trustees who represent faculty, staff and students enthusiastically supported the move.
"I don't see any parity issue. I think she came in under the market and hopefully we've got her in the middle, where she should be, if not higher," Grissom said.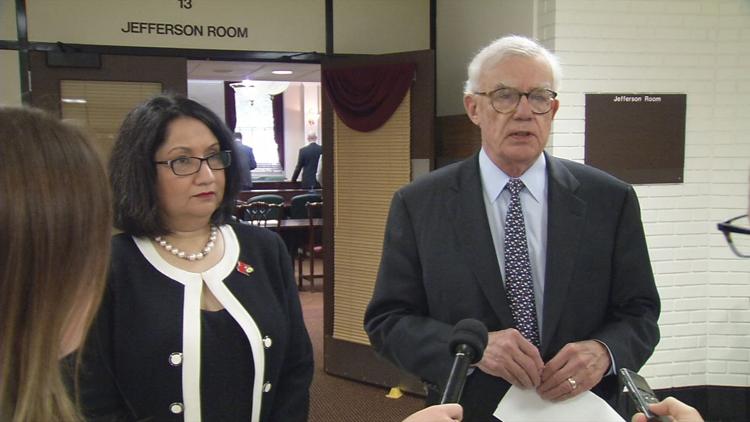 Asked Thursday morning about accepting a raise significantly larger than that of regular employees, Bendapudi said she needed more time to think about the question.
But she said got a lot of questions when she was hired about why her pay was lower than her predecessors.
"I wanted to come in at a very, very competitive rate and say, 'see what I do,'" she said.
Bendapudi followed James Ramsey, who led the university for 14 years but was pushed out in 2016 in large part because of revelations about his compensation from U of L's nonprofit foundation.
Ramsey was paid more than $12.4 million in total from 2010-2016 and as much as $3 million in a year (2012), according to a forensic investigation the university commissioned in 2017.
Greg Postel, a medical professor who served as U of L's interim president before Bendapudi, carried his $950,000 salary into the president's office.
Grissom said the trustees will adopt "very definitive goals" for Bendapudi's performance in the fiscal year that starts July 1, and those metrics will be part of her 2020 evaluation.
"The first year was a launching and an addressing of lots of tough issues," he said.