LOUISVILLE, Ky. (WDRB) -- Through vandalism and the pandemic, 4th Street Live! is slowly coming back to life, as restaurants reopen while making sure customers still feel safe.
On Friday, Whiskey Dry opened for the first time since mid-March, with Chef Edward Lee hoping that diners can see past some of the plywood further down the street.
"As you can see, it's safe, and everyone's having a good time," he said.
Many customers were ready to return to a Louisville culinary favorite, as Lee said the restaurant had been "surprisingly busy" on reopening day.
Unlike some other less fortunate restaurants, Whiskey Dry weathered the worst of the pandemic and some of the nearby vandalism during last month's riots.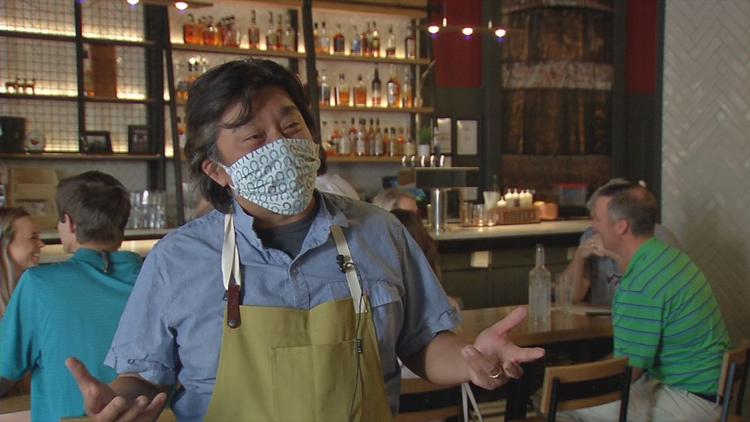 "There are remnants of what happened, but we also have to keep on living and going back to work," said Lee. "All my staff need jobs, and so we're going to do our best to provide a great meal, put people back to work and provide a safe environment."
All workers are wearing masks, and tables are spaced at safe distance.
"I felt very safe," said Patti Patterson, who came in for an early dinner. "When you walked in, you got to pick wherever you wanted to sit, so wherever you felt most comfortable."
Patterson and her husband drove down from Chicago, stopping in to try the whiskey and burger bar's creative menu.
"Food was amazing. Great price. I would've gladly paid more to eat there," said Mike Patterson.
Lee said he's glad the restaurant is open again.
"We love serving customers, and it's been a real joy to fire up the ovens and get everything back open," he said.
With some new menu items, including some old favorites from Lee's former venture Milkwood, and $2 burgers, workers at Whiskey Dry hope people start finding their way back to Fourth Street.
"If there's a place to venture back, come see us downtown," said Lee. "We're in a safe neighborhood. The weather's great. And we have some delicious burgers."
Copyright 2020 WDRB Media. All Rights Reserved.