LOUISVILLE, Ky. (WDRB) -- A local brewery is opening its newest bar venture next week in Louisville.
Against the Grain took ownership of Odeon, a bar in Butchertown, and is now set to open on Oct. 30 with the renovated bar and venue space under the name The Whirling Tiger.
Odeon opened in 2018 on Story Avenue, but closed this year.
When the space became available, the owners at Against the Grain saw it as an opportunity to expand to another neighborhood in Louisville.
"To have the city behind us so we could do that was necessary and important, we're grateful," Sam Cruz, co-owner for Against the Grain, said. "We want to lift up everywhere we can."
Against the Grain already has locations in downtown Louisville, Slugger Field and on Bardstown Road.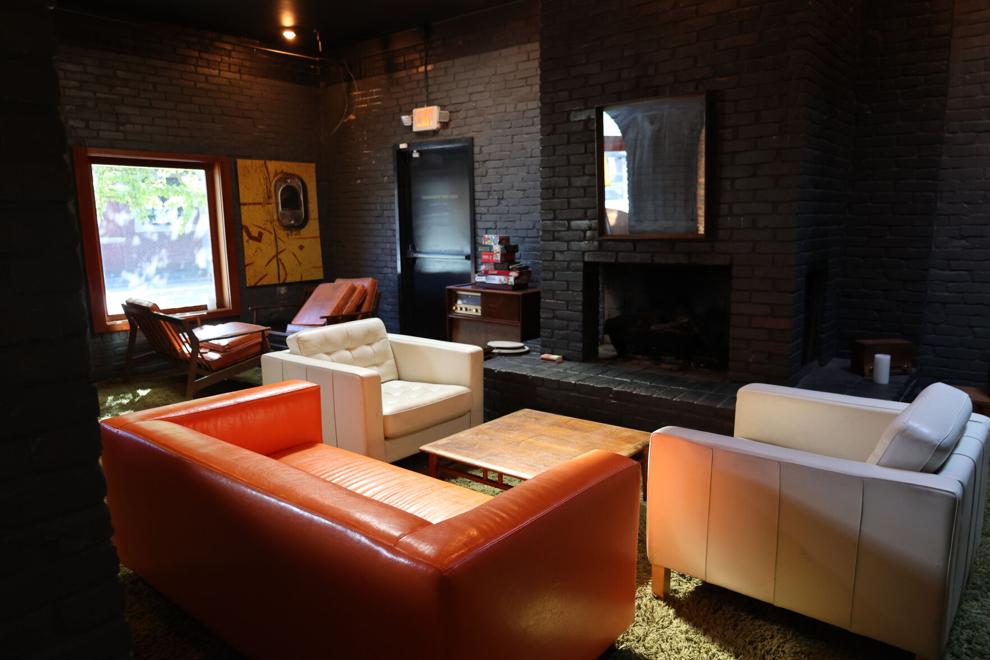 Known for its live music concerts, chic furniture and shag carpeting, Odeon offered a unique bar experience for patrons in Louisville. The co-owners of Against the Grain wanted to continue that distinctive presentation.
"You got to live here, you've got to play here, and all of that, and we do that," Cruz said. "We know what the city needs, we know what it wants, and we want to be able to provide it."
Although the space came with Odeon's furniture, the Whirling Tiger is adding its own touch to the venue, along with cleanups and repairs.
"We added our own flair in decorating," Cruz said.
There haven't been any structural changes to the building, but Cruz says there have been plenty of cosmetic improvements during the renovation process.
While the leather couches and chairs, shag carpeting, fireplace, piano and exposed bricks are staying, the cocktail offerings are changing.
Cruz doesn't want patrons waiting too long for drinks, saying a cocktail like an Old Fashioned should only take a few minutes to make.
"We will have a much more defined bar program," Cruz said. "Our approach is going to be bourbon and bubbles."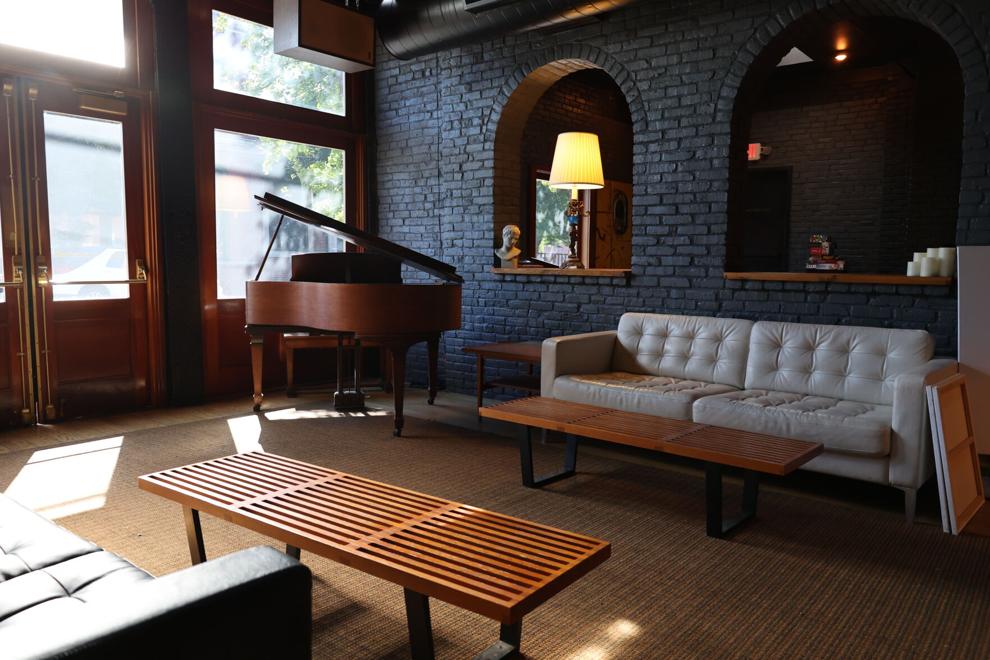 The venue space, which holds around 300 people, in the back of the bar was renovated.
It was used for live music performances, which it will be once again, but the Whirling Tiger will also feature comedians and other live entertainment.
Lighting for those performances was upgraded, along with soundproofing the walls. Two projector screens behind the stage are being added, along with a curtain at the front of the stage.
"It's actually going to be a much nicer venue than it was before," Cruz said.
The live concerts will feature similar musicians that previously played at the venue, but the performances shouldn't reverberate into the Butchertown neighborhood as much as past shows.
"The soundproofing is significant," Cruz said. "It's adding a lot of baffle material."
Cruz also envisions the bar's recording studio being used for podcasts or music.
As for the naming of the bar, owners opted for a local connection.
It's a historical reference to a tornado on March 27, 1890 that decimated buildings in Louisville and left over 100 people dead.
"Butchertown was one of the ones (neighborhoods) that suffered the most, but this building was actually left standing," Cruz said.
There's also a cocktail called "The Whirling Tiger," which appropriately for Kentucky, replaces rum with bourbon mimicking the traditional "Dark 'n Stormy" cocktail.
The Whirling Tiger has applied for the city's 4 a.m. liquor license, so serving late into the night could be an option, if enough demand exists.
Cruz says the bar will initially focus on the weekend crowds.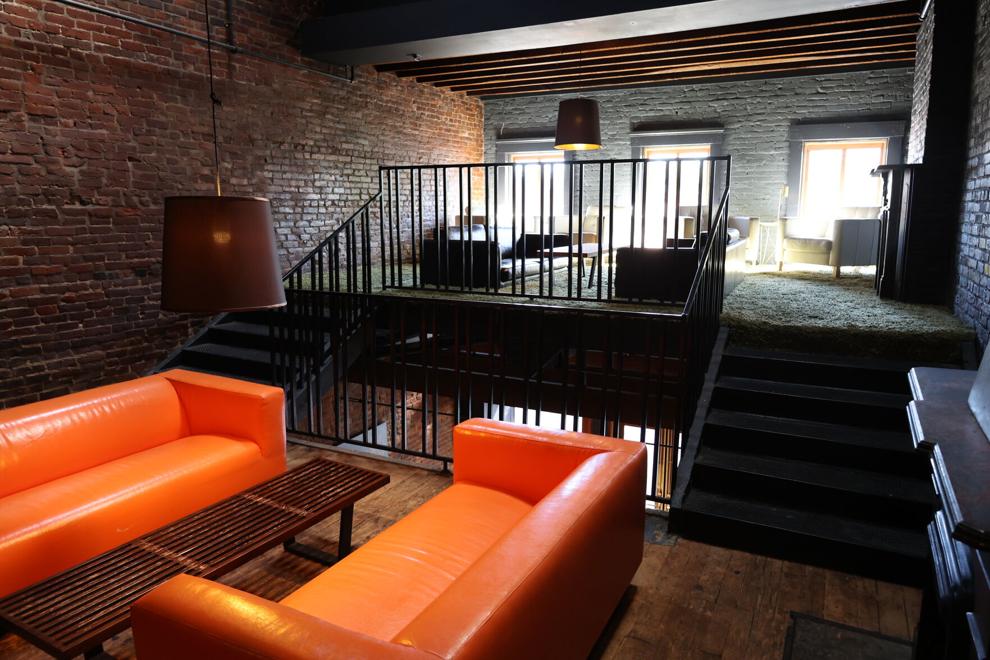 "Right now, it doesn't make a lot of sense to be open seven days a week," Cruz said. "We will probably tailor it to what the neighborhood and the community needs."
Although there's space for a kitchen at The Whirling Tiger, Cruz says owners currently don't have the intention of offering food. With Against the Grain offering restaurants in other locations around Louisville, catered events could be a possibility.
On the opening night, scheduled for Oct. 30, Against the Grain is partnering with Coat Check Events for a Halloween party.
The Whirling Tiger isn't the first bar that Against the Grain has revamped this year. It opened ATG Sandwich Emporium and the Flamingo Lounge, which previously housed Another Place Sandwich Shop, and jazz club Jimmy Can't Dance.
The change in ownership has been well-received, according to Cruz, at the restaurant and bar in downtown Louisville.
"It's steadily improving, as long as downtown continues to thrive, it will thrive," Cruz said. "We're absolutely head over heels with that space, it's doing really great."
Related Stories:
Copyright 2021 WDRB Media. All Rights Reserved.