LOUISVILLE, Ky. (WDRB) -- Tens of thousands of fans are in Louisville this weekend rocking out at Louder Than Life. 
The four-day festival runs through Sunday and is expected to bring in 35,000 fans each day. COVID-19 canceled the festival last year, but it's full steam ahead in 2021. 
"I'm looking forward to seeing Korn for the first time," festival-goer Tonya Hinds said Thursday. "So I'm super excited about seeing them and I've never seen Metallica."
Fans have come from all over to rock out to some major headliners. 
"All of the bands that I grew up listening to and in high school as well, I think a good 80% of them are here," Amy Weaver said. "So I'm excited."
It looked like things were off to a smooth start Thursday afternoon with relatively short lines to enter and get food and beverages. Merchandise lines were a bit longer of a wait as fans clamored to get their hands on the best items early. 
"It's just an amazing atmosphere, and I think everybody's just happy to be out listening to live music again," Hinds said.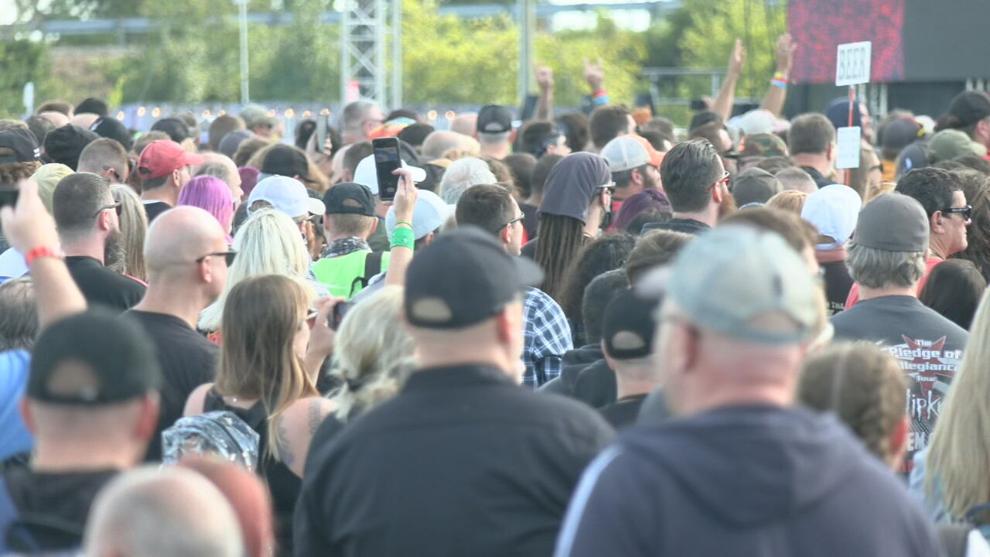 Music isn't the only focus this time around. Festival-organizers said safety is a top priority. Masks are strongly encouraged on the festival grounds but are only required indoors.
All fans must be fully-vaccinated or provide proof of a negative COVID-19 test taken within 72 hours of entering the grounds at the Kentucky Exposition Center. Fans will get a special health check wristband before they can enter the festival.
"It's our first day, and we're going to go safety over speed ..." said Gary Spivack, executive vice president and head of talent at Danny Wimmer Presents, the company putting on the festival. "These last 20 months, we questioned what we're doing in terms of making sure we're safe with all the guidelines and protocol. And it means everything that this is happening."
Single-day tickets are still on sale. Spivack said Sunday tickets are almost sold out due to a big lineup and is encouraging anyone who is interested in the festival to come check it out.
"Come and be a part of this. because this is like what life is all about," he said. "We have to move on, we have to live our lives in safety ... but we're here doing it."
To see the full schedule for the weekend, click here.
Copyright 2021 WDRB Media. All Rights Reserved.