LOUISVILLE, Ky. (WDRB) -- Longer lines, shorter hours of operation, and phone calls going unanswered. That's what several WDRB News viewers in Kentucky and Indiana said their experience at pharmacies has turned into lately while trying to get prescriptions.
"It's always been quick and easy, in and out," said Dawn O'Keefe, a Louisville Walgreens customer. "The app always worked great. If you needed to talk to somebody you could always get through. The last two months, the bottom has just fallen out of it."
O'Keefe said she's struggled over the last few months to get prescriptions for herself and her family. She said she's no longer able to pick up medications at the drive-thru of her local pharmacy off Outer Loop, and pharmacy hours are cut back.
"(It's) very frustrating," she said. "I mean, considering, I have this rare bone disease where my bones are literally dying, so standing for any length of time is not an easy thing to do."
She recently had hip replacement surgery and said she wants to be able to trust her nearby pharmacy will be open during its regular hours.
"It's so much bigger than just me," she said. "They're failing the community. They're here to take care of the community. They're failing me. It's going to take them a long time to regain that trust."
Jeromy Satterfield has similar frustrations about the Walgreens he goes to off Holmans Lane in Jeffersonville, Indiana. He has filed a complaint with corporate about long lines inside the store.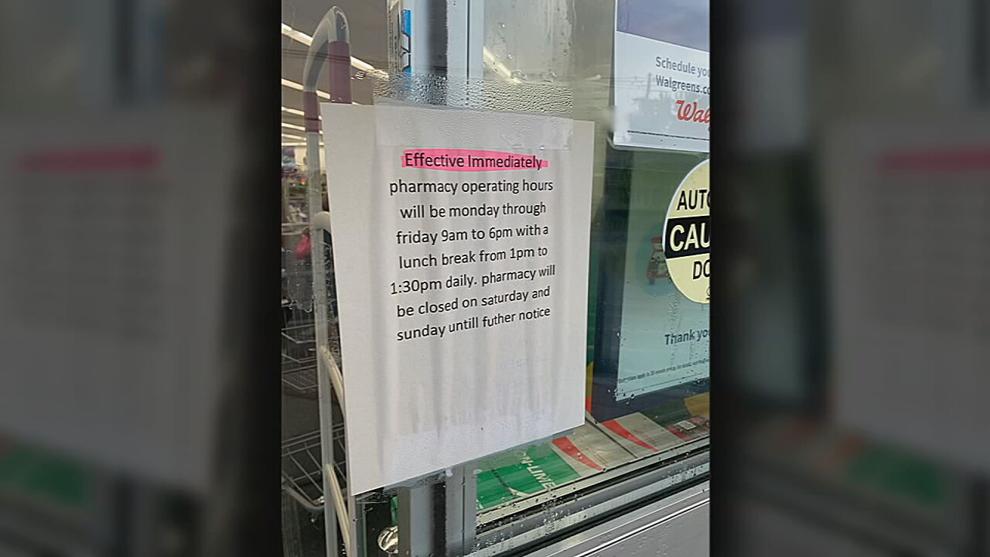 "They said that was not typical of their location and it was unacceptable and they would address it, and I haven't seen anything addressed with it," he said.
The next time Satterfield went back, he said the pharmacy was not open inside and was drive-thru only. He said the pharmacy closed for lunch while he was in line and he ended up sitting in his vehicle for nearly two hours before getting his prescription.
"I arrived in line at 12:48 and I made it to the window at 2:30," said Satterfield.
That location now tells WDRB News that its pharmacy is open inside the store again.
According to the Kentucky Pharmacists Association, as the pandemic continues, having patience will be key. Experts say pharmacists are not only handling daily prescription needs, but also COVID-19 vaccines and testing and now, flu shots.
"In addition to everything they were doing before, your pharmacist has that responsibility of ensuring your health and safety from a global pandemic and public health standpoint," said Cathy Hanna, president of Kentucky Pharmacists Association. "These are unprecedented times."
Hanna also said, "Under normal circumstances, we wouldn't be seeing shortages of pharmacists or technicians but during these times, increase stress and burnout are (a) real concern."
O'Keefe said she's not upset with those she sees at her pharmacy. Her concerns are at the corporate level. She said she would like to see more support given to employees.
"I applaud them. I applaud those who are showing up," she said.
"They are juggling family, school, schedules just like everyone else but additionally they're dealing with (an) increase risk of exposure, quarantine, isolation and other issues," added Hanna.
Ben Mudd, executive director of the Kentucky Pharmacists Association, said there has been a sudden shift in where some pharmacists are working, moving away from large-scale stores.
"We are seeing pharmacists and technicians leaving the workforce, shifting to other professional settings or choosing other part-time work," explained Hanna.
Mudd suggests giving pharmacies as much advance notice as possible when refilling prescriptions.
"I wish that we could say, 'Well you should just go to XYZ pharmacy,' but that's not the solution because everybody's having problems," he said.
Home delivery for prescriptions could also be an option for many patients to avoid lines in stores.
According to Walgreens, customers can get prescriptions delivered at home. For information on how to sign up, click here. 
CVS also has information about delivery options on its website. Click here for details. According to CVS, delivery fees are being waived until further notice.
According to Kroger, its prescriptions can be delivered through a separate company for a fee around $6.00. Customers can sign-up in store. For details, click here.
"I know specifically that CVS and Walgreens have now raised their minimum wage to $15 an hour for technicians and I could see that increasing," Mudd said. "I have to think they want their stores fully staffed as much as anybody else. I hope that their teams are working daily to try to correct the problem, and it's just going to take time."
Walgreens declined an interview but provided this statement: 
"We have thousands of store locations in many cities across the country and overall have had minimal disruption. Walgreens pharmacists have long been trusted health experts in America's communities. On the occasion a pharmacist is unable to meet his or her shift, our clinical and safety teams work closely with our field and store leadership to limit pharmacy disruption as quickly as possible. This may require temporary adjustments to the pharmacy operating hours, at which time customers and patients are guided to visit a nearby store location for their prescription needs.
To help ensure continuity of patient care and access to prescriptions for customers whose local Walgreens store may have temporarily adjusted hours, our store teams work to direct them as appropriate to the nearest Walgreens for their prescription needs, care and support. Additionally, customers who have questions about their medications can also talk to a Walgreens pharmacist using the Pharmacist Video Chat feature available 24/7 on Walgreens mobile app and website. The latest store status information is updated continuously throughout the day and available via our store locator on Walgreens.com/FindaStore and Walgreens mobile app. On the occasion a store has a temporary delayed opening or closes early, it is reflected on the store locator.
We are grateful for the responsibilities our pharmacists are fulfilling since the beginning of the pandemic, whether its administering life-saving vaccines, or helping patients keep up with prescriptions and health screenings."
CVS also released a statement saying:
"We make every effort to ensure we have appropriate resources in place at each pharmacy. Throughout the pandemic, our employees have continued to serve as a critical resource for health care services, prescriptions, vaccinations, COVID-19 testing and other products and supplies in communities like Greater Louisville, at a time when they're needed most. As our employees continue to be there for our customers, we're adding to our talent pool to provide them with even greater support."
Kroger recently held its first-ever virtual hiring event, specifically looking for Health and Wellness employees in roles such as pharmacists and pharmacy technicians. Kroger said around 1,500 spots available across the country.
"Kroger, like other retailers and other pharmacy providers, we've really seen some difficulty in filling some open roles," said Erin Grant, Kroger spokesperson.
No one was able to provide a timeline as to how long the in-store issues might last.
Copyright 2021 WDRB Media. All Rights Reserved.