PROSPECT, Ky. (WDRB) -- Far from the hustle and bustle of the city, you'll find Suivatus Nesbitt in the saddle at Honey Suckle Stables.
"It's like a bond you get whenever you're with them. You just click and they listen so good," said Nesbitt.
Taking the reigns, she rides around the small Prospect arena. "I'm getting better and better every time we come out here," she said.
It's hard to believe that three years ago she'd never even pet a horse. "One day she offered to take us out to the barn and I was like okay. I've never been on a farm so this could be fun," Nesbitt said.
Nesbitt is part of the Academy @ Shawnee's equestrian club, a small but dedicated group of students spending time on the farm far from their west end high school.
"It has earned a bad rep, but we're trying to turn that around, and I think any positive notes that we can bring, any outlets we can let these kids have is good for them," said Shawnee English teacher Shane White who started the club.
White's been riding since she was five years old and owns two horses. When she started teaching at Shawnee three years ago, she thought combining her two passions only made sense. "I'd seen programs, inner-city programs where kids had been exposed to horses and I thought this is perfect for me because I love horses, I love my job, so I can mesh the two together," said White.
The students spend time in the classroom doing book work where they learn about breeds of horses, diseases and how to care for the animals. Then it's out to the farm where they ride, but most of their time is spent doing the hard work.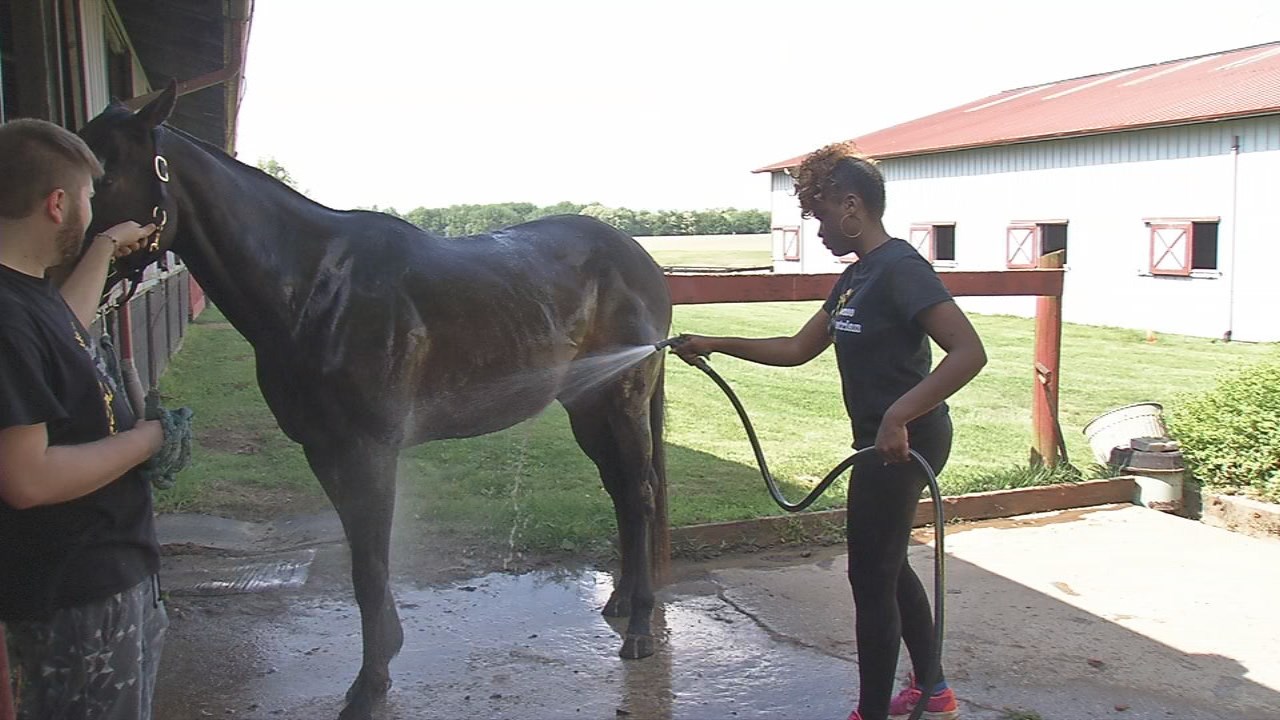 "If you're not used to doing a lot of work, getting dirty and cleaning off horses, clipping them, trimming them, it's a lot of work," said Nesbitt.
The manual labor doesn't seem to deter them. A knee surgery sidelined Nick Benfield, but he's still showing up week after week. "I tack up the horses, I clean them off. Even though I'm not able to ride currently, I'm still able to find things to do out here," Benfield said.
For White, it's all about getting the students out of their comfort zone. "Because if they can get out of their comfort zone with someone they love, then they're more likely to get out of their comfort zone like in my class," said White.
As she prompts them as they ride, she's really steering them in the right direction in life. "Because as we all know high school is really rough, so this is just a chance for them to get to know the animals. They've formed these relationships with the animals, and so it's a positive outlet," said White.
Nesbitt was the first student White recruited for the equestrian club. Now she's headed off to college next fall. She plans to study criminal justice at Eastern Kentucky University, but she says in her spare time she plans to volunteer at the stables.
"I never thought I would feel this way about horses," said Nesbitt.
White hopes to eventually expand the program to include a barn students can operate on their own. She also wants to start a competitive riding team.
Copyright 2018 WDRB News. All rights reserved.