LOUISVILLE, Ky. (WDRB) -- A U.S. politics board game designed in Louisville gives players the power to make policy changes in Washington, D.C.
Citizen is a civics-minded board game that offers a unique look at political strategy in the U.S. Gray Smith and Steve Barger designed the game with the intention of stimulating informed conversations and expanding knowledge about the innerworkings of the U.S. government.
While the board game took over a decade to design, Smith said the initial idea came when he was on youth trip to Washington, D.C. in 1974. The youth group visited the Smithsonian, Washington Monument and the White House that was marred with the Watergate scandal.
"We were the last tourists of the Nixon Whitehouse because that evening they rolled a TV into our hostel where we were staying and we watched Nixon quit," Smith said. "I wouldn't say I'm a rabid politico, I think everybody needs to pay attention but I've always wondered what would cause a president to quit."
The power of the U.S. Congress interested Smith, and then decades later the Supreme Court's decision of Citizens United v. FEC sparked him to make trading cards of politicians with logos of their donors.
"It was a series of congressional trading cards that would show how they vote, how they're funded," Smith said. "I mocked a couple of them up, I showed them to a friend of mine, he said, 'it's interesting, but you need to make it move.'"
The cards turned into the potential for a board game.
"The deeper we got into the way our federal government worked and all the moving parts the more clear it became that there is a machine there," Smith said. "The founders were pretty smart. It's all about power, which is what games are about."
The board game took more than 12 years to develop. There were seven prototypes, lots of testing and research to blend American history with modern issues.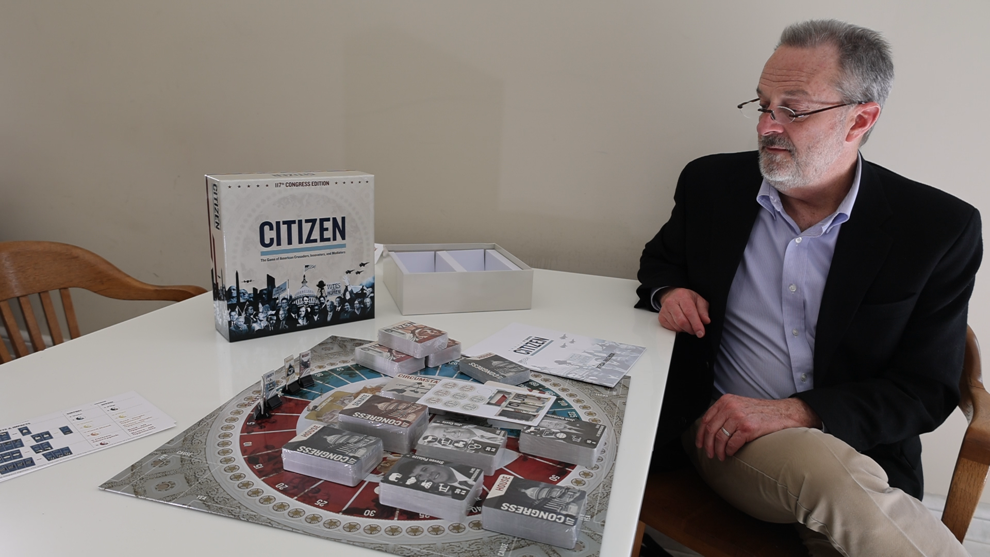 Players select a cause to start the game, and draw cards of elected officials either in the U.S. House or Senate. The strategy-based game is a card deck-builder concept where players push their issue forward or block another player's issue.
"We spent a whole lot of time on what the gamers call mechanics that would match the theme and be really enjoyable," Smith said. "The challenge is a lot serious gamers play for maximum escape value, they like dragons and demons and wizards and swords. We have those, but they wear coats and ties, and dresses."
The game becomes a race between up to four players to pass a cause they select before anyone else does. The game comes with 64 cause cards, 169 citizen cards, 54 citizen power cards, 56 circumstances cards, 100 Senate cards, 435 House cards and more. 
"We had to make a really enjoyable, strategically-satisfying game that you want to play over and over again, which you can do without reading the cards if you want to," Smith said. "It has a lot of levels and it's really intuitive and really fun. Lot's of decisions. It also perfectly represents how things work in the modern post-Citizens United Congress, instead of dice, it's the real Congress."
The first printing of the game was completed last summer. Around 400 copies have already been shared or sold. Smith said civics educators said there isn't anything else like the game.
Citizen has been tested by the Bill of Rights Institute and the Constitutional Academy, two nonprofit educational programs. The board game can be a resource for educators and civic-minded students, but it was created to be something anyone can enjoy playing.
"We don't want people who love a great game to think it's just academic, because it's not," Smith said. 
With a variety of contemporary issues that impact the U.S., Smith said the game is deliberately and mathematically designed to nonpartisan.
"It is not our objective to teach partisan views at all, players do that by the cards that they chose," Smith said. "We didn't do it for a gold mine at the end, we're finding our way with what we knew had to be a really good game first and foremost that also advances the theme accurately." 
He admitted the early iterations of the game were too complicated, but now players as young as 13 years old have tested the game. 
"This is not complicated," Smith said. "The game world says we are light to medium in terms of complexity, which is right where we wanted to be. Challenging enough to play over and over again with a lot decisions and strategy, some chance."
Additional editions of the board game will be printed every two years, to update changes in Congress and causes impacting government.
Citizen is available for purchase at the Frazier History Museum or on Amazon.com.
To learn more about the game, click here.
Copyright 2023 WDRB Media. All Rights Reserved.