FRANKFORT, Ky. (WDRB) -- When Gov. Andy Beshear gives his final COVID-19 update Friday, it will also be the final time in the spotlight for the woman who has been his silent partner during the pandemic.
Sign language interpreter Virginia Moore has been by Beshear's side since the earliest days of the outbreak, when he was doing two updates every day.
"When the governor opened the door to let the deaf and hard of hearing understand what was going on, it was amazing," Moore said.
Moore has faithfully relayed information to Kentucky's 700,000 deaf and hard of hearing people.
"The deaf and hard of hearing community was just so thankful, because they don't get this kind of information first-hand," she said. "It has opened so many doors for us to make sure that communication continues to this community."
In the process, Moore, who is executive director of the Kentucky Commission on the Deaf and Hard of Hearing, has become a celebrity in her own right.
"Well, it's interesting and not one that I was ready for," Moore said.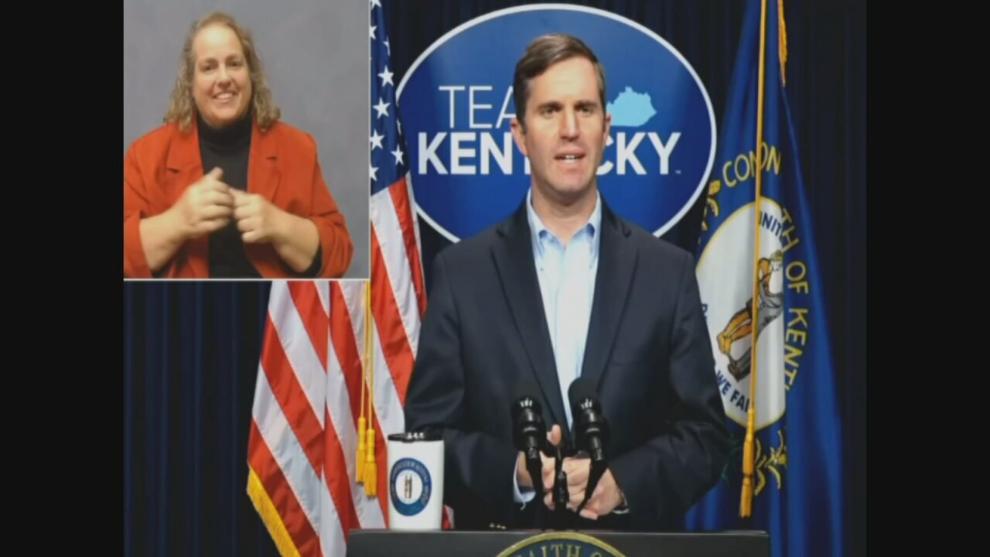 Moore has become the subject of internet memes, has her own bobblehead and is recognized wherever she goes.
"I only had one bad encounter," she said. "So, mostly, people are so nice out there, and they just wanted to say, 'Hi' and thank us for what we were doing."
Sometimes, the job has not been easy, as when protesters gathered at the Capitol and hanged the governor in effigy.
"They were banging on the windows while we were trying to communicate," she said. "That was scary, very scary."
But Moore has been there along with the "Two Rachels" — Rachel Rogers and Rachel Morgan-Kincaid — who filled in when Moore was absent.
"It has definitely been a big, big opportunity as far as access, opening those doors for the deaf and hard of hearing community," Rogers said.
"Virginia's done a phenomenal job," Morgan-Kincaid added. "We have all spoken about how we don't think we could have handled it quite as well and as professional as she has."
After a much-publicized bout with cancer last fall, Moore said she is now doing well.
"The outpouring of love, the prayer blankets, the cards — I mean, 500-600 cards, they just kept coming — it was so amazing," she said. "It just kept me lifted up."
As she approaches the final regular briefing, Moore said she is pleased to no longer have to repeat the names of those who died during the crisis.
"That was one of the hardest things I've had to do," she said. "Not having to do that is fantastic. I think we're on the way to healing, and that feels great."
Copyright 2021 WDRB Media. All rights reserved.