LOUISVILLE, Ky (WDRB) -- Some school districts in Kentucky are still putting together a back to school plan in the wake of the COVID-19 pandemic — this as the start of the school year gets closer.
Updated guidelines for schools in the state were released Monday by the Kentucky Department of Education. The 11-page health and safety guide not only makes sure previous protocols are addressed, but reveals additional items including checklists for parents and school staff.
"How do we ensure the safety of our youngest student to our oldest employee? That's a tough call," said Sue Foster, president of the Jefferson County Association of Educational Support Personnel Local 4811. Foster represents more than 4,000 JCPS staff members.
While previous protocols talked about mask usage and social distancing, the latest form goes a step further — suggesting each school have a health room where a student with possible COVID-19 symptoms can stay while they wait for their parents pick them up. KDE says the rooms should have a sink with running water.
If separate rooms are not available, shower curtains may be used as a divider that can be wiped down between students.
Foster says JCPS does not have enough licensed practical nurses (LPN) to accommodate a room for each school.
"When you do the numbers, you are looking at close to upwards of 20,000 kiddos that their health is being cared for by these 29 LPNs," Foster said.
Parents may also be required to sign a form agreeing to check their children for symptoms such as cough, GI symptoms, rashes and temperatures greater than 100.4 degrees before heading to school.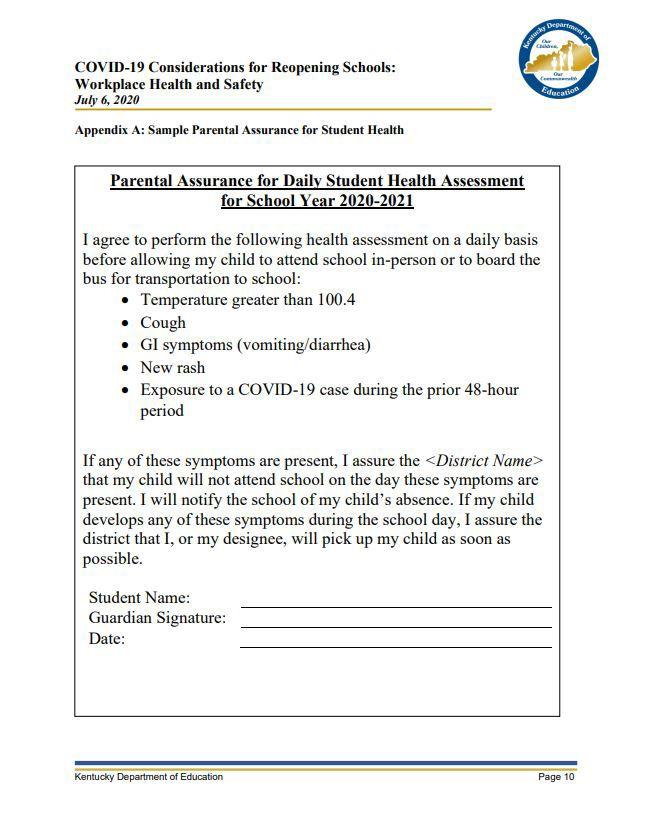 "It might be a liability protection if there is an outbreak, that sort of thing. They can kind of go through and say 'OK, well this parent had this form based on this,'" WDRB Education Reporter Kevin Wheatley said.
A daily form would also need to be filled out prior to work for school employees — asking about temperature, chills, muscle pain and sore throat.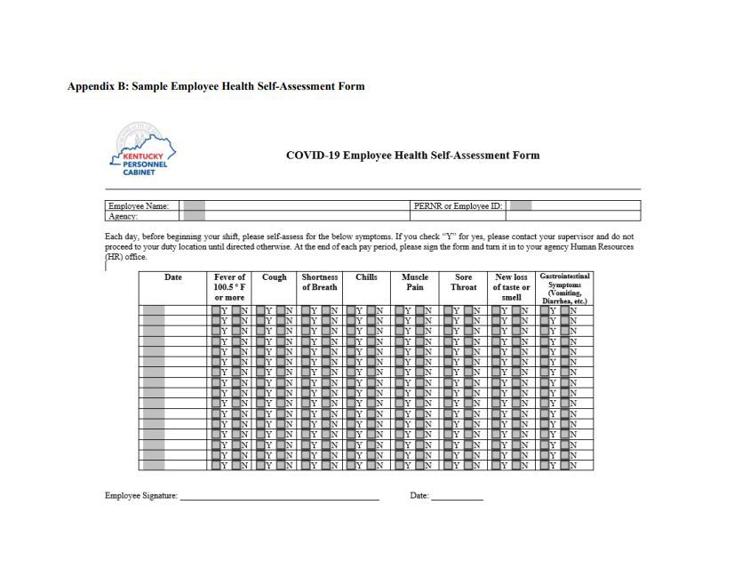 "We are reviewing the latest information from the Kentucky Department of Education about reopening schools. While we haven't made a decision yet about exactly what the start of the school year will look like for our students and staff, we will follow the guidance established by KDE," JCPS Spokesperson Renee Murphy said in a statement to WDRB News.
Some districts will have more time to implement these recommendations as the first schools in the state to head back to class beginning Aug. 3.
Below is the 11-page document with KDE's considerations for schools to reopen.
Copyright 2020 WDRB Media. All Rights Reserved.