LOUISVILLE, Ky. (WDRB) -- Pressure is growing on Kentucky Gov. Andy Beshear to veto the controversial school choice bill.
Superintendents from several area school districts, including Marty Pollio of Jefferson County Public Schools, voiced their opposition to House Bill 563 on Tuesday at a joint news conference in Shelbyville.
The bill would make it easier for students to transfer between public school districts, but the superintendents' concerns primarily centered around part of the bill that gives tax breaks for contributions to a $25 million scholarship fund.
Those dollars could be used to help qualified students pay education expenses such as textbooks and tutors. In the state's nine largest counties, the money could be used for private school tuition.
The superintendents said the tax breaks take away dollars that could be used for public schools.
"We cannot accept that public dollars will go to private school, private school funding, private school options," said Houston Barber, superintendent of the Frankfort Independent School District.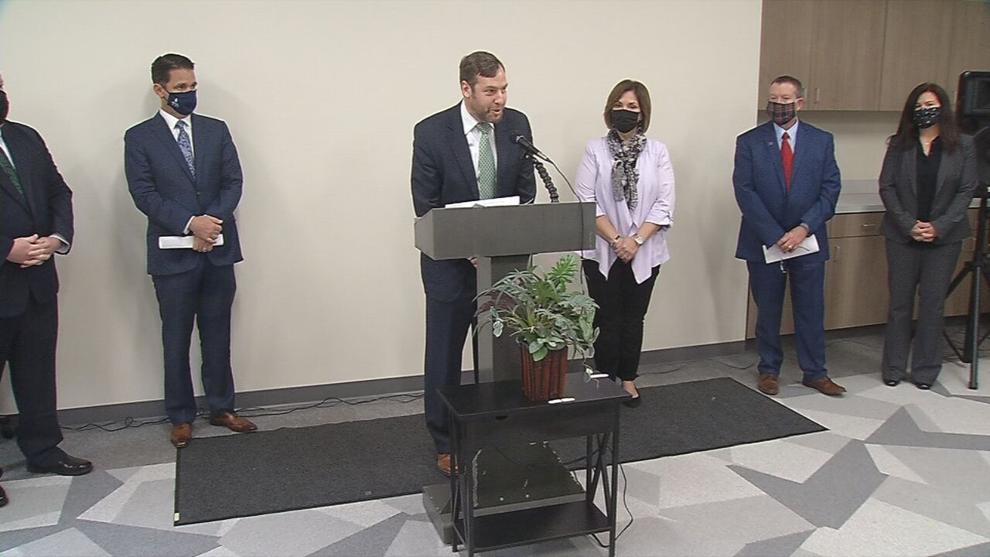 "We believe in choice, and we're willing to have that conversation," Pollio added. "It needs to be done right, and we need to fully fund public education before we set aside $25 million for private school scholarship tax credits. Clearly, I urge the governor — Gov. Beshear — as I believe he will, to veto House Bill 563."
The governor did announce vetoes of several bills Tuesday afternoon, but the school choice bill was not among them. Beshear expressed concerns about the measure in response to a question by WDRB News.
"It appears that just about the entire education infrastructure — which, aside the from big teacher pension cut a couple of years age is almost never on the same page — appears to all oppose it." Beshear said.
Beshear said he could announce vetoes of education bills, including HB 563, as early as Wednesday.
EdChoice KY, one of the organizations supporting the bill, argues it is about giving low-income families the same education options as wealthier families. But the superintendents expressed doubt that the most needy students, such as those who are homeless and those who do not speak English, would actually be helped.
Shelby County Schools Superintendent Sally Sugg said the bill was not well thought out, and those responsible for implementing the legislation were not consulted.
"All of our school boards across Kentucky will be left holding the bag, so to speak, in how to implement what is truly bad legislation," she said.
In an interview last week, EdChoice VP Andrew Vandiver denied that the bill was "rushed."
"We have a lot of good models to look at from other states, he said. "The programs are not new. They've been around for decades."
Lawmakers have the option of overturning any veto when they return to Frankfort on Monday for the final two days of the session.
The House needs 51 votes to override any veto. The bill originally passed the House by a vote of 48-47.
Vandiver said he was optimistic.
"We're confident ... that we'll hold the folks who voted for the bill," Vandiver said. "And maybe we'll flip a few of the votes who did not."
Opponents said they will keep up the pressure against both the governor and legislators.
"All children deserve opportunities. We understand that," Barber said. "But not at the expense of destroying public education."
Copyright 2021 WDRB Media. All Rights Reserved.