MADISON, Ind. (WDRB) -- It was a battle between hate and peace in a small southern Indiana town on Saturday.
Members of the Honorable Sacred Knights of the Ku Klux Klan held a cookout at Jaycee Park in Madison.
But the Klan was easily outnumbered by a group that didn't want the hate group there.
"White power," shouted members of the Klan, while organizers of the anti-Klan protest chimed in with "No hate in our state."
The anger and frustration were palpable.
"I'm not out here calling you nothing," said a member of the Klan to protesters.
On one side, there were members of the Klan. On the other side of a fence, were people like Jeff Dillow, who admits, he was fighting mad.
"I did want to go around there, you're right. 'Cause I wanted to stand right there in the middle of it. If they've got a right to stand there, what gives them the right to be the only ones to stand up there," said Dillow.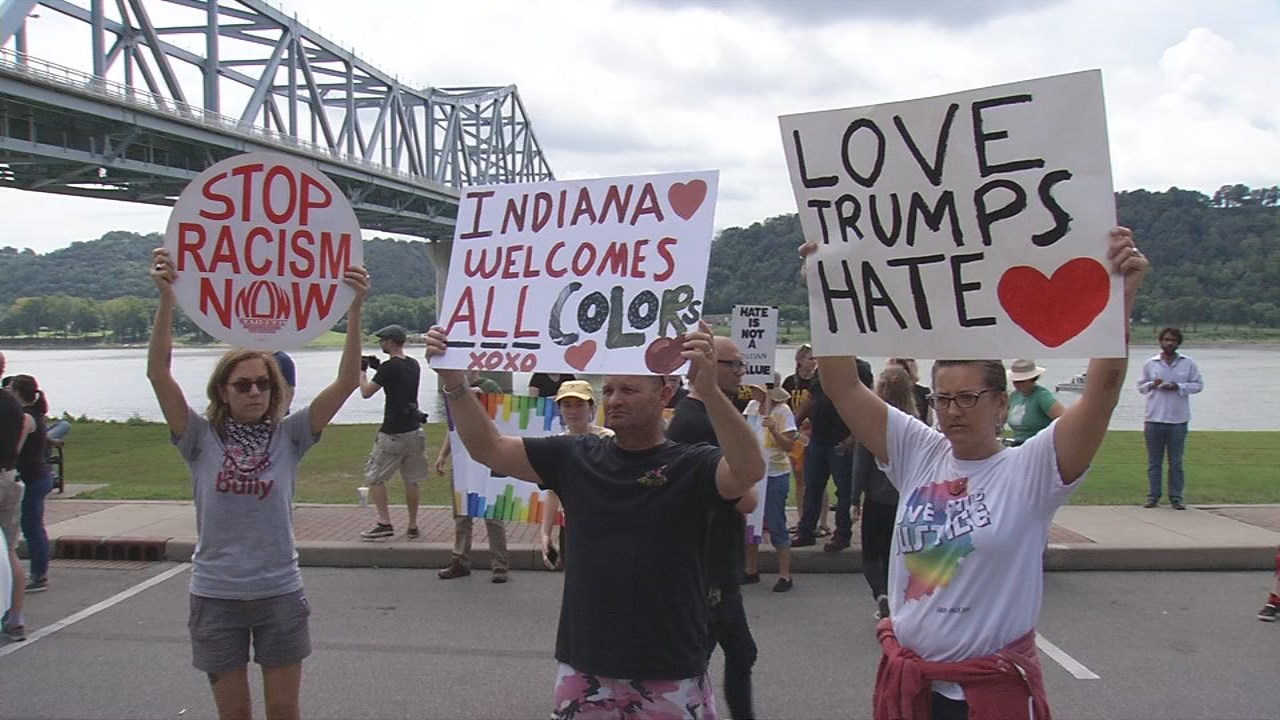 The KKK hung flyers and reserved the park for the cookout, but the turnout was still sparse.
"We're just having a cookout," said one Klan member.
Most of the Klan members hid their faces, but did answer a few questions about the "Ku Klux Kookout" and the reaction from Kentuckiana.
"Oh, we expected 'em to come ... especially when everybody found out it was the Klan," said one Klan member.
"The anger is real, though," said Tony Davis, who met with a Klan member. "They're only spewing what they were taught and educated."
Davis said he wants to find common ground with the Klan.
"That's the only way we are going to make progression in this thing we call America," he said. That's why he crossed a potentially dangerous line. "I wanted to engage him to say, 'look, I understand why you may feel this way and why you may have done this effort.'"
Evan Stoner, who helped organize the anti-Klan protest, doesn't want hate groups in southern Indiana.
"And how are we going to fix hatred by fighting back with hate," Stoner said.
Stoner said he also doesn't want to be part of the name calling or verbal attacks.
"I think that it is fighting fire with fire and in my opinion, the best way to fight back against hate is with love," he said.
Like Davis, Stoner hopes to eventually find common ground with the Klan.
"I actually criticized (people) that were here against the KKK for giving them the middle finger and using expletives against them, because I believe that only makes the problem worse."
Meanwhile, there were also more than 50 officers from four police agencies at the park on Saturday.
"We like to prepare for the worst and hope for the best. We certainly don't want to be under prepared for these type of events." said Sheriff John Wallace, with the Jefferson County Indiana Sheriff's Department.
Sheriff Wallace was at the scene all day and said there were no arrests, but there were a few minor "scuffles."
Related:
Copyright 2018 WDRB Media. All Rights Reserved.