LOUISVILLE, Ky. (WDRB) -- Restaurants and bars in Louisville held their final hours of indoor dining Friday before having to close their doors at 5 p.m. due to new restrictions from Gov. Andy Beshear. 
Beshear announced Wednesday bars and restaurants will have to stop indoor dining through Dec. 13, along with several other restrictions for businesses around the state.
"So many people are not necessarily coming to the coffee shops," said Rachel Radwanski with Safai Coffee Shop on Bardstown Road. "They come and sit and do their work, and they don't have that space anymore."
Radwanski said the shop is hopeful they may see more people order through them now that they can't sit inside at other restaurants. She said the business had already closed their indoor dining well before Beshear made it a requirement. Baristas there are now serving up coffee and food through a window originally meant for dog walkers. 
Radwanski said they also plan on rolling out new menu items to enhance their grab-and-go options next week.
"All these crazy rules — and they seem so restrictive — it's so we can all be safe and all be here next year, 10 years down the road," she said. "And that's all we want."
Unlike Safai Coffee Shop, Caio Ristorante does the majority of its business through dine-in service. The owner, Bridgette Pizzonia, said more than 75% of their revenue is generated from dine-in customers. 
"We just were starting to slowly get our head above water, and here we go again," Pizzonia said. "Thanksgiving eve alone is probably one of the biggest night for families to go out and eat. They don't want to cook. It's going to put people out of business. It really is going to hurt this time."
Pizzonia said she had to lay off employees earlier in the pandemic and will likely have to do so again.
Jeff Emonz and Bobby Bailey chose to dine-in for lunch Friday at Caio Ristorante before the restaurant had to close its doors.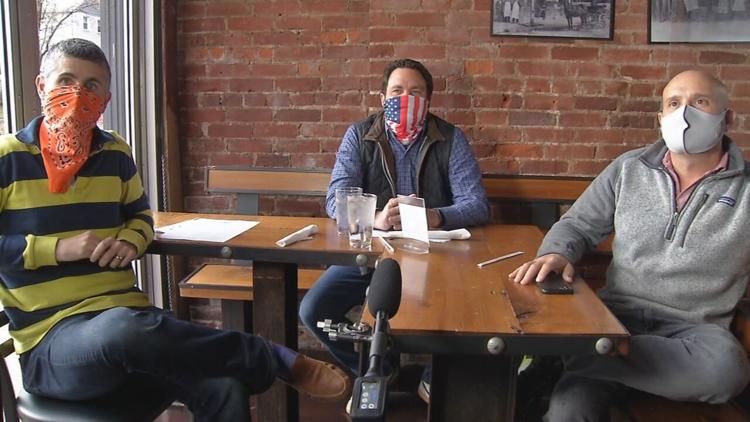 "When they shut this down, then we will start getting catered from here, lunches from here to go back to the office every Friday," Emonz said.
Emonz and Bailey said they also stopped in to dine at Caio before the restaurant had to close at the start of the pandemic.
"We're really trying to do our part to be safe, socially distance and do what we can but also support local businesses, which I think is really important," Bailey said. "It's not just one business. It's all the employees, all their families, and a little pebble thrown in the water will have ripples that reach far and wide."
To help with the loss of revenue, Beshear announced bars and restaurants will be eligible for up to $10,000 in assistance from a $40 million relief fund established using the state's share of federal CARES Act funds.
Pizzonia said the assistance is a good thing, but $10,000 wouldn't be enough to cover even one month of her bills.
Luis Alvarez is manager of Gustavo's Mexican Grill in Norton Commons. He feels the same way about the $10,000 from the Cares Act Fund. "We were a little upset about it," said Alvarez.
He admits, the new restrictions were tough to hear, but Alvarez said, "You gotta stay positive and try to find a solution; that's what we're trying to do."
Alvarez said they found a solution by putting up plastic tents on the patio of the restaurant. Allowing the restaurant to accommodate more customers for outdoor seating. 
"We were pretty excited, people loved them," said Alvarez.
But Friday afternoon, the health department burst that bubble. Alvarez explained, "Because it is considered dine-in. There's no airflow going through."
After making some adjustments, Alvarez said the business was allowed to keep the plastic tents in place.  
Copyright 2020 WDRB Media. All Rights Reserved.