LOUISVILLE, Ky. (WDRB) -- Jefferson Commonwealth's Attorney Tom Wine announced his office will not pursue criminal charges against any of the Louisville Metro Police officers or National Guard members who shot at and killed David McAtee at his barbeque business last June.
Wine ruled he will not present the case to a Jefferson grand jury because the officers were acting in self-defense, responding to McAtee first shooting at law enforcement. 
McAtee, a Black man, was shot just minutes after a massive force of law enforcement arrived at Broadway and 26th Street a little after midnight June 1, 2020, under orders to disperse a crowd and enforce a 9 p.m. curfew.
According to Wine, LMPD Officer Katie Crews fired her weapon eight times in the direction of McAtee. Officer Austin Allen fired once at McAtee. National Guard member Andrew Kroeszkewciz fired four times, and Staff Sgt. Matthew Roark fired six times.
Investigators said McAtee, 53, was killed by one of the National Guard members, but they couldn't identify which one.
Kroeszkewciz and Roark declined to be interviewed by investigators at the direction of their attorneys. 
In a news release from Wine, he said McAtee's nephew gave a recorded statement to investigators that he had told McAtee that marshals or "whoever" were outside prior to the shooting.
"Nevertheless, following the hurried entry of (his niece) and others into YaYa's through the side door, Mr. McAtee pointed a gun our that door and fired one shot," Wine wrote. "He then stepped back inside before reemerging to fire a second shot."
Because McAtee fired his gun and "posed an immediate threat of death or serious injury," law enforcement was justified in using deadly force in response, Wine wrote.
"This investigation will not be presented to a Jefferson County Grand Jury for further review or potential charges against any of the LMPD officers or National Guard soldiers who fired their weapons," Wine said.
He noted a federal investigation was ongoing. Wine has provided a 24-page review to the investigating agencies detailing the findings from his office. 
Wine said he alerted McAtee's family before issuing the news release Tuesday. At a news conference Tuesday afternoon, Attorney Steve Romines, who is representing the family, decried what he said is a pattern in these cases.
"One thing I've learned in 30 years of practicing law is that police will rarely, if ever, face accountability if it's left up to the prosecution that they work hand-in-hand with every day," he said. "When private citizens are forced to act in self-defense, they are charged and have to present that defense to a jury. Cops are summarily exonerated without any proof ever being presented. Does anyone really doubt why it continues to happen?"
The curfew had been ordered by Mayor Greg Fischer to stop violence that broke out during protests over the police killing of 26-year-old Louisville resident Breonna Taylor.
Wine noted most people in the crowd were compliant when officers arrived and began clearing the streets.
"There was no evidence that the crowd was engaged in any type of protests or destructive behavior," Wine wrote in a news release. 
But Wine said there was a "heightened sense of threat" as someone had set off firecrackers and officers reported hearing gunfire from several locations in the area. 
Some in the crowd made their way over to YaYa's. The business was still open, though McAtee had been told previously he would be in violation of the 9 p.m. curfew, Wine said.
At the time, McAtee was moving between his outdoor grilling area and the inside of his business. 
Officer Crews followed the group, firing a pepper ball shot into the street and then "several more" at YaYa's and McAtee's cousin, Machelle, Wine said. 
Video shows that as Machelle McAtee is pulled inside by David McAtee, he leans out the door and fires a bullet. When he reaches out and fires again seconds later, Austin, Crews and then two members of the National Guard returned a total of 18 shots.
McAtee died from a single gunshot wound to the chest. 
Wine said paramedics arrived within five minutes of McAtee being shot but he was already dead. 
The LMPD officers did not activate their body cameras and National Guard members were not equipped with the cameras. 
Two shell casings from a 9mm pistol were found near the doorway of the business, one inside and one outside.
Police have released surveillance video of the shooting they say shows that McAtee fired a gun before officers returned fire.
But attorneys for McAtee's family, as well as some of his friends in the business that night, say Crews initiated the sequence of events leading to McAtee's death, shooting pepper balls at people in front of YaYa's, forcing them to run inside the restaurant's kitchen door and then continuing to fire, hitting McAtee's niece multiple times.
And the investigation found that Crews' use of her pepper ball gun against Machelle was a violation of LMPD's use of force policy as Machelle McAtee was on private property and not a threat to police. 
Still Wine concluded it would "not be appropriate" to charge Crews with assault 4th as the "definition of physical injury cannot be proven," based on an interview with Machelle McAtee.
While he decided Crews should not be criminally charged, Wine wrote that "Crews' failure to follow written policy cannot be ignored and "conduct, while not criminal, should be reviewed by LMPD" for possible violations.
 As Crews advanced toward the BBQ business, she told investigators she saw a woman standing in the doorway refusing to go inside. Crews then fired pepper balls at her and the business.
The Louisville officer's account — given later to police investigators and obtained by WDRB News — and surveillance video raise questions about whether she violated internal department policies that permit chemical agents like pepper balls when officers believe "a degree of force is necessary to overcome actual, or anticipated, resistance by the suspect."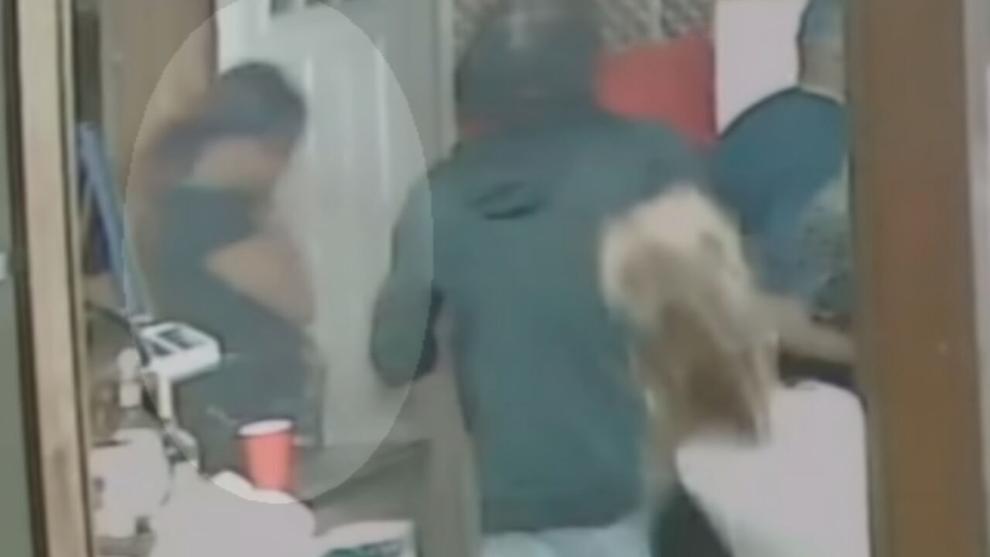 "She was standing in, I don't want to say, an aggressive manner, but as a manner that she was not going to go inside," Crews said of McAtee's niece, Machelle, who was working at YaYa's BBQ that night.
"After giving verbal commands, I did shoot more pepper balls in her direction," Crews told investigators in a June 5, 2020 interview. "She still refused, so I did shoot off more non-lethal pepper balls in her direction."
At the time Crews initially began moving toward YaYa's, she said she fired an initial pepper ball at the ground, sending people rushing inside the business, crowding the doorway.
Machelle McAtee appears to have her hands behind her back leaning against the door as initial shots were fired.  McAtee family lawyers previously released photos that they say show welts on McAtee's niece after she was hit by pepper balls. 
Attorney Romines has accused officials of repeatedly refusing to answer questions about Louisville police "firing unknown projectiles at 300-500 (feet per second) before David fired into the air." 
Wine offered his "condolences" to the McAtee family. 
"By all accounts David McAtee was well liked by the community, his patrons, and members of the Louisville Metro Police Department," Wine wrote. 
Copyright 2021 WDRB Media. All Rights Reserved.