FRANKFORT, Ky. (WDRB) -- U.S. Sen. Mitch McConnell, R-Ky, filed for re-election Friday afternoon at the Kentucky Secretary of State's office.
McConnell, the Senate's majority leader, said his powerful role in Washington is good for the state.
And he believes the impeachment drama will hurt Democrats in Kentucky, where President Donald Trump remains popular.
McConnell, 77, is a six term U.S. Senator first elected in 1984. If elected to a seventh term, he would be 84 by the end of the six-year term. The "Team Mitch" campaign said in a release that he has more than $9 million in his campaign war chest.
Democrats Amy McGrath, a retired Marine combat pilot who narrowly lost a 2018 congressional race, and farmer Mike Broihier are vying to challenge McConnell in 2020.
As the top-ranking Republican in Congress, McConnell is a lightning rod for Democrats across the country who want to see him ousted from the Senate. McConnell has been a key ally of the president for, among other things, putting conservative judges on the federal bench.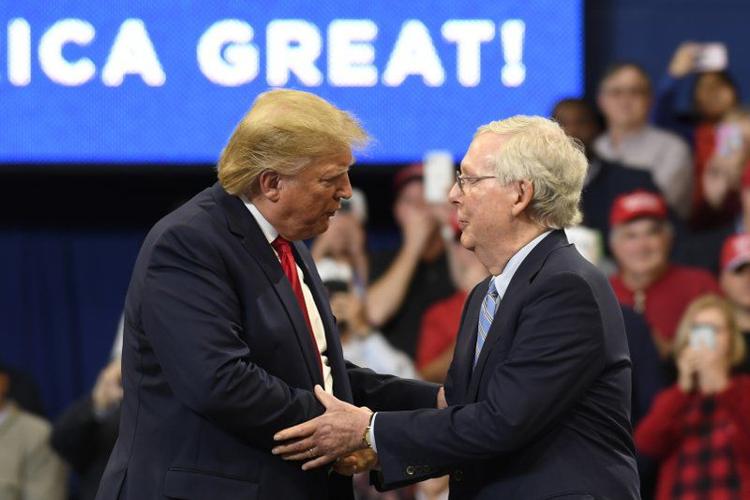 Kentucky is coming off a statewide election this month in which Democratic Attorney General Andy Beshear defeated Republican Gov. Matt Bevin by a slim margin. But the GOP won the other statewide elections to continue its dominance of Bluegrass State politics. Kentucky voters have not elected a Democrat to the U.S. Senate since Wendell Ford in 1992.
McConnell's first elected office was as Jefferson County Judge Executive in 1978. He attended college at the University of Louisville and law school at the University of Kentucky. He was admitted to the Kentucky bar in 1967.
Copyright 2019 WDRB Media. The Associated Press contributed to this report.  All Rights Reserved.