LOUISVILLE, Ky. (WDRB) -- Crews are working to change the traffic flow on the Sherman Minton Bridge, as the bridge renewal project ramps up.
Eastbound lanes of Interstate 64 will close at 10 p.m. on Friday, Sept. 17 through 5 a.m. Monday, Sept. 20, 2021. That means drivers who want to travel from New Albany to Louisville will have to use the Second Street or Kennedy Bridges.
Over the weekend, crews will use the closure on eastbound I-64 to set a barrier wall, install temporary lane striping and build temporary pavement and crossovers for phase one of the project.
Through phase one, two lanes of traffic on the lower level of the Sherman Minton will be closed. One eastbound lane will remain open on the lower level. Another eastbound lane will be moved to the upper deck. That's how traffic will flow through early to mid 2022.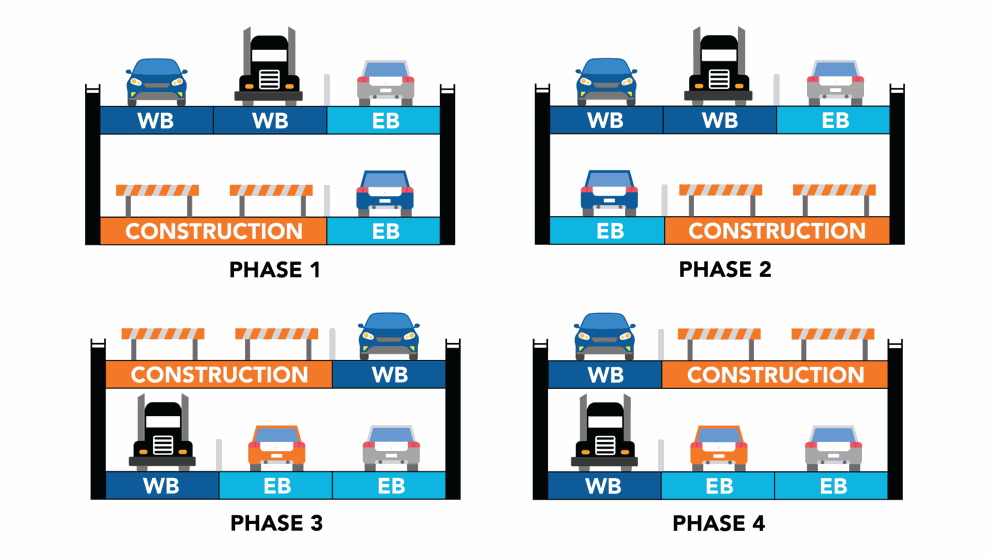 During the eastbound I-64 closure, the I-64 eastbound entrance ramp from West Spring Street will be closed along with the I-64 eastbound to I-264 eastbound ramp. Drivers in Indiana will be detoured to I-265. Local traffic will have access to the New Albany exit (5th Street/Spring Street). No traffic will be permitted east of the New Albany exit.
While the closures are in place, the suggested alternate route will be I-265 to I-65. The ramp improvements constructed in recent weeks at the I-65 / I-265 interchange and I-64 / I-265 interchange will accommodate increased traffic. Traffic signs and message boards are in place to help drivers.
The Sherman Minton Renewal is a major bridge rehabilitation and painting project that will significantly extend the life of the 59-year-old bridge. The double-decked bridge carries six lanes of traffic (I-64 and US 150) over the Ohio River.
About 70,000 drivers rely on the bridge that connects Louisville, Ky. and New Albany, Ind. The renewal project is expected to last through the fall of 2023.
The public can visit ShermanMintonRenewal.com to sign up for our e-newsletter and text updates to stay informed with the latest information.
Copyright 2021 WDRB Media. All Rights Reserved.