JEFFERSONVILLE, Ind. (WDRB) -- Business is booming at Jeffersonville's River Ridge Commerce Center, and it could get even bigger with millions of dollars in recent infrastructure improvements.
That boom is one the former ammunition plant is eager to hear with the announcement of $8.4 million in improvements to its already several-thousand-acre property.
"The growth here is unprecedented," said Devin Hillsdon-Smith, deputy director of River Ridge. "We are not focused just on the impact we have within the bounds of the commerce center. We want to make sure that whatever we're doing positively impacts and allows the community around us to expand."
Much of the $8.4 million will be used for the area's water system. An old 250,000-gallon tower will come down, and a 2 million-gallon tower will be put up. Another will be added on the north end of the property.
"There is an aquifer running along the Ohio River that we're drawing from that can produce up to -- some estimates say -- 100 million gallons of water per day," Hillsdon-Smith said.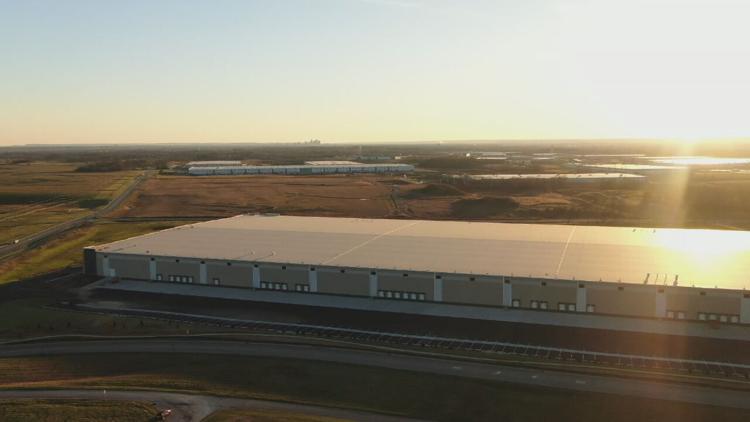 Currently, nearly 10,500 people work in the business park at 60 companies, occupying 13 million square feet of space, including the Amazon fulfillment center. Some buildings are more than 700,000 square feet and have no tenant yet, but River Ridge Developers say they soon will.
Road-widening projects are also expected to accommodate the increased load of semi's and workers.
Several hotels, restaurants and parks are under construction, adding to what Jeffersonville Mayor Mike Moore said is part of the allure to the Commerce Center's growing reach.
"These are not $10-12-an-hour jobs that are coming in," he said. "These are careers that are $60,000-100,000 a year."
The 6,000-acre property itself is only 30% developed. There is no timeline for when larger sections could fill up, but River Ridge officials said growth is not slowing down.
"I don't think there is any doubt anymore," Hillsdon-Smith said. "I think we are established, and we're proved ourselves, and we're going to keep doing so."
Copyright 2020 WDRB Media. All Rights Reserved.