LEITCHFIELD, Ky. (WDRB) -- With thousands of new COVID-19 cases reported every day, Kentucky is now one of the epicenters of the pandemic.
Six of the 10 worst counties in the U.S. based on population are in the Commonwealth.
"We test as much as possible with purpose, but that is challenging with COVID," said Dr. Anthony Smith, a pediatrician with Leitchfield Pediatrics. "Obviously, the mask mandates came down, people started getting out more. Vaccination rates really aren't where we need them."
The New York Times recently compiled data from the Centers for Disease Control and Prevention (CDC) and state governments shows the top 10 counties in the country with the highest cases per 100,000 people.
The six counties in Kentucky include Perry, Clay, Whitley, Russell and Rockcastle. Grayson County comes in ninth.
Smith said a lot of that has to do with children back in school and possibly spreading it to family members.
"Fortunately, we're still not seeing quite as many bad outcomes in kids. Pediatric patients do tend to be spared in comparison to the older population," he said.
Grayson County Public Schools said it has noticed cases have dipped in the last week. Masking is a requirement for the district's 4,000 students and staff.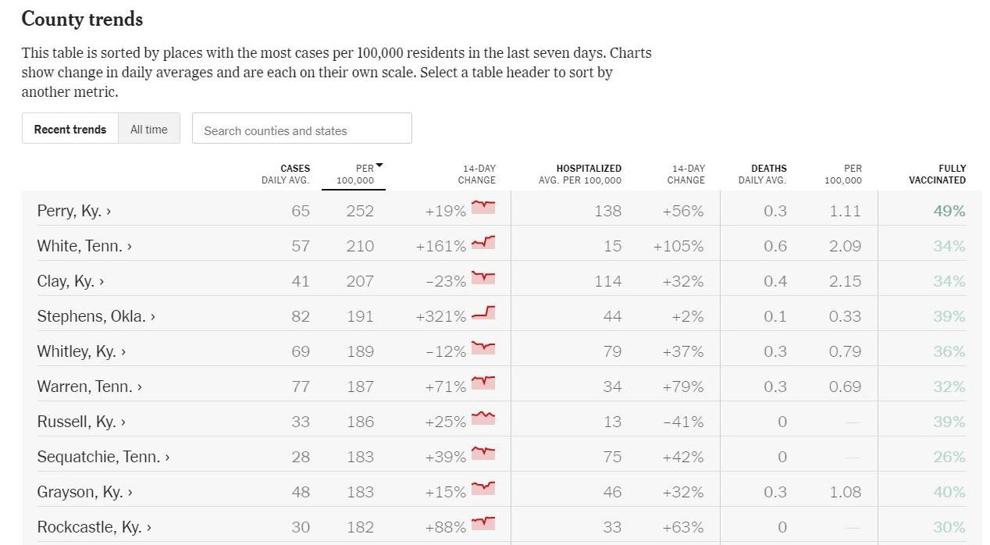 Superintendent Doug Robinson told WDRB news it appears cases in the district have dropped a little in the last week and about 8% to 10% of students are in quarantine or isolation.
Grayson County's vaccination rate is currently 46%, with 80% of those 65 and older vaccinated.
Smith said the county is not getting enough tests based on the number of cases, which now is about 48 cases a day for a county population of 26,000.
"I've never seen measles, I've never seen polio, I have never seen tetanus, and that is 100% because of vaccinations," Smith said.
Smith said numbers in Grayson County do look to be leveling off, and are expected to start declining in a couple of weeks.
Related Stories: 
Copyright 2021 WDRB Media. All Rights Reserved.