LOUISVILLE, Ky. (WDRB) -- Superheroes visited kids at Norton Children's Hospital this week. Window washers traded in their cleaning supplies for capes for a surprise several stories high.
Days at Norton Children's Hospital are long.
"This is 15 days," Kevin Hughes said.
"Five months," 5-year-old Paisley said.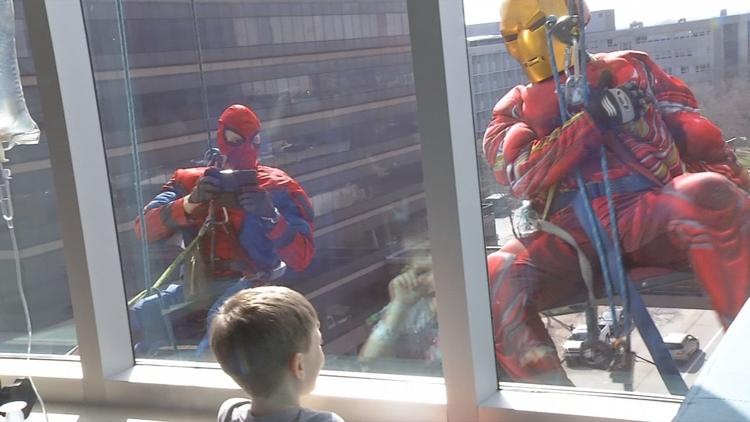 Time runs together. "If you've ever been here, you know where you're at. You know what kind of situation you're in," Hughes said.
"It hurts pretty good, but we'll make it," Raylen Walker said.
In between the monotony and the fear that take over, is a much needed break. "We're here to clean glass and warm people's hearts," says Joseph Haist of Pro-Clean International, Guys in Ties.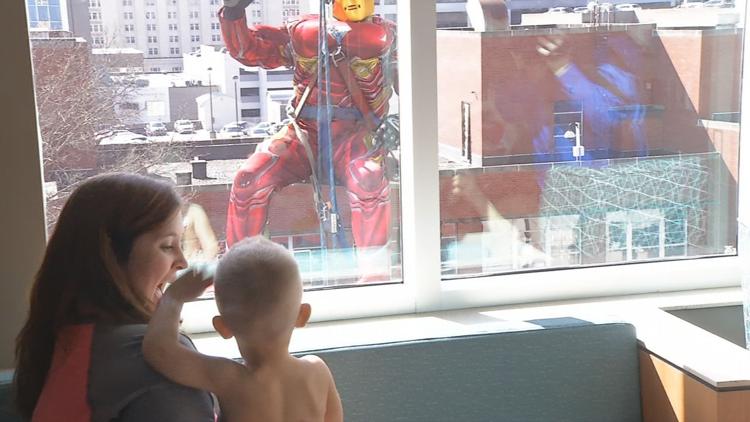 Superheroes are taking over Norton Children's Hospital. "Little boys just love superheroes. That's what they look up to, right? Hughes said.
Haist and his team traded in their bow ties. "Typically we don't even look through the glass, but on this particular case, you can see the excitement, you can see the activity going on. So, I'm looking for kids," Haist said.
Room by room. "I seen Spiderman," Paisley said.
Floor by floor. "You'll see in just a second, a little rambunctious boy come back out, so excited to have this opportunity to get to surprise him with something," Walker said.
Smile after smile. "It's amazing. It's a grand thing, especially to know what all he's been through in the last couple weeks," Hughes said.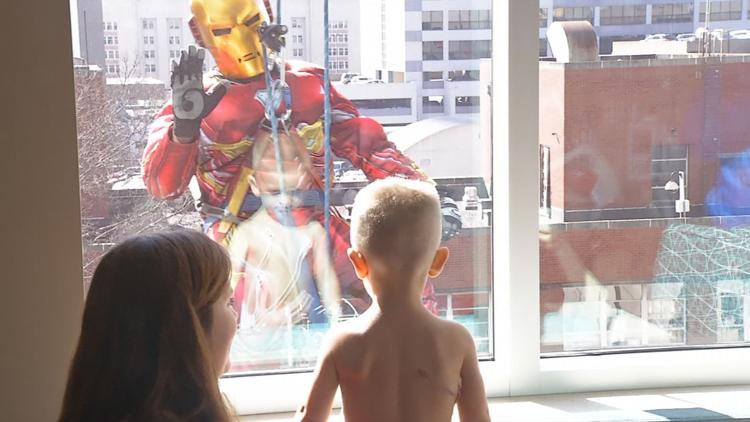 The window washer of 17 years turned Ironman knows. He's been on the other side. "I have a special needs child that was born blind. I've spent a lot of time behind these doors here. I've spent weeks here. I've been with parents who have spent years here, and you don't go home," Haist said.
Looking past the glass and beyond the job. "Makes you want to go out and do something for the next sick little kid in here. Makes your heart feel good for a few minutes, yes, yeah," Walker said. 
A mission to send a message. "Truth be told they are both the superheroes," Haist said.
There's a superhero in all of us.
The superheroes also plan on cleaning next week, eventually adding more characters, namely Star Wars, to the mix.
Copyright 2019 WDRB News. All rights reserved.