LOUISVILLE, Ky. (WDRB) -- A retired GE worker in Louisville went to a friend and former colleagues' home for brunch and says before she could even get out of the car, a stranger pounded at her window with a gun and demanded the keys.
"They said 'I'm going to kill, I'm going to kill you, I'm going to kill you, let your window down,'" Lamar Hampton recalled of her experience Tuesday in the Indian Spring neighborhood. "I went to hollering 'Jesus, Jesus, Jesus, you can't kill me.'"
As tears rolled from the 65-year old woman's face, she said the attempted car jacking was the scariest moment of her life.
Martha Jefferson, age 63, the friend Hampton had come to see, said she walked out of her home and saw the man banging his gun against Hampton's car window. 
"I locked eyes with him, and he stared at me and then left," Jefferson said. "I never was more scared in my life than yesterday because I thought the two of us were going to be gone." 
Wednesday the Louisville Metro Police Department reported a sharp rise in carjacking. Data released by a spokesperson showed 58 carjackings between June 1 and Aug. 4 in Louisville. The department recorded only 14 in the same  period last year. That's an increase of 414%.
Hampton's attempted carjacking may be tied to a successful one earlier the same day. LMPD said Devontaz Harper and a juvenile carjacked a woman around 7:30 a.m. in Fern Creek as she pulled out of her driveway for work. 
Police said the stolen red Lexus was connected to robberies. Jefferson said it's the same car used by the man who banged on Hampton's window.
"They wanted to ditch that Lexus and take her vehicle," she said.
LMPD Seventh Division Maj. Emily McKinley said Devontaz' crime spree started in her division. He was arrested along with the juvenile.
"We would just recommend everybody elderly, young and old make sure you are aware of their surroundings and look out for your neighbors," McKinley said. "I think a lot of this is done by young kids and young adults who find themselves in an opportunity to commit some sort of crime."
Common tricks used by carjackers, according to crime prevention websites:
The Bump: The attacker bumps the victim's vehicle from behind, and when the driver gets out to assess the damage the car gets swiped.
The Good Samaritan: The attacker(s) stage what appears to be an accident, sometimes simulating an injury. By the time the victim gets out to assist, it's already too late.
The Mechanical Issue Ruse: The vehicle behind the victim flashes its lights or the attacker waves to get the victim's attention, indicating that there is a problem with the victim's car. When the driver pulls over to inspect the issue, the vehicle gets nabbed.
The Trap: Carjackers follow the victim, and after pulling into their driveway to wait for the gate/garage door to open, the attacker pulls up behind, blocking them in. This could potentially be the most dangerous scenario, as it puts you, your car, and your entire household at risk.
McKinley said some of the carjacking in Louisville may be gang related. 
Another Louisville victim, a 21-year old woman from Goshen who asked to be identified only as Abby, said her 2010 Buick LaSabre was stolen in old Louisville Saturday around 11 p.m.
Abby said she parked with her boyfriend near Second and Lee streets heading to a birthday party. As they exited the vehicle, two people approached asking to use her cell phone, and she let them. They then demanded the couple's keys, fired a "warning" shot and drove off in her car.
"I was very scared, one of the scariest moments in my life,' Abby said. "There's been no arrest, no sign of the car, and I haven't even heard from the police since it happened."
LMPD said it is stretched thin by retirements, COVID-19 limitations and mandated staffing due to ongoing demonstrations.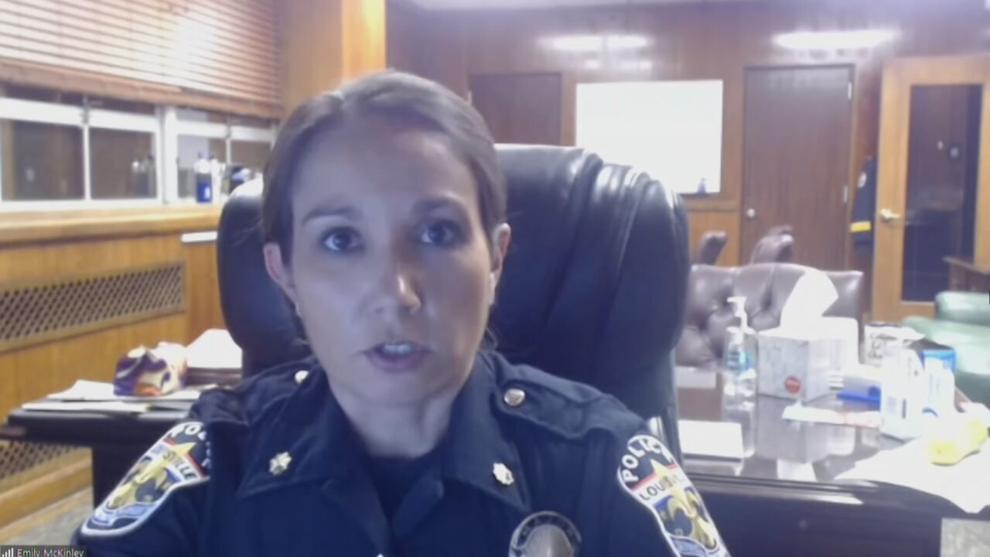 McKinley said detectives have less time and resources to be visible in neighborhoods and to investigate crimes, from carjackings to homicides.
"Despite this, our officers and detectives continue to persevere during these difficult and stressful times," McKinley said. "They are making good arrests in these cases and doing good police work. We are proud of them and we will continue to serve and protect our community."
Jason Buckner posted an emotional video on Facebook last month after finding out his 68-year-old father was carjacked and shot at by three teenagers near Dixie Highway and Dumesnil Street.
"Who would walk up to him and a put a gun to his head?" Buckner asked. "It's pretty devastating. I'll be honest with you. It's devastating."
The video went viral, racking up more than 400,000 views, as Buckner cried and expressed his outrage. 
His car was found within days, and a local body shop asked to fix the damage the carjackers left behind.
Buckner's case  first alarmed the city to the growing carjacking problem. Now Jefferson and Hampton, both in their 60s, said they want to share their experience as an additional caution to older drivers.
"They are following you home, they are hurting you and they have guns please stay alert," Jefferson said. 
Police asked that anyone with information on the carjackings call the anonymous tip line at 502-574-LMPD.
Tips to avoid carjackings, according to the Insurance Information Institute:
Always have your mobile phone handy — and charged.
Avoid being alone in your vehicle in certain areas, such as high crime neighborhoods, isolated roads and intersections and desolate areas of parking lots.
Be aware of your surroundings. Pay special attention to people who seem to be lurking or cars that suspiciously follow you into driveways. Call 911 and use your key fob or other car alarm if you feel a threat.
Be wary of how carjackers lure victims. These include bumping your car, pretending to be stranded motorists or flashing their lights as if there were something wrong with your car. In each of these scenarios, you might be tempted to pull over — only to have your car taken. Stay inside with the windows shut and the door locked and, if you feel a threat, drive to the nearest police or fire station.
Practice safe parking. Stick to well-lit areas. If you have any doubts about where you parked after the fact, find a security guard to accompany you to your vehicle.
Don't sit in your car with the door unlocked or the windows rolled down.
Don't stop at isolated ATMs, which might put you and your bank accounts as well as your car in danger.
Copyright 2020 by WDRB Media. All rights reserved.