LOUISVILLE, Ky. (WDRB) -- Thursday's school dance at Central High School was a night full of fun. Students said they were enjoying a great night for Homecoming.
But it ended with chaos and screaming.
Donavan Howlett and his girlfriend were waiting for their ride as students were told to leave the building. It was 21 degrees that night. 
"I was telling the sheriff: 'Can we stay inside here for another 10 minutes? Because she has sickle cell, and if she stands out in the cold, she could get sick.' He said, 'I don't care,'" Howlett said. "Plus it was snowing outside. She literally just got out of the hospital."
The Central High School junior said they were eventually told she could stay inside because of her Sickle Cell Anemia, but he had to go.
"Next thing you know, I'm getting grabbed," Howlett said. "He didn't just regular grab my arm. He gripped my arm and pushes me out the door."
Howlett said the officers, including two from the Louisville Metro Police Department, ripped his coat, injured his hand, and his body was sore from the dragging. Days later, you can see some small scabbing on his hand.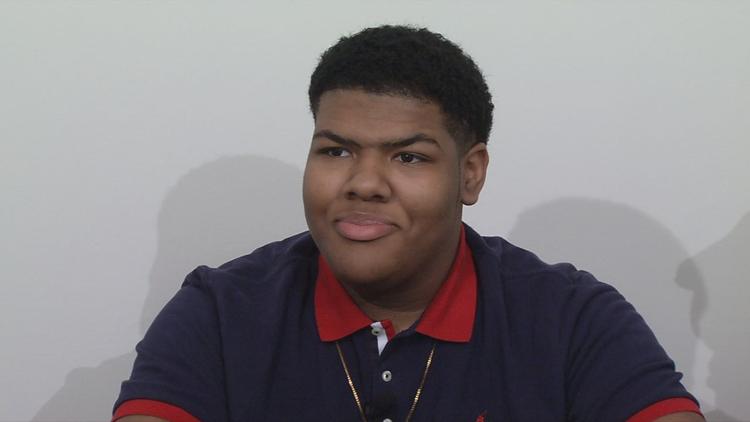 He said it all happened so quickly, and he saw an officer reach for something, thinking it was a gun.
"All these other kids are getting killed by police," Howlett said. "Am I going to be another one of those persons? Am I going to be a statistic? ... All I knew was to put my hands up."
Shinika McQuarter, Howlett's mother, said it was hard to watch her son being dragged in the video.
"I'm very upset in regards to how it was handled," she said. "I'm disappointed."
And his mother isn't the only one. The Education Team of Black Lives Matter Louisville posted the video on its Facebook page. 
"I would ultimately like to see some type of punishment take place to those police officers," said Chanelle Helms, one of the organizers.
Helms said her group is pushing for a veto of Senate Bill 8, which requires school resource officers to carry guns while on duty. 
"So you want an armed police officer at school with my child with my child knowing that there's different cultural competencies ... that we haven't even solved yet in our own school systems?" McQuarter said. "So what are police supposed to come and do? That's really curious to us, and we have no idea."
Gov. Andy Beshear said he's still reviewing it and expects to make a decision by Friday.
"We need a thorough protocol to why police officers need to be in our schools, especially for black students," Helms said.
Jefferson County Public Schools will only say the Central High School case is under review. LMPD confirms two of its officers were involved and said it's aware of the video and is looking into it. The Jefferson County Sheriff's Department hasn't returned our request for comment.
Howlett says if he had it to do all over again, he would have just gone outside. He stayed inside because he had promised his girlfriend's grandfather that they would stick together at the dance and the grandfather was on his way to pick them up. He is still questioning the whole situation.
"I was getting pushed, and that's when I turned around on the wall, and that's when they tackled me to the ground," he said.
Copyright 2020 WDRB Media. All Rights Reserved.