LOUISVILLE, Ky. (WDRB) -- Smugglers are getting creative while hiding drugs in shipments making their way through the Louisville area.
And that's not all: Investigators say some of the knockoff purses and counterfeit designer clothing they're seizing has possible ties to terrorism.
On the hunt, working around-the-clock, U.S. Customs and Border Protection officers recently made a bizarre find.
"We have a saber-toothed tiger skull and a dinosaur egg," said Eric Zizelman, of U.S. Customs and Border Protection.
Officers say the skull was probably destined to be sold on the black market and could go for as much as $1 million.
"Seeing something like this is pretty rare for us," Zizelman said.
Local experts told customs the fossils are real, and more testing is needed.
EMBEDDED: WDRB witnesses seizures of narcotics and counterfeit goods at Ky. border
WDRB News was embedded with U.S. Customs and Border Protection in northern Kentucky, at the Port of Cincinnati, about 100 miles northeast of Louisville.
"This might be a needle in a stack of needles in a factory of needles," said Richard Gillespie, the Cincinnati port director. "Numbers are so vast."
During Fiscal Year 2020, the Port of Cincinnati seized a total of 2,239 counterfeit shipments worth $36,255,454. During an average 24-hour timespan, U.S. Customs and Border Protection says Cincinnati CBP officers and specialists process 195,365 cargo shipments.
Smugglers go to great lengths trying to fool the feds, but officers make a lot of finds using intelligence, their experience and analyzing trends.
They found what's called "birds nest": the saliva from birds. It's considered rare and known as the "Caviar of the East." It's a delicacy in Chinese cuisine, but it is also seized for prohibited entry.
Avian influenza and other diseases may be associated with this product.
Shawn Fay was a longtime Louisville resident before joining U.S. Customs and Border Protection at the Port of Cincinnati.
"Anything that shouldn't be brought into the U.S. — anything that can be used in terrorist activities, criminal activities — we're looking for," he said.
In February, we showed you drugs getting into the U.S. through places like the Arizona/Mexico border. But with borders essentially closed because of COVID-19, CBP said dealers are trying to use unknowing commercial carriers to get their illegal goods into the U.S.
An officer who didn't want his name used showed an air compressor for an air conditioner that was flagged down by customs officials who spotted something suspicious on an x-ray. They took it apart and drilled into it.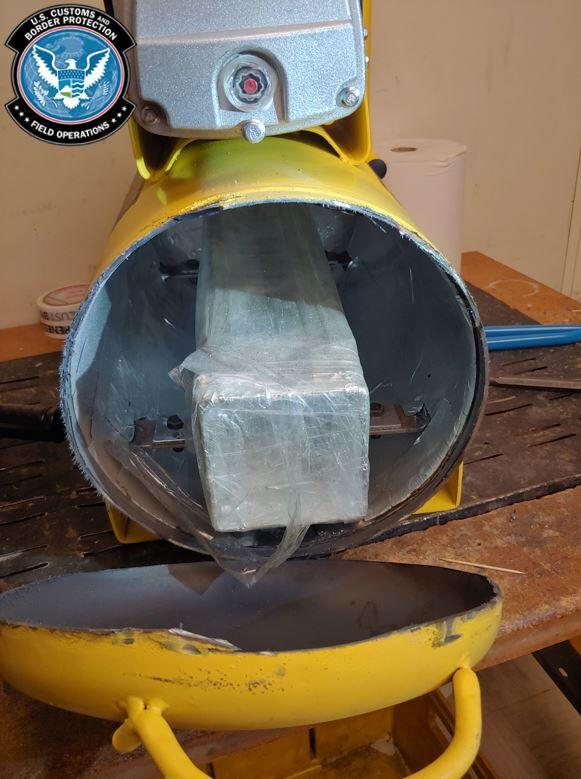 "In this container, I would say you have a at least two keys of liquid meth on the inside ... at the least," the officer said.
Its exact weight will be determined, when it is weighed.
Officers say they will seal the unit back up, and it will be sent on to the destination, as they attempt to catch the criminals on the receiving end.
"The Port of Cincinnati is definitely leading the country in narcotics seizures," Gillespie said. "While we may not see some of the largest scale seizures like they'd see at the southwest border, we have definitely a high quantity of shipments we intercept."
A drug dog sniffs the packages on the conveyor belt of shipments and targets another package.
"This shows drugs on the inside," an officer says, explaining the contents of the package. "These are actual ceiling lights. They like to play games. This has got oil on the inside of it -- or transmission fluid. Underneath that -- got to make sure there is nothing in that that will hurt us. There you can see green leafy material."
That material will be tested, but is most likely marijuana, according to the officer.
Officers also say they are finding drugs in shipments literally every day. In the last year, this port seized more than two tons of narcotics.
"We suspect they are opium poppy pods, which is what's used in Afghanistan, Laos," an officer said. "They cut the side of the pod, sap oozes out and they collect that to make opium and heroin, but the remaining pod still has opium in it."
Agents also found a big bag of white powder. In this lab, a high-tech device helps detect what's inside without opening it.  Turns out, it is full of the active ingredient in Viagra.
"You're probably looking at something in the neighborhood of 10,000 doses out of this one shipment," Zizelman said.
And in another shipment, a pill press is found. 
"Each of these is a set," Zizelman said. "They come together to make a pill." That pill press had different presses on it like smiley faces and other symbols that are often used to print on pills to identify different drugs.
All drug paraphernalia is seized.
"We try to do 100 percent screening from a radiation as a standpoint as far as volume of packages," Gillespie said. "It really depends on how the days go."
Even carpet can hide something illegal.
"These are made to look like carpets," Zizelman said. "Rolled carpets coming in, but if you get into the carpet and take a look you have packaged, fresh khat, smuggled."
Khat is a plant native to Africa and locals chew it to give them a high.
What's being shipped at the Port of Cincinnati is also seen at the Port of Louisville.
"A drug trafficking organization will take a pill press and sprinkle a little Fentanyl in it and have some additives and form it into a pill and you, as a user, buying it from Facebook, Craigslist or the buddy at the gym think you are buying Oxycodone when actually are buying a couple of grams of Fentanyl that can kill you," Louisville Port Director Thomas Mahn said.
That potentially deadly trend is something Mahn says we're now seeing here.
CBP says its officers in Louisville seized over 10,000 pounds of narcotics being shipped through the Port of Louisville from October 2019 to September 2020 with the majority at UPS Worldport.
And, it's not just drugs, Mahn says, pointing to another seized item.
"Actually it's a firearm suppressor that screws on into a barrel," he said. "The smugglers will go to great lengths to try and conceal what they're bringing in."
Agents also found 63 guns and firearm parts in that time.
UPS released a statement: "While we cooperate with law enforcement in Louisville and around the world to ensure our services are not misused, we don't talk about those efforts, because doing so would compromise their effectiveness."
Mahn also showed drug paraphernalia, fake Burberry masks and other items all seized by Customs.
"These Louis Vuitton bags," Zizelman said. "We see a ton of purses."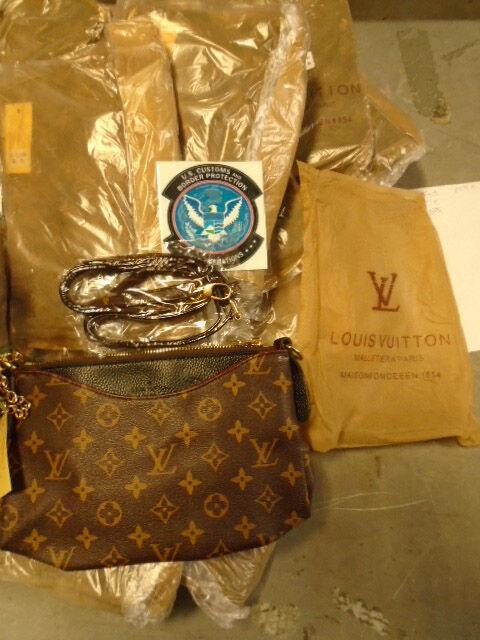 Officers say what's being sent depends on the time of year. Right now, there is an increase of shipments of fake luxury items for the holidays.
"These look like Nike Jordan products," Zizelman said. "See the logo? They have the logo."
But they too were fake. The shoes were in a large box, with no shoe boxes inside.
Many of the knockoffs are coming from countries including China and Vietnam.
One box was full of what looked like replica Apple AirPods. They were made to look like replicas on the outside of the the packaging, but when you look on the inside, you see the Apple logo.  This is fake too.
We also saw fake Apple products that cover the fake Apple logo on the box with a sticker, hoping the shipment passes through undetected.
The majority of all the shipments were not headed to our area, but instead to other places across the country and world.
When asked what tipped officers off to these boxes, Zizelman said, "Just previous seizures we've had, and encounters we've had with similar merchandise. We see a decent amount of this."
"This is counterfeit Juvederm," he added, pointing to another seized item. "They look real."
Juvederm is a dermal filler. The fake fillers can also be harmful to your health because you don't know what's inside.
CBP says it's also not just companies losing money from counterfeiters trying to steal their trademarks. There's a darker side to the counterfeit trade.
"There's been a lot of articles written on possible ties to terrorism, and funding various terrorist cells and operations around the world tied directly to counterfeit merchandise," Gillespie said.
"The profits from counterfeiting is phenomenal," Mahn said. "They support drug trafficking organizations. They've been associated with terrorists organizations, financing."
Officers say there's also a child labor issue for some of these counterfeit goods, where some third-world countries are having children work on these fakes.
CBP says these "fake finds" can also be unsafe. They aren't regulated and officers point out they could be dangerous, like counterfeit toys catching fire.
Over the last year, Louisville officers seized over $109 million in counterfeits. Customs says there is an appeals process once items are confiscated and items can later be destroyed.
And with holiday shopping in full swing, it's easy to get fooled online with fakes priced just under what a real item sells for.
"Amazon, for example, has a problem with counterfeits," Mahn said. "You'll see Zulilly, Overstock -- all the e-commerce sites have issues. Target, Walmart, anyone that is sourcing from overseas. Counterfeiting is an issue for them as well as for us."
"We are starting to see more come from Canada and Mexico," Mahn said. "Those Chinese suppliers are trying to avoid the direct routes and trans-ship through another country to avoid us."
So, as you shop for gifts this season, remember the credo: "Let the buyer beware."
"We protect what people don't know about," Fay said. "For me, it's just another chance to service and protect the country. From keeping narcotics and drugs off the street, to keeping medications that come across the border that can harm people -- pharmaceuticals that shouldn't be here -- we stop that from getting to local consumers."
Target released this to WDRB News:
Through Target+ we're engaging a limited number of third-party sellers to offer a curated assortment of national and specialty brands on Target.com that builds on our existing assortment and lets guests shop with confidence without browsing endless options
Target+ operates with an invitation-only partnership model, engaging a limited number of national and specialty brands to deliver the best products to our guests. Quality is our primary focus – we want our third-party sellers to be best-in-class for their product area
The vetting process for third-party sellers is the exact same for any first-party vendor. We closely review sellers' background and existing performance to ensure we are offering a great experience for our guests
Amazon, Walmart, Zulilly and Overstock have not returned our calls for comment.
Copyright 2020 WDRB Media. All Rights Reserved.