LOUISVILLE, Ky. (WDRB) -- Carmel High School is as ambitious as any boy's high school basketball program in Indiana.
The Greyhounds stack state championships the way savvy shoppers stack coupons. Carmel will chase its third straight Class 4A title and fifth in 10 seasons in March.
Bellarmine University is as ambitious as any men's basketball program in the ASUN Conference.
The Knights finished runner-up in that league last season, Bellarmine's first as a Division I program. Their goal is to win the ASUN tournament and compete in the NCAA Tournament as quickly as their transition to DI is complete.
Pete Suder has been a four-year starter at Carmel, a program where freshmen are rarely seen on the junior varsity.
Head coach Scott Davenport has been the maestro of Bellarmine's relentless push from also-ran to Division II power to program that played Purdue, Gonzaga and UCLA in the first two weeks of this season.
You know where this column is going.
On Monday, Suder orally committed to Bellarmine and Davenport, the Knights' first commitment in its 2022 class.
"Bellarmine is a great school academically, and I just love the way they play basketball," Suder said. "They have a Hall of Fame coach and a great coaching staff. The trust they have in me and the trust I have in them was equally amazing."
So many reasons to love this! Congrats Peter! So happy for you! You're a staple, a role model to many and a phenomenal example for all #FutureHounds …the gold standard for our program. @Bellarminehoops got one of the best! #HOUNDS https://t.co/MNu67oktrW

— Ryan Osborn (@Coach_Osborn) January 11, 2022
At 6 feet 4 inches tall and 185 pounds, Suder plays with the determined edge to rebound and defend. Suder was recruited by three Mid-American Conference schools — New Orleans, Furman (which beat Louisville), Wright State of the Horizon League — and other programs.
In-state schools like Indiana, Butler and Purdue looked at Suder, as did Duquesne, where Suder's father, Rick, averaged 20.4 points per game in 1986 and made the school's Hall of Fame.
Basketball is in the Suder family DNA. Like fellow Serbian Pete Maravich, Rick Suder has roots in Aliquippa, Pennsylvania, outside Pittsburgh.
"From the very beginning, I thought Bellarmine was a very unique opportunity," Rick Suder said. "You've got a Hall of Fame coach, a winning tradition.
"They're trying to do something very unique. Pete's always been up to challenges, ready to play in difficult situations with good players and against good players.
"This should be a fun experience."
Pete Suder was an Indiana junior All-Star. He figures to make the Indiana senior team that will play two games against the best players from Kentucky in June. At 247Sports recruiting website, Suder is ranked the No. 12 senior in Indiana.
Suder picked Bellarmine, a school he had not considered until Davenport kept showing up at Carmel's gymnasium when Greyhounds' coach Ryan Osborn opened the doors for workouts at 6:30 a.m. last summer.
"He came to quite a few practices," Suder said. "He surprised me one time and didn't tell me that he was coming. I just walked in, and was there to surprise me."
The word is that Davenport left his Louisville home at 4:10 a.m. for those drives to make certain Suder understood how strongly the Bellarmine staff believed Suder was a perfect fit for the Knights' system.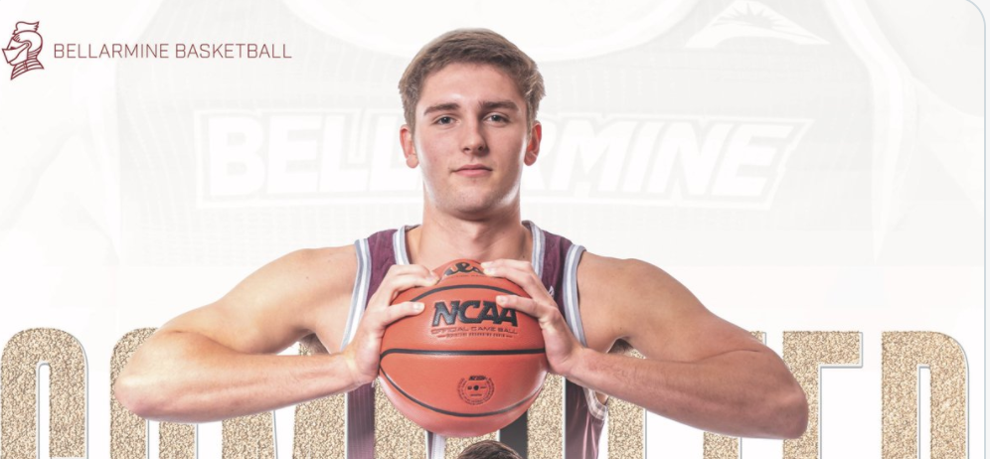 Suder agreed.
"I didn't really know much about Bellarmine until they started recruiting me," Suder said.
"It showed how much he really wants me. My mom and dad always told me to go to a school that wants you more than one that you want to play for.
"It's not always about going to a Big Ten or SEC school and sitting on the bench for two or three years, even though that's great. I think with me going to Bellarmine, Coach Davenport has a lot of trust in me and he believes in me a lot."
In other words, Suder understood that Davenport's program valued the same qualities that Suder and the Carmel program value: passing, defending, rebounding, team play and winning.
"That's the similarity with Carmel," Suder said. "We love moving the ball, screening and getting other people open.
"It's not all (isolation) ball. That's what I love about it. Very limited dribbles, but they get it done.
"I don't score 20 points a game like a lot of these other kids. But I try to affect 20 or 30 points every single game with rebounding, getting back on defense, the hustle plays, being blue collar, trying to get my teammates open.
"That's the way I play and that's the way I'm going to keep playing."
Copyright 2022 WDRB Media. All Rights Reserved.