LOUISVILLE, Ky. (WDRB) -- When the Los Angeles Dodgers rolled into St. Louis on Tuesday night and defeated the Cardinals 7-2, the headlines belonged to Albert Pujols, who absolutely earned all the love over his Hall of Fame career.
For Pujols to return to the Cardinals and launch his 679th home run in the first inning against the team he carried for 11 spectacular seasons, that was a Cooperstown moment.
But Louisville native Will Smith deserved more than crumbs and tiny type for his performance, too.
If you check the numbers that the former Kentucky Country Day and University of Louisville star is delivering for the Dodgers, you can join me in arguing that Smith, 26, has developed into the best catcher in the National League.
A high heater to Will? Now you're just asking for it. pic.twitter.com/FrcETtWVDb

— Los Angeles Dodgers (@Dodgers) September 8, 2021
"What we see here is offensively, defensively, in my opinion, he's one of the top one, two or three catchers in all of baseball," Dodgers manager Dave Roberts said during the team's pregame media availability Tuesday night. "I think that the power is one part of it, where he's understood his swing and how to attack the baseball. But the other part of it is that he gets on base and he can drive runs in. That's the name of the game.
"And all the components on the defensive end, the throwing, the framing, the offensive profile is why I see that."
On the night that Pujols homered at Busch Stadium, Smith did as well, hammering a high fastball into the Dodgers' bullpen in left field. According to the Dodgers' TV crew, Smith leads the National League in home runs on high fastballs this season.
It was Smith's fifth home run in the last 10 games as well as his 23rd this season. No National League catcher has more.
Smith also reached base three more times on infield singles. Translation: Smith does not run like a catcher.
He beat out his first single after hitting the ball to third baseman Nolan Arenado, a Gold Glove fielder. Mark Tuesday down as the second four-hit game of Smith's MLB career.
Smith has driven in 68 runs. That's also tops among NL catchers. He's scored 61 times. Yep, that's also first for NL catchers. His .381 on-base percentage ranks tied for sixth among all NL players, first among catchers.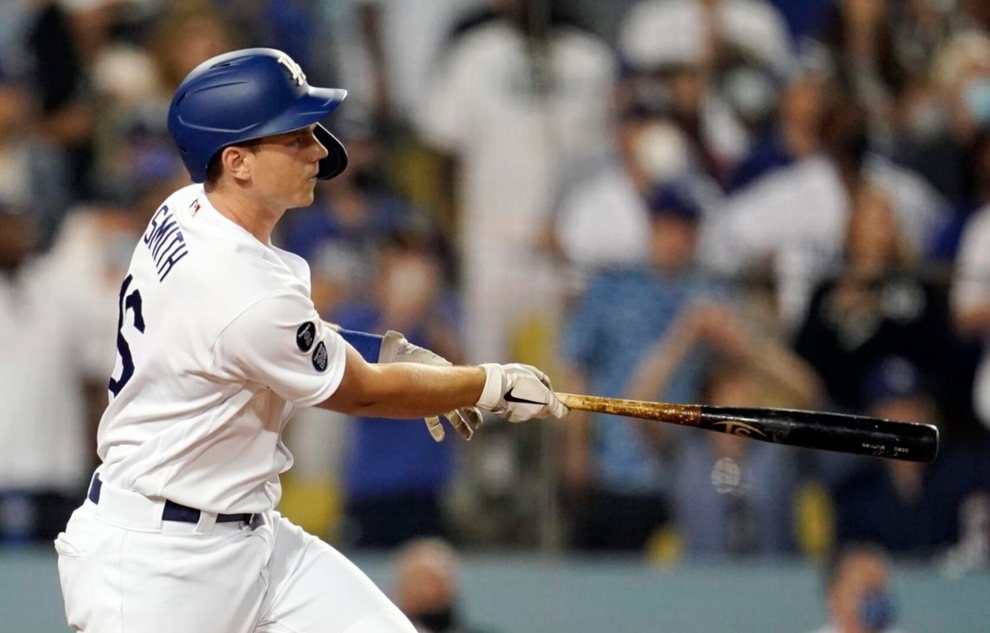 "I think the first thing that I learned about Will is that he's very observant ,and he's very calm," Roberts said. "Watching what major league players do and how they work, speaks to his ability to observe and willingness to observe, and then the calmness, there is not panic."
If new-age stats are how you prefer to measure players, Smith ranks 10th in the National League in on-base percentage plus slugging percentage.
An OPS-plus of .800 or better is generally considered good. Smith finished Tuesday night at .899, trailing prime-time performers like Bryce Harper, Fernando Tatis Jr., Juan Soto, Jesse Winker and Joey Votto.
Smith gets my vote as the best catcher in the National League, giving the Dodgers 3.5 wins over a replacement value player. He's on track to drive in more runs than any Dodgers' catcher since Paul LoDuca knocked in 90 in 2001. And the Dodgers, for the record, are 88-51, one game behind San Francisco in the National League West, even though Los Angeles is tied for the second-best record in baseball.
The analytics website fivethirtyeight.com put the Dodgers' chances of repeating as World Series champions at 28%, the best in baseball. Guys like Lexington native Walker Buehler, Max Muncy, Mookie Betts, Justin Turner, Julio Urias and Smith are the reason.
"If we lookout in the next three to five years, he'll be the best catcher in all of baseball," Roberts said. "So we're lucky to have him, and he's only going to get better."
Copyright 2021 WDRB Media. All Rights Reserved.