LOUISVILLE, Ky. (WDRB) — I can't give you their vertical jump. I'm not certain if they're more skilled going left or right. I've never seen either make a three-point shot.
But the local basketball community will say goodbye to a pair of 5-star performers this week. Guys who have been committed to informing fans in the best college basketball market in the country will put an exclamation point on their Hall of Fame careers this week.
There is Kenny Klein, the unflappably professional senior associate athletic director at the University of Louisville.
And, there is Jerry Tipton, the irrepressibly thorough University of Kentucky basketball beat writer for the Lexington Herald-Leader.
In a world where people change jobs or professions after every 17 Tweets, Klein and Tipton will end four-decade runs. Everybody who follows U of L or UK athletics has benefited from their boundless institutional knowledge and work ethic.
Klein got to Louisville in 1983, two years before Kenny Payne arrived as a player. Need more confirmation about what a team player Klein is? He agreed to help Payne in a part-time role during his first season as the Cards' men's head basketball coach next winter, even in retirement.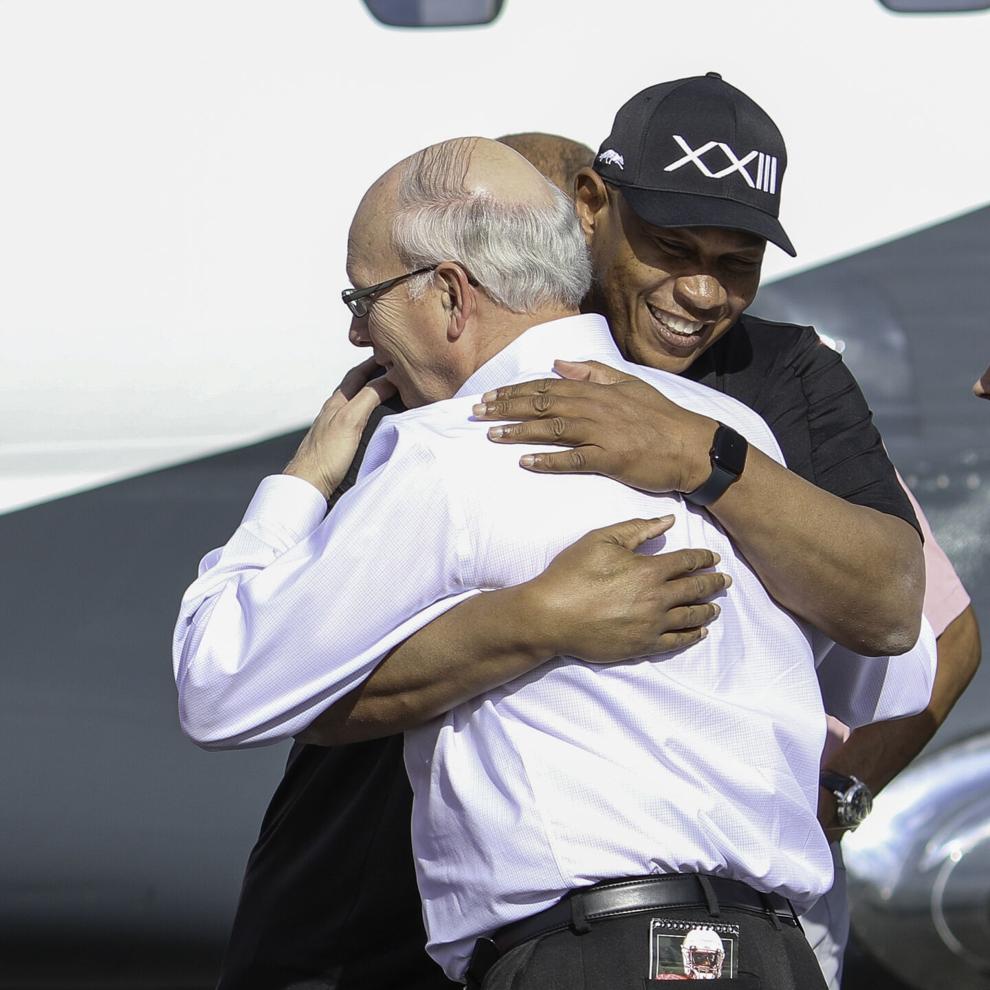 Klein didn't have to do that. But he did. Of course, he did.
There aren't many jobs more thankless than sports information director, especially in today's challenging and often irresponsible social media environment.
Coaches blame their media staff when somebody writes or broadcasts something they don't like. It does not matter that sports information people cannot to control the news. Coaches must vent.
Media people squawk to SIDs when locker rooms are closed or coaches get cranky. There is whining even when we know that SIDs aren't making those calls. The media must vent.
Nobody navigated the impossible job of serving both worlds better than Klein. His first responsibility was to U of L — as it needed to be.
When the history of how Louisville powered its way from a basketball-centric athletic program in the Metro Conference to a multi-sport power in the Atlantic Coast Conference is written, Klein should draw as much credit as any administrator.
He was the consistently wise presence who tied together the administrations of athletic directors Bill Olsen, Tom Jurich, Vince Tyra and Josh Heird. He was the guy who developed strong relationships across the local and national media as well as with conference administrators and television executives. Everybody respected Klein, especially the basketball players who called him, "Kenny Kool."
For many, he was the face of the University of Louisville athletics— always poised and professional, whether the topic was a championship run or NCAA scandal. Klein was a guy who would share the information that he could share, when he could. Some SIDs misdirect you. When Klein could not help you, he did not mislead you. It was no comment.
Congratulations to Kenny Klein on his much deserved retirement 🎉We presented Kenny with the SIDEARM Appreciation Award for his 40+ years of dedication to collegiate athletics 🤝We'll be sure to catch you on the course soon ⛳️ pic.twitter.com/PVCWZfyqbA

— SIDEARM Sports (@SIDEARMSports) June 27, 2022
If you wrote something Klein thought was unfair or wrong, he would call, talk it out and move on. No grudges. No score-keeping. No punishment.
Klein helped keep the U of L locker room open to the media years many years after most schools closed those doors. His press room was welcoming. His game notes and media guides were gospel. And his work ethic was around the clock. He wasn't counting comp time.
Tipton was another guy who never looked at how many hours he logged. First media guy in the arena. Last media guy to leave. Game after game. Season after season. Coach after coach — from Hall to Sutton to Pitino to Smith to Gillispie to Calipari.
Tipton chronicled all of them — the championships and the stumbles. He did it in a town where some media people dress in team colors and wear Kentucky buttons. Tipton never did that.
It wasn't in the job description. The job was to inform readers — about why Kentucky won or why Kentucky failed to win. Not everybody around the program, the press room or the message boards appreciated that. Tipton didn't care. He asked the questions that needed to be asked.
I'll tell you who did appreciate Jerry Tipton — other basketball coaches around the Southeastern Conference. Dozens of them.
In a league that celebrates an annual four-day media orgy of preseason football coverage, SEC basketball coaches adored a guy who loved hoops as much as they did.
They wanted a guy with Tipton's passion for basketball writing about their program. His informative and quirky Sunday notes column was a must-read around the league.
I can't name every out-of-town coach who came into Rupp Arena and huddled with Tipton or made certain that Jerry got to ask the first post-game question. But I can name a few that I saw do precisely that:
Sonny Smith of Auburn; Wimp Sanderson of Alabama; Mike Richardson of Arkansas; Kevin Stallings of Vanderbilt; Dale Brown of Louisiana State; Andy Kennedy of Ole Miss; Billy Donovan of Florida; Darrin Horn of South Carolina and Rick Stansbury of Mississippi State.
I even saw former NBA star Avery Johnson recognize Tipton during Johnson's brief run at Alabama. Respect.
They all knew Jerry.
They were basketball guys who appreciated the passion of another basketball guy. They weren't surprised that Tipton earned his way into both the US Basketball Writers Association and Kentucky Journalism Hall of Fames.
I'd better not forget to credit Kenny Klein for his spot in the College Sports Information Directors Hall of Fame. And the Kentucky Athletic Hall of Fame. And the prestigious Katha Quinn Award he was given by the US Basketball Writers for his tireless work with the media.
Or his work on press row at 36 men's NCAA Final Fours. Or his contributions at all three PGAs and the Ryder Cup played at Valhalla.
You get the picture. The truth is that everybody got a clearer picture of college sports in this area because of the remarkable careers of Kenny Klein and Jerry Tipton.
Copyright 2022 WDRB Media. All rights reserved.