LEXINGTON, Ky. (WDRB) — Dressed sharply in their navy blazers, the bowl scouts wedged their way into six seats in the front row of the Kroger Field press box Saturday night.
Two from the Citrus Bowl. Next to two from the Peach Bowl. Next to two from the Sugar Bowl. These weren't chump games. The Peach and Sugar carry the sex appeal of New Year's Six games.
The prime-time bowl games traveled to see No. 18 Kentucky. They departed talking about Tennessee after the Vols defeated the Wildcats, 45-42.
On a night when Kentucky possessed the ball for more than 46 minutes and put up 612 yards. On a night when they had more than double the first downs generated by Tennessee and out-gained the visitors by 151 yards.
"It was a fun game but at the end of the day we've just got to play better as a complete team," UK quarterback Will Levis said.
"I'm not sure I've ever been a part of one like that," said UK coach Mark Stoops.
Stoops is talking about Kentucky's statistical dominance in so many areas. The Wildcats ran for 225 yards. They passed for 387 yards. They rang up 35 first downs to Tennessee's 17.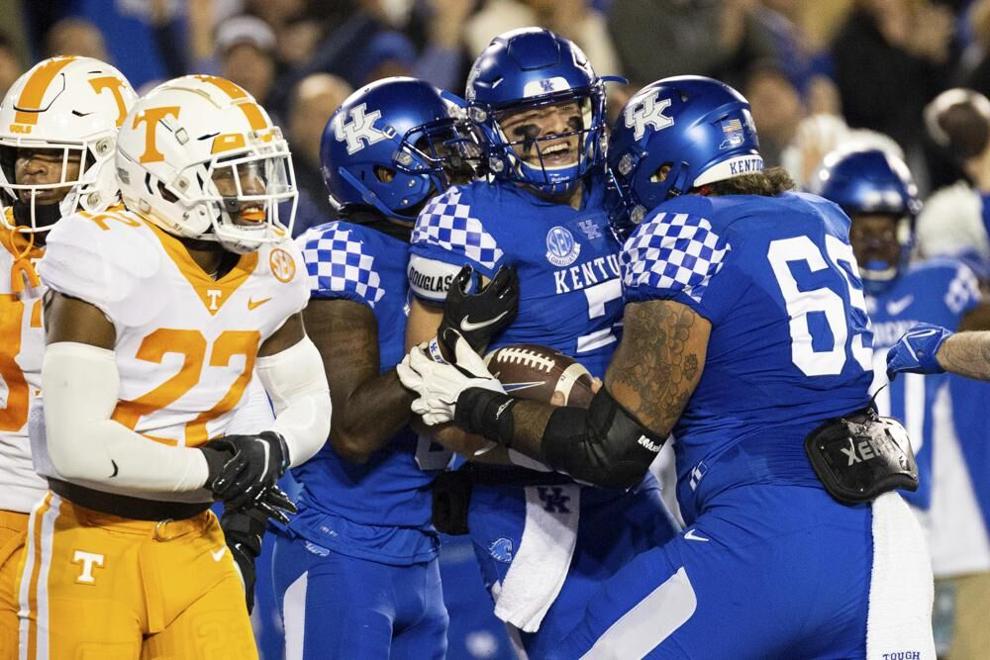 But Kentucky is not playing the defense the Wildcats played against South Carolina, Florida or LSU. They didn't have an answer for Tennessee's rapid tempo. The secondary looked soft and out of position. Kentucky ran 99 plays, more than double Tennessee's 47. But coach Josh Heupel's go-go-go offense averaged 9.8 yards per snap.
After winning its first six games by holding every opponent to 28 points or less, the Wildcats (6-3) have lost three straight while allowing 30 or more in every game. The 45 points were the most Kentucky has allowed in a game this season.
"We were so good in so many ways and not so good in others," Stoops said. "We've got to get some things fixed. We didn't tackle very well in space and we didn't cover very good ... we've got to bring guys along (in the secondary)."
The Wildcats even lost several critical plays with the officials, who missed what appeared to be a tug on Levis' face mask late in the fourth quarter. Levis pulled on his mask with his right hand after the play. I told him that it appeared he thought his face mask was pulled.
"I thought my face mask was grabbed?" he said. "I thought?"
What did the official say?
"He didn't say anything," Levis said.
Stoops erupted after the play, rushing on to the field and earning a 15-yard penalty for unsportsmanlike conduct. 
"I can't do that," Stoops said. "I can't put that on our team ... things are going to happen and we have to overcome them. I'm not going to sit there and give any headlines."
Remember this: After the penalty put Kentucky in a fourth-and-24, Levis completed a 28-yard pass to Izayah Cummings that pushed the ball to the Tennessee 38-yard line with 46 seconds to play. Stoops said the Wildcats needed about 10 more yards to try a game-tying field goal.
They got no yards. Levis threw four consecutive incompletions.
"I could have done more to help us win the game," said Levis, who completed 31 of 49 for 372 yards and three scores.
The defensive meltdown started on the game's first play — and it seemed as if it never stopped. A week after being overwhelmed by Mississippi State quarterback Will Rogers, Kentucky started the crisp November evening making Tennessee quarterback Hendon Hooker look like the best passer in America, too.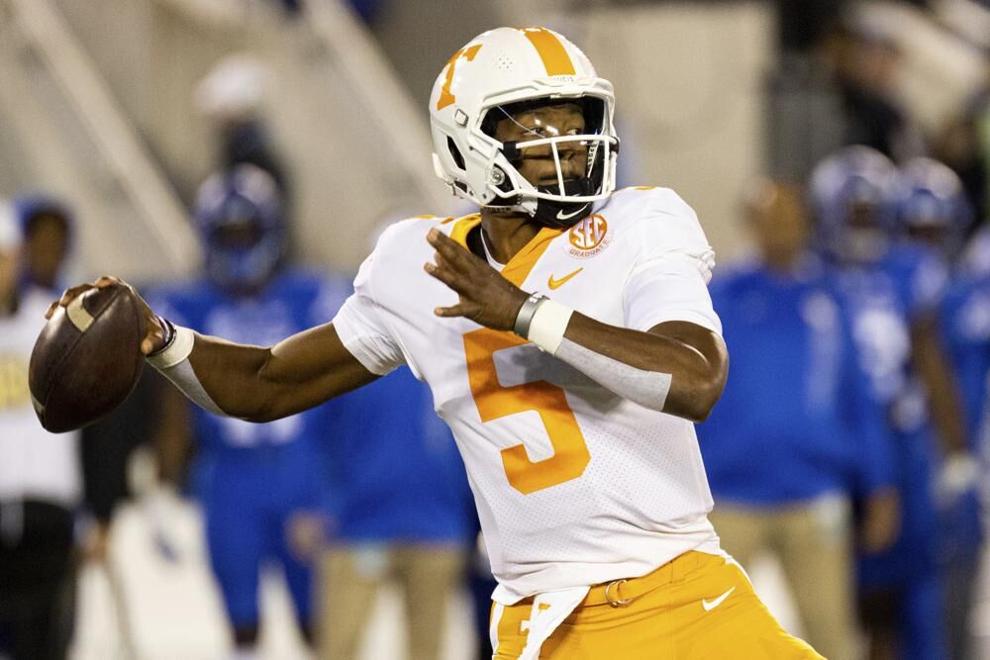 On the Vols' first play, Hooker threw a 75-yard touchdown pass to JaVonta Payton.
On the Vols' fourth offensive snap, Hooker found Velus Jones mismatched against a linebacker and punished the Wildcats' with a 75-yard touchdown pass.
Tennessee finished the first quarter averaging 37.5 yards on its four snaps and leading 14-7. The Wildcats had to grind 75 yards on 14 plays to get their touchdown, which Kavosiey Smoke scored on a 9-yard run.
The Wildcats uncovered a way to stop the Volunteers on Tennessee's third drive. UK linebacker Jacquez Jones recovered a fumble by Hooker on the UK 29.
Again, Kentucky showed the ability to drive the football against the Tennessee defense. Levis moved 71 yards on six plays. The sixth play was the most impressive. Levis broke out of the pocket on the right side, eluded a pair of tacklers and then hurdled a third for 8-yard touchdown run.
The teams traded touchdowns again and then a soft approach by the Kentucky defense gave Tennessee the space and time to kick a 43-yard field goal on the final play of the second quarter for a 24-21 halftime lead.
The fun was just beginning. Levis showed his savvy and grit on the first possession of the second half. He led the Wildcats on another 75-yard scoring drive, getting the final 2 yards on a keeper.
Tennessee did not flinch, especially with Kentucky missing tackles. Jabari Small flashed 37 yards to put the Volunteers back ahead, 31-28, 45 seconds later.
That's correct, 45 seconds. After not allowing any of its first six opponents to score more than 28 points, Kentucky gave up 30 or more to Georgia, Mississippi State and Tennessee.
Levis followed with a critical mistake, staring down a receiver in the right flat. Tennessee cornerback Alontae Taylor tracked Levis' eyes and the throw, snatching an interception that he carried 56 yards into the end zone. Now Kentucky trailed by 10 points for the first time.
Levis flushed the memory by directing Kentucky 75 yards for a touchdown near the end of the third quarter.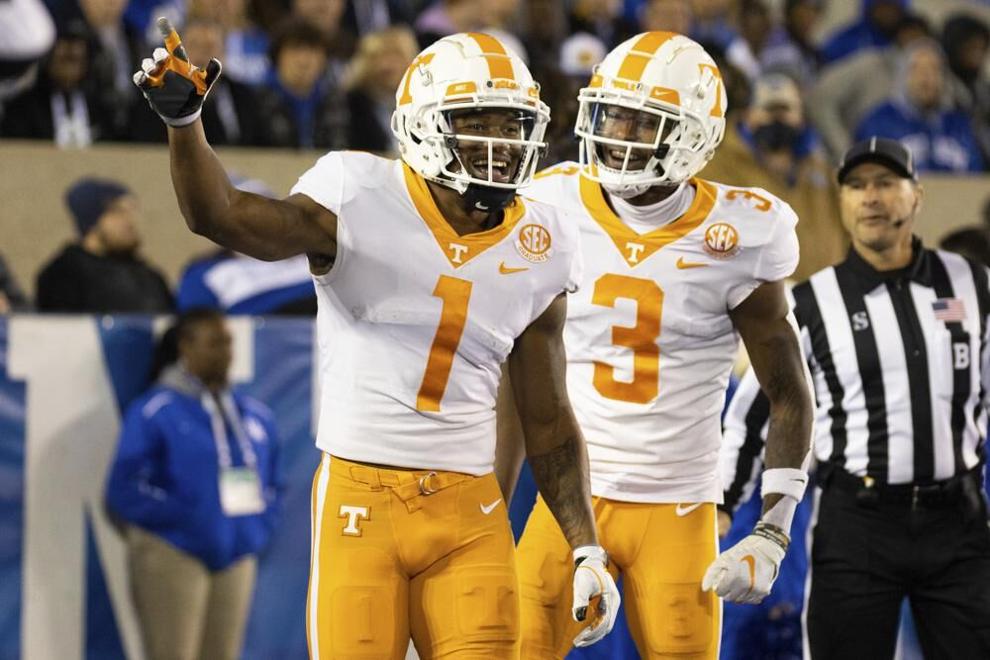 Tennessee was not finished. They moved 47 yards in 44 seconds for another touchdown and a 45-35 lead.
Back to you, Kentucky. And the Wildcats indeed scored, this time on a 24-yard pass from Levis to Cummings.
The Wildcats finally got a stop, even after allowing Tennessee to march to the Kentucky 5. Sacks and penalties pushed the Vols back to the 18 — and they missed a 35-yard field goal.
But Kentucky could not answer. The Wildcats marched to the Tennessee 38-yard-line but Levis threw four straight incompletions.
The heaviest lifting of the regular season is over for Kentucky. Next Saturday the Wildcats visit Vanderbilt, which is 2-7 and winless in five SEC games. Then comes UK's final home game against New Mexico State, which has lost 21 of its last 25 games.
Then comes the season finale on Nov. 27 at Louisville. The rivals did not play last season because of the novel coronavirus, but UK outscored U of L, 101-23, while winning the Governor's Cup in 2018 and 2019.
"It really was a great game," Stoops said. "It won't feel like that to me, especially defensively."
Copyright 2021 WDRB Media. All rights reserved.