LOUISVILLE, Ky. (WDRB) -- Whenever Kentucky basketball hits a pothole, John Calipari lets you know he absolutely hears it when his critics whisper Xs and Os are not the strongest part of his coaching game.
"I'm not coaching anything," Calipari said after one game last season. "I just roll out balls. You know that. I don't do anything."
Wink, wink.
Kentucky basketball hit a colossal pothole last season, losing 16 of 25 games and missing the NCAA Tournament by five furlongs. Calipari promised to fix things ASAP, and less than two months into the fix, he confirmed the path he prefers to the top of the rankings:
Better players.
With Calipari, better players always trumps better strategy or better player development.
Enter Orlando Antigua and Ronald "Chin" Coleman. Calipari made a phone call to Champaign, Illinois, and cleaned out the assistant coaching staff that made Illinois a No. 1 seed in the NCAA Tournament last season. He recruited Brad Underwood's top-two recruiters.
In Coleman, he added a guy known for his vibrant connections in the Chicago Public League. In Antigua, Calipari will bring back a guy who was critical in helping UK stack five-star recruiting classes during Cal's early days in Lexington. In Jai Lucas, UK's third assistant, Calipari has a rising star with strong connections in the fertile world of Texas high school and AAU basketball.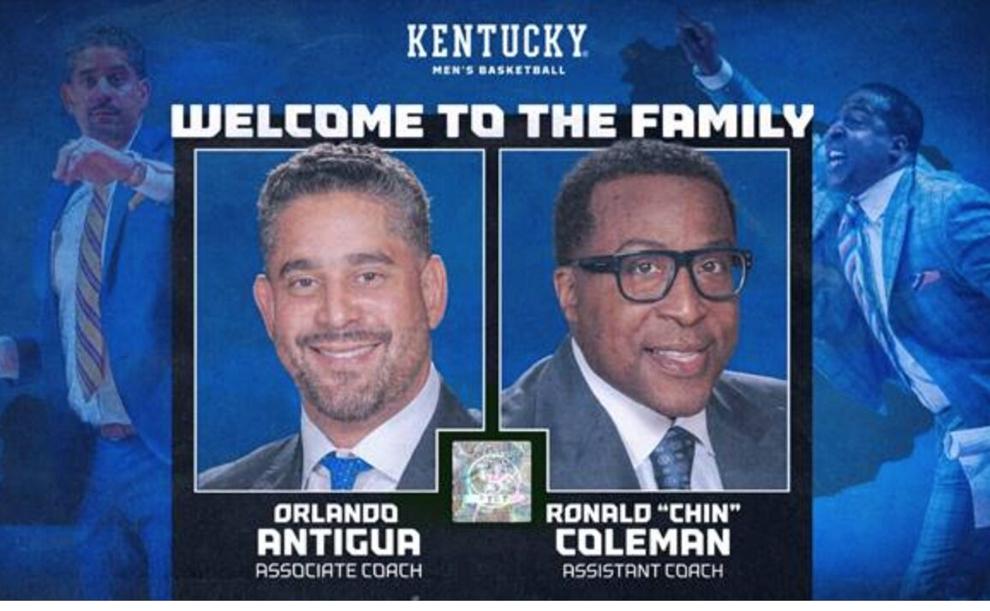 Make no mistake about the message: Calipari is not looking to follow the player development path that worked for Jay Wright at Villanova or Tony Bennett at Virginia. And he's not copying the Scott Drew blueprint at Baylor or the eclectic style of Mark Few of Gonzaga.
One-and-done star power will continue to rule at Kentucky.
"He just wants the best guys," one rival head coach said. "But doesn't everyone?"
When Calipari has better players, he will beat you the way he beat the world with John Wall, DeMarcus Cousins, Julius Randle, Karl Anthony-Towns, Devin Booker, De'Aaron Fox, Bam Adebayo and others.
But when he doesn't have the guys at the top of the NBA Draft lottery? He's not going to coach around that like Bennett or Wright.
That's when you get a 27-9 (2016), 26-11 (2018) or 9-16 (2021). That's when you get Kentucky looking up at Alabama, Arkansas and others in the Southeastern Conference standings. That's when you get the clunker Calipari delivered last season.
Understand this: Calipari's approach is the same approach 97% of all men's college basketball coaches would follow.
Bennett and Wright are the outliers, guys who have won NCAA titles without investing most of their roster assembly in the recruiting shark tank.
Mike Krzyzewski won at least three of his five NCAA titles at Duke because he had the best players. Coach K won his fourth title in 2010 with guys who did not make NBA general managers hyperventilate. Jon Scheyer? Brian Zoubek?
It didn't matter how proven Coach K was moving the chess pieces. He saw the huge recruiting edge Calipari was building at Kentucky. Coach K shifted his philosophy to embrace one-and-dones at a school that fancies its academic reputation as one small step below the Ivy League.
Enter Jahlil Okafor, Austin Rivers, Jayson Tatum, Zion Williamson and others Coach K kept from Kentucky.
Not many others have shown they can go toe-to-toe with the Cal and K. Sometimes Bill Self at Kansas. Occasionally Roy Williams, but he retired at North Carolina.
By adding Antigua and Coleman to his staff, Calipari signaled a return to the plan that he trusts: Stack as many five-stars as possible, and get out of his way.
It won't be as easy this time. As we have seen in recent recruiting cycles, a handful of the top high school prospects prefer the NBA's upgraded G-League or playing professionally overseas.
The NCAA's liberal transfer rules will keep rosters in flux. Calipari moved into the transfer world with confidence, fetching Oscar Tshiebwe (West Virginia), Kellan Grady (Davidson) and C.J. Fredrick (Iowa).
He'll get the best there. And by reshaping his assistant coaching staff, he is also determined to get the best of the best high school players.
That is the blueprint that Calipari trusts.
Copyright 2021 WDRB Media. All Rights Reserved.