BOZICH | Louisville adds Pittsburgh to Payback Week victims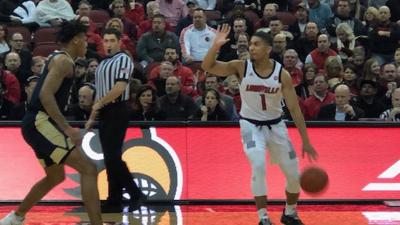 LOUISVILLE, Ky. (WDRB) — This was Payback Week for the University of Louisville basketball team.
Started Thursday night with a victory against North Carolina State team that handled the Cardinals in the final game of the 2018 regular season. Continued Saturday afternoon with a gritty Pittsburgh team that shook Louisville with the Cards' only Atlantic Coast Conference defeat 17 days ago.
Payback delivered.
"It wasn't really a relief," said Louisville center Steve Enoch. "It was confirmation to ourselves that we were the better team."
A Pittsburgh team that outlasted Louisville, 89-86, in overtime on Jan. 9 could not rock and roll with the Cardinals for 40 minutes in a rematch that Chris Mack's team won 66-51.
The Cards improved to 15-5 overall and 6-1 in the ACC, tied with Duke and Virginia atop the league.
I repeat Duke and Virginia.
"They're playing awfully well right now," Pitt coach Jeff Capel said.
Pitt scored a season-low 18 points in the second half, laboring to make seven field goals.
"I thought our defense was as good as its been all year in the second half," said U of L coach Chris Mack.
It wasn't always pretty but the Cards' grinding style was eventually pretty effective. They made scoring challenging for the Panthers, contesting shots at the rim, flying at shooters and impeding guys cutting through the lane. The Panthers made only 35.2 percent of their shots.
As usual, Jordan Nwora was a triple threat for the Cardinals, punishing Pitt with 17 points that he scored on drives, jump shots and at least one soaring alley oop.
"I know I can score other ways than shooting threes," Nwora said.
Steven Enoch did not start but he did finish, contributing a solid double-double — 12 points and 11 boards. Add six points and four rebounds from Malik Williams and Louisville has a full-sized center at work these days.
"Those guys are big," Capel said. "They're physical. I think the growth of their team, in my opinion, has been because of Williams and Enoch. I think those two guys have really played at different level since we faced them the first time."
For nearly 26 minutes this game was a tug of war that seemed headed for a similar conclusion as the first game the teams played — overtime.
Back and forth. No huge scoring runs. Points were difficult for either team to create. Nothing easy.
Then the Cardinals broke the Panther on both ends of the floor while surging to the decisive victory.
Enoch got the basket that finally put Louisville ahead, 40-39. The Cards got a stop and then a turnover before Enoch scored again.
"I have to expect more of myself in every game," Enoch said.
The crowd recognized the defensive energy provided by Mack's team and now the Cardinals were primed to start separating from the Panthers.
And separate they did.
They quickly stretched their advantage to 53-44 and then 60-47, enjoying a mixture of drives and threes from Nwora, Ryan McMahon and Dwayne Sutton.
Nothing was more spectacular than the look-away lob pass that Christen Cunningham completed to Nwora. Cunningham looked left, threw right as soon as he saw his teammate call for the ball. 
Nwora caught his prize in flight for a thunderous slam that pushed Louisville's advantage to 53-44. Lamar Jackson or Teddy Bridgewater could not have thrown it better.
"I had to finish it," Nwora said. "If I'm going to call for it, I've got to finish it."
"He's more than just a guy who shoots the ball from three," Mack said.
Pittsburgh's offense disappeared. The Panthers made less than 27 percent of their shots in the second half.
Remember that Pitt guards Xavier Johnson and Trey McGowens combined for 55 points when Pitt won at home. On Saturday, they scored 16, missing 14 of 21 shots.
"Their ball screen defense was tighter," Capel said. "They were more together."
When you're making a list of the contenders for ACC coach of the year you have to include both guys who worked the sidelines at the KFC Yum! Center Saturday.
As much as Mack has improved Louisville, Capel has delivered as much energy and optimism at Pittsburgh. Remember that the Panthers lost all 18 ACC games last season. They've already won a pair this season while also playing North Carolina State tough.
Louisville's time at home will be interrupted this week. The Cards visit Winston-Salem, N.C. on Wednesday at 8 p.m. to play Danny Manning and Wake Forest. The Demon Deacons carried a 1-5 ACC record into their game against Boston College Saturday. Louisville's next home game will be next Saturday against North Carolina.
"We're going to have to win games like this," Mack said. "You're going to have to win when your offense struggles."
Copyright 2019 WDRB Media. All Rights Reserved.