BOZICH | Louisville must flush Duke meltdown as Kentucky did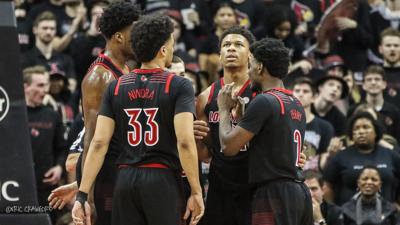 LOUISVILLE, Ky. (WDRB) — Excuse me while I bury the news.
The ridiculous Duke rally that jumped directly to the lead story on Sports Center.
The soaring and slamming that enhanced the legends of Zion Williamson, Cam Reddish and the other members of Mike Krzyzewski's rock-star freshman class.
The 35-10 uppercut that Duke threw at Louisville in the final 9-plus minutes. That is how Duke twisted a 59-36 deficit into 71-69 Blue Devils' victory that immediately became the signature rally/collapse in all of college basketball this season.
That was the news at the KFC Yum! Center Tuesday night: Only Duke could do what Duke did.
But for Chris Mack's University of Louisville team this better become the story:
How does this group, the one that played so well over its first 23 games and then even better for the first 30 minutes Tuesday, want to be defined?
As the team that let double-digit leads melt away in the second half of back-to-back come-from-ahead losses against Florida State and Duke?
Or as the team ready to elevate its focus and edge from 30 great minutes to the full 40 required to defeat a team like Duke? That's what will be required to win in March.
Kentucky started its season by losing to Duke by 34 -- and made certain the loss did not become the story of its season. The Cardinals have to make certain this unforgettable collapse becomes a forgotten footnote as quickly as possible
"We were up 23," said U of L forward Jordan Nwora. "We knew the situation. We knew how much time was left. We just gave the game away.
"It was our game to win and we just gave the game away."
No argument here.
"They not just outplayed us, they outcompeted us," Duke coach Mike Krzyzewski said. "I commend them. They were probably more deserving of winning … I was hoping we wouldn't lose by 35. I'm not kidding. We could have."
That's how well Louisville played while building that 23-point lead, a lead that was seven points more than Duke had trailed by in its first 23 games.
"You're not losers, but you're playing like losers," Krzyzewski said he told his guys as the Cardinals kept stretching their nine-point halftime lead.
Duke had plenty of reasons for its lethargic play. The Blue Devils were 75 hours removed from their monstrous victory at Virginia Saturday, the one that LeBron James and Rajon Rondo traveled from Philadelphia to Charlottesville to watch. They're mainly freshmen — and for four months the world has been telling them they're the greatest freshmen ever.
"You're playing against somebody that can be hungrier than you and our thing going into the game was, 'Play harder than them,' " Krzyzewski said. "And we weren't able to do that."
The Blue Devils had major travel issues getting here from Durham Monday, arriving at the downtown Marriott around midnight, 4 1/2 hours later than expected.
They bounced on to the court surrounded by more love, an amazing collection of several thousand Duke fans in the lower arena, with everybody hollering them names and asking for photographs.
Fo 30 minutes Louisville showed America that the Blue Devils could be outworked, outfought and out-maneuvered.
Mack's team defended the Blue Devils as well as they have been defended this season. The lane was packed. Jump shots were challenged. Rebounds were contested.
"We dominated the best team in the country for 30-something minutes," Mack said.
Duke averages 80.6 points per game. With 10 minutes to play, the Blue Devils were on track to score 48, 18 fewer than they had scored in a game this season.
I wasn't the only one who believed Coach K was OK with letting his team learn a valuable lesson. Nolan Smith, Duke's director of basketball operations and the son of former U or L great Derek Smith, said Coach K made the losers comment multiple times in huddles.
Then Coach K reminded everybody of why he has won five NCAA titles and coached three American teams to Olympic gold medals.
"Coach said we were going to our 2-2-1 (zone), which we had practiced before this game," Smith said.
The 2-2-1 looked more like a 5-5-1. It was as if Louisville was playing three against 12.
Over the final 9-plus minutes Louisville missed eight of 10 shots and turned the ball over nine times.
They watched Reddish score from distance. They fouled Williamson on a three-point play. They stopped attacking. They looked like they were trying to survive, run out the clock, hope, pray and cross their fingers.
It didn't work.
Mack used every one of his timeouts but did not have the answer.
"They turned us over it seems like 1,000 times in the last four or five minutes," Mack said.
So poised in the first half while assisting on seven of Louisville's 16 baskets with only two turnovers, Christen Cunningham allowed himself to be inhaled by Duke's endless athleticism. He turned the ball over four times in the final six minutes.
The only baskets Louisville made in the final 9 1/2 minutes were a pair of three-point shots — one by Jordan Nwora, the other by Dwayne Sutton.
Nothing inside. Nothing near the rim — even though Williamson played the final 9:41 with four fouls. In fact, the Cardinals did not make a two-point field goal in the final 11:44.
They lost a game they should not have lost. The players know that. The players said that. Mack knows it, too.
Now they have to make certain that two losses do not become three losses because Clemson will come to town Saturday looking to enhance its NCAA Tournament credentials against Mack's team.
Louisville's season ended harshly last season after the Cards endured a different kind of collapse against Virginia.
It's reasonable to wonder how this team will respond to the way it came disconnected Tuesday night.
"Sure it's a concern," Mack said. "But I also feel like I have some of the best guys in the country in that locker room … we have the opportunity to learn from some tough times and tough moments and that is exactly what we are going to aim to do."
Kentucky flushed the memory of an epic loss to Duke. Louisville must prove it can do it, too.
Copyright 2019 WDRB Media. All Rights Reserved.