BOZICH | Mack, Zion, Zion, Zion pace ACC mid-season awards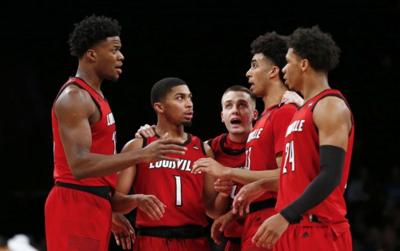 ON THE ROAD TO WAKE FOREST (WDRB) — Louisville won't hit the halfway mark of the Atlantic Coast Conference season until Saturday.
I have just begun a seven-hour ride to Winston-Salem, N.C. for the Cardinals' game with Wake Forest Wednesday at 8 p.m.
Before we get halfway to Beckley, W.Va., this is the perfect moment for my ACC Mid-Season Awards.
Top Overachievers
1. Louisville — Picked to finish 11th in October at the league's Operation Basketball, the Cardinals started the week tied for first with Duke and Virginia, teams that aspire to win the national title. The Cards will rejoin the top two by beating Wake and then North Carolina visits Saturday.
2. Pittsburgh — The Panthers have won two ACC games after losing all 18 last winter and going 4-14 a year earlier. But have the Panthers hit The Wall? They looked miserable against Clemson Tuesday night.
3. Georgia Tech — The Yellow Jackets were picked to finish 13th. They started the week tied for eighth. Tech has not finished eighth or better since 2010.
Top Underachievers
1. Clemson — The Tigers started the season ranked 22nd in the AP national poll and projected to finish sixth in the ACC. Brad Brownell has a nice group of vets. They're 2-5, but four defeats were road games.
2. Notre Dame — Yes the Irish are without Rex Pflueger but missing a streaky shooter doesn't explain their 1-7 start, which includes a loss to Georgia Tech.
3. Miami — Bruce Brown and Lonnie Walker are gone. Jim Larranaga does not have the necessary replacement parts. Wait 'til next year in Coral Gables.
First Team All-ACC
Zion Williamson, Duke — Turn on SportsCenter. They'll explain this every 30 minutes.
R. J. Barrett, Duke — See above item.
Kyle Guy, Virginia — You won't put him on your list. But I love 45 percent three-point shooters, who don't turn it over and defend, especially when they have a tremendous temperament to discuss UVa's lost to UMBC.
Jordan Nwora, Louisville — Josh Pastner raved about him. Jeff Capel raved about it. I'll rave about him because there aren't many triple threat scorers.
Ty Jerome, Virginia — Better NBA prospect than Guy because he's three inches taller. Runs the club, Makes clutch shots.
Second Team All-ACC
Nickeil Alexander-Walker, Virginia Tech — Makes 61 percent of his two-point field goals and 41 percent of his threes.
De'Andre Hunter, Virginia — The guy most likely to get buckets late in the shot clock for the Cavaliers.
Tre Jones, Duke — More valuable than Cameron Reddish because his turnover rate is less than 12 percent.
Luke Maye, North Carolina — I could be talked into replacing him Coby White or Cameron Johnson.
Ky Bowman, Boston College — Averaging nearly 21 points and 8 boards per game without much assistance.
All Underrated
John Mooney, Notre Dame — Leads the ACC in rebounding (10.9) while averaging 14.4.
Christen Cunningham, Louisville — Makes all the plays that he needs to make without making many plays that make you wonder what he's thinking. Not spectacular but very, very solid and very, very solid is very, very valuable.
Justin Robinson, Virginia Tech — The Glue Guy for Buzz Williams in Blacksburg. Also leads the league in assists.
Torin Dorn, North Carolina State — Everybody fusses about Markell Johnson, but Dorn makes the Wolfpack go.
Xavier Johnson, Pitt — Looked great when Pitt upset Louisville.
All Freshman
Williamson, Duke — Ask Dick Vitale.
Barrett, Duke — Ask Jay Williams.
Jones, Duke — Ask Jay Bilas.
Trey McGowens, Pitt — Ask Louisville.
Coby White, North Carolina — Ask NBA scouts.
Player of the Year
Williamson — Second in the league in scoring. Third in rebounding. First in NBA Mock Drafts. First in Charles Barkley comparisons. First in the minds of Bulls, Knicks, Cavs and Suns fans. You can disagree, but you'd be wrong.
Freshman of the Year
Williamson — I better save some material for the rest of the season.
Coach of the Year
Chris Mack, Louisville — I was going to split the award between Mack and Jeff Capel of Pitt until the Cards won the rematch and Pitt got overwhelmed at Clemson. Mack has taken a pair of undersized grad transfer guards and built one of the most dependable backcourts in the league. He's coached Nwora to all-ACC status. He's developed Malik Williams and Steven Enoch into a formidable post tandem. And his team is about to improve to 7-1.
Coach on the Hot Seat
Danny Manning, Wake Forest
It's year five for the former national player of the year, and Manning is about to wrap two losing seasons around the 19-14 record that Wake delivered in 2017, his only winning season with the Demon Deacons.
It's a tough job. Ask Jeff Bzdelik and U of L assistant Dino Gaudio. Bzdelik was fired after four seasons. Gaudio was bounced after three seasons— without having a losing season and starting 16-0 in Year Two.
Copyright 2019 WDRB Media. All Rights Reserved.