LOUISVILLE, Ky. (WDRB) -- It was, without question, an immaculate connection.
I'm not talking about Kyle Greig's first goal in a Louisville City FC uniform, coming just two days (and eight game minutes) after setting foot on the Lynn Family Stadium pitch for the home team on Saturday night against the San Diego Loyal SC.
Don't get me wrong — it was a spiritual strike. One moment he's going into the air to challenge a 50-50 ball in the box. Both players missed the ball with their header attempts, but as it fell, the ball settled along the calf of Greig's left leg, then rolled down to his foot, which lifted the ball sweetly into the open goal.
Amen. Raised hands. Celebration. He ran toward the supporters and fell to his knees in the corner.
"I'll admit I did not intend to score that way," Greig said after the game. "But definitely some divine intervention there. For sure, that's a special one for me."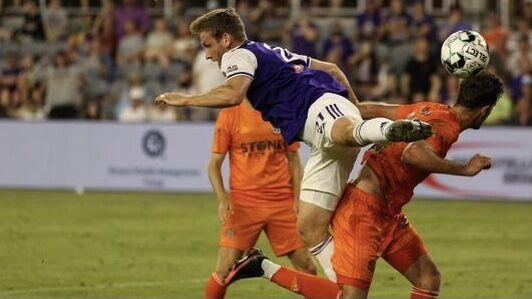 But as special as it was, the more important connection came earlier last week, when LouCity reached out to the successful St. Louis striker. He's had several productive years in USL, but when the St. Louis club folded in advance of an MSL franchise opening up shop in the city, the 31-year-old Greig all of a sudden was a man without a team.
He couldn't figure it out. Why wasn't he getting a chance? Was it his age? It couldn't have been his play. He had continued to produce, and to display a nose for scoring.
"It's been a really trailing five months for me and my family," Greig said Saturday night. "To feel like you're being forced into retirement a little bit when no one wants you and then this club and Danny giving me a chance, especially for this club, made this a really special night for me."
It wasn't just special for Greig. He came on in the 81st minute for LouCity striker Cameron Lancaster, and nearly scored on his first touch.
LouCity coach Danny Cruz inserted him at that time hoping to take advantage on a set piece. And it nearly worked. A few minutes later, Greig delivered, and his new LouCity teammates took notice.
"I am really happy for Kyle," Cruz said. "I think it has been a long, hard offseason for him and to reward himself with a goal, a game-winning goal, is really special. He is someone you can tell in there right now, feels really emotional about it. ... I got chills for Kyle because I know what he has been through. I know what his family has been through. I think it is a special moment."
Greig couldn't seem to get anyone interested in him. The first words in his Twitter bio are, "Christ follower." And in this, he had to keep the faith. He had to get up every morning, work to make himself better even though opportunities weren't coming his way. The resulting uncertainty is just as hard on players' families as they try to figure out the next chapter.
After last week's announcement that LouCity had acquired him, after an injury to striker Abdou Thiam, the well-wishes came from everywhere.
His teammate in St. Louis, Pat Fink, tweeted: "Waking up day after day & putting in your work when it feels like you've been forgotten is a lonely place.  I watched this guy relentlessly believe in himself through all of it and to see him finally rewarded brings me so much joy! Love you dude can't wait to watch you work!!"
LouCity had kept Greig on its radar, but didn't have a need until an injury necessitated the call.
"I told him when he got here, he said he couldn't get an opportunity anywhere, I told him, 'Listen, we identified you a long time ago. We had Cam. We had Abdou. It didn't make sense at the time,'" Cruz said. "With Abdou's injury, he was a perfect replacement. Again, I talked about it earlier this week, I am really thankful for the ownership group for being able to get the deal done. What a reward for him to get to play in front of these fans, in this place, and on this night and come away with the game-winning goal. That is special."
His new teammates recognized the meaning in the moment.
"I only trained with him for a couple of days, but I have played against him for a long time," LouCity midfielder Niall McCabe said. "I know what he brings to the table, and he deserved that (goal). It has been a long, hard offseason for him. For him to come here and be able to contribute, that is what it is like every year. People come off the bench and make an impact. We had it with George (Davis IV) getting the assist in the first game against Atlanta. That is what we need. We need players coming on the pitch and keeping the level where it is at. I am delighted for Kyle."
For Greig, it was a triumph of persistence and faith.
"I've never scored against this (LouCity) club," he said. "And to be able to turn around and score in my debut for the club was really special. Obviously it was a great atmosphere. To be able to score on the supporter section side was a really big one. "
The first of many, LouCity is hoping. 
Related Stories: 
Copyright 2021 WDRB Media. All Rights Reserved.