LOUISVILLE, Ky. (WDRB) -- Sometimes you just have to write the image that won't leave your mind. And with Lynn Family Stadium about to open at 100% capacity Saturday night when Louisville City FC welcomes Memphis 901 FC, I can't get Star Wars out of my head.
Louisville Soccer Holdings officials say "100% capacity," and all I can think of is "fully operational." Maybe you remember the movie scene: There they have Princess Leia watching as they fire up the Death Star and one-touch her home planet out of existence.
All I can picture is Brad Estes up at the press box level, pushing a button to throw out a light show and raring back with an evil laugh. Maybe he obliterates Memphis 901. I haven't worked it all the way through.
There. It's out of my system. On with the serious news report.
Lynn Family Stadium has been open since May of last year. It will not be the venue it was meant to be, however, until Saturday. That's when an expected sellout crowd of 15,304 will bring the place to life like it hasn't been before.
After a whole bunch of pandemic-restricted dress rehearsals, Louisville's soccer star will finally be fully operational.
"We're so ready. So ready," said Mitch Ried, Louisville City Football Club's senior vice president for sales and marketing. "We didn't know, even when we got the schedule this year, we looked at the schedule and asked, 'When will it happen?' But things have really taken a positive turn, with vaccinations and case numbers going on, and we're excited it's here."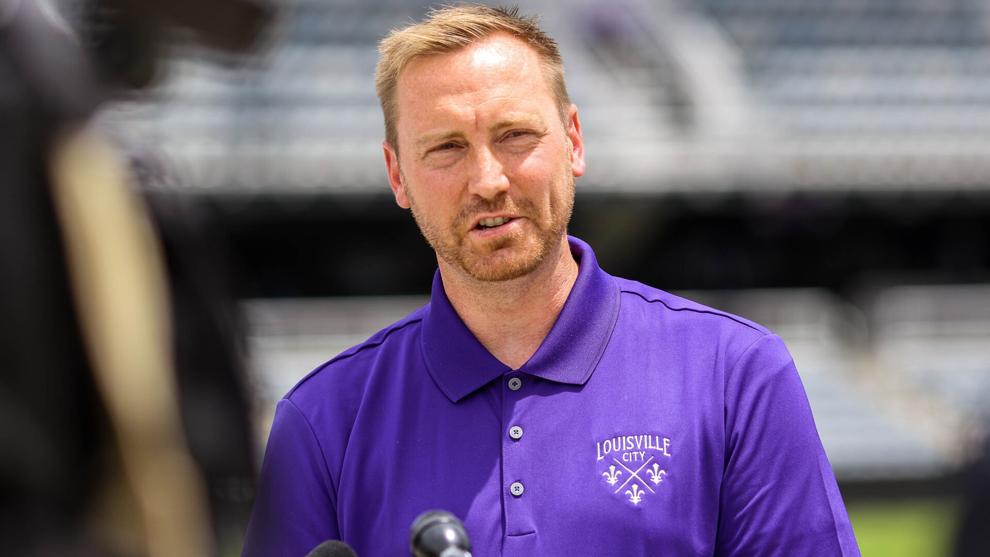 The crowds at the stadium so far have been loud and enthusiastic. The stadium opened at 25% capacity, and has progressed to 50% and 75%. Supporters in the end zones lead the way and make sure that the lulls are few and far between. But there's no way to duplicate the feel on the pitch with fans packing both sides of the stadium. There should be an intimacy and intensity that stands out.
Reid said he expects that it won't resemble anything seen in the facility to date.
"We hope that starting on Saturday, we've got a lot of fans who have been here for 20-some matches already," he said. "But we hope it's on another level of excitement from what they've experienced in the past. And for people who are new — who are coming for the first time — we want it to be an unbelievable experience in this building."
Herman Quinn of the Louisville Coopers is one of those who has seen the games so far in Lynn Family Stadium. He suspects he's missed just five LouCity games since the franchise began play over at Louisville Slugger Field seven years ago this week.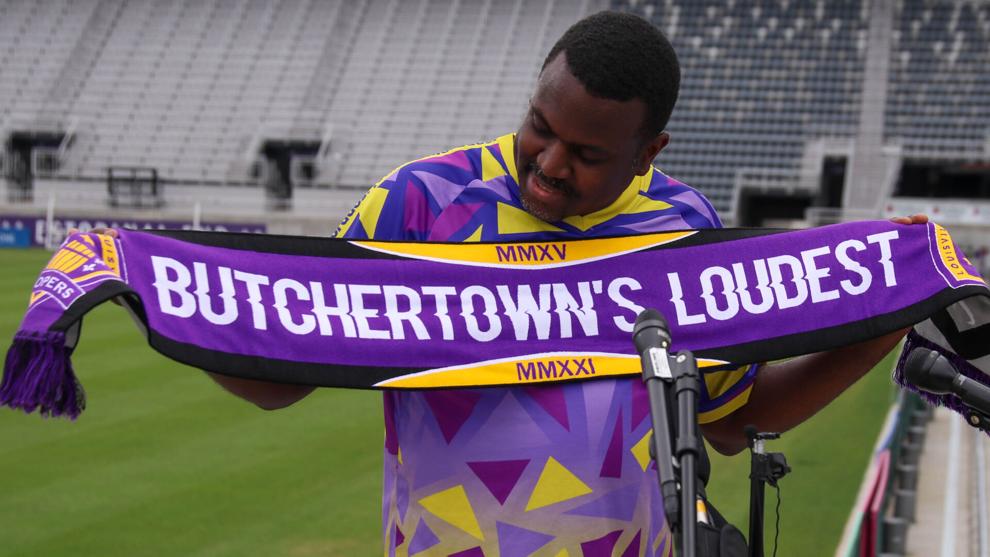 The Coopers were there even before there was a team in Louisville, advocating for the sport and pledging support for anyone who could bring pro soccer to the city.
To go from that to a team playing in a packed house in Butchertown, Quinn acknowledged, will be emotional. The group will hold its ceremonial march from a local pub to the stadium for the first time since the pandemic began Saturday and welcomes all fans to join along.
"I think it brings tears to your eyes to think that you have these guys who met in a bar and all they had was a hope and a dream," Quinn said. "And to see that dream become a reality — there's things that other people are trying to do that we were able to accomplish ... It gives hope to other people."
If the team administration and fans are excited, its players and coaches are no different. Though LouCity has had an uncharacteristic run of back-to-back losses, players figure now is a good time for an added boost of support from the stands to kick start an offense that has generated plenty of good chances but not enough goals in recent days.
"We've kind of had this on the calendar, the whole club has, every player has, since we started in the stadium last year," said LouCity center back Sean Totsch, who started with the club in 2017 and already has a soft spot for the new stadium, where he proposed to his girlfriend last October. "We're so excited. Anyone who has been at a game there has known how crazy and electric the atmosphere has been. And we've been successful at home because of that, and taking that up another notch to 100% has been amazing, and I can't wait to get out there."
The club is firing up a good bit more pregame activity, and adding the "grand" aspect to the opening with some things it couldn't do a year ago.
LouCity will open the gates at Lynn Family Stadium at 6 p.m. ahead of the 7:30 p.m. kickoff, with $3 beer sales until gametime.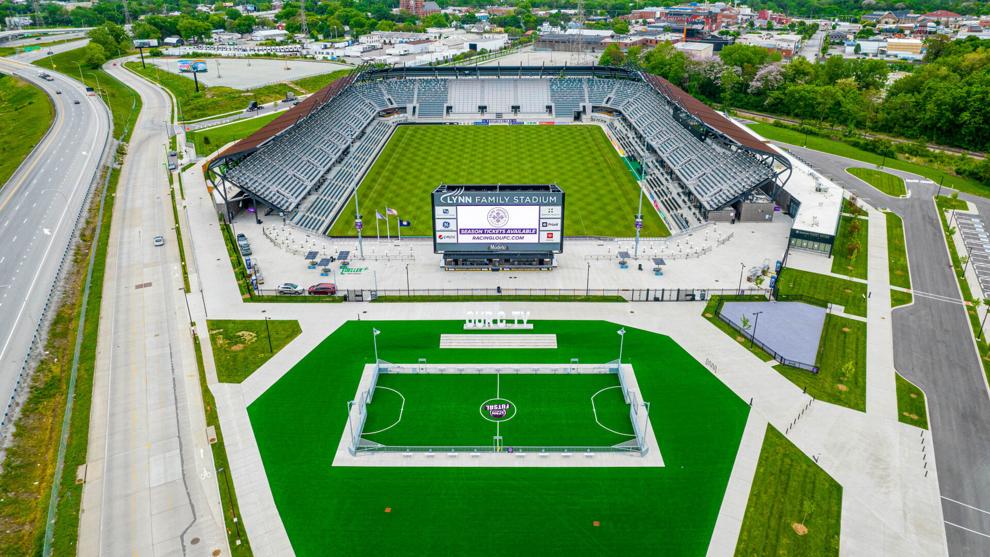 Outside the north end of the stadium from 5-6:30 p.m. fans can find contests on the miniature soccer pitch along with other kids zone activities and concessions including Ehrler's ice cream.
As the opening whistle nears, The Coopers' March to the Match will ramp up the environment. LouCity's original supporters group plans to begin its walk 45 minutes before kickoff from Ten20 Craft Brewery on Washington Street into Lynn Family Stadium. All are welcome to join; follow @loucoopers on Twitter in the event of any route changes and for other communications around the march.
Kentucky native Ben Sollee is set to perform the national anthem, and players will walk out to purple smoke.
The nearby Hog Father Pizza Shop, at 1301 Story Ave., will host an official outdoor postgame party with drink specials, live music and special accommodations for a large crowd.
Lynn Family Stadium, with a maximum venue capacity of 15,304, is expected to eclipse its current record crowd of 10,731 to attend LouCity's most-recent home game back on May 29. Some tickets still remain at LouCity.com/tickets or by calling 502-LOU-CITY.
The home team will be back in action in Butchertown on June 16 against the Birmingham Legion.
Racing Louisville FC will play its first game at 100% capacity against the Houston Dash on June 20.
Copyright 2021 WDRB Media. All Rights Reserved.