LOUISVILLE, Ky. (WDRB) -- For Louisville men's basketball coach Chris Mack — as for everyone else who works in college basketball — the operative word as the sport emerges from its pandemic restrictions is "change."
It is not the same game it was before the pandemic, and not all of that is because of the year of upheaval the world in general has just experienced.
Recruiting has changed, with the emergence of the transfer portal and the more transient nature of hundreds of players who have heretofore been bound, more or less, to their schools because of restrictive transfer rules.
The resulting emphasis on player development is changing the job of the head coach and assistant coaches.
After a season in which Louisville suffered through two long COVID-19 pauses and failed to reach the NCAA Tournament, Mack said he had to make some difficult decisions. He wound up parting ways with top assistant Dino Gaudio, whom he's known for 30 years, and with Luke Murray.
On Monday, he introduced their replacements, former Louisville director of basketball operations Kahil Fennel (who was hired a month ago), and 32-year-old Ross McMains, whose most recent role has been as an assistant coach with the New Zealand National Team.
Different enough for you?
"It's never easy. That was the first time that I let anybody go in the 12 years that I was a head coach," Mack said. "So this isn't anything that is taken lightly. They're two excellent coaches, Dino and Luke. Excellent. The honest assessment: Our program wasn't where I wanted it to be at the end of this past season. We could write down all the reasons why I think, or why you think, we didn't qualify for the NCAA Tournament. The bottom line is we didn't. That's not to say that Dino and Luke were the fall guys and it's all on them. There's been a long look in the mirror to see what I can do better. When you look at the hiring of Kahil, and you look at the hiring of Ross and what he brings to the table, you have to have a lot of humility to say a lot of the offense is going to be co-produced. But nevertheless, I felt like a fresher perspective, I think that these changes reflected things that we really need for our players, who are the most important people in our program. I think what Ross brings to the table in terms of player development is unmatched in this country, and I couldn't be more excited about the staff we've put together. Again, it was a hard decision to make and wasn't taken lightly, but in the end, I have to make tough decisions."
McMains is viewed as something of an offensive guru. He co-founded a company called Efficient Sauce, a resource for coaches to learn innovative concepts of basketball. And he has conducted numerous clinics on offensive basketball.
What he hasn't done is recruit at the collegiate level, but Mack's faith in him as a teacher of offense was enough to carry his decision.
McMains has coached in the NBA's G-League, was a video coordinator with the New York Knicks and was a coach with the Sacramento Kings in 2012-13. He has directed pre-draft and offseason workouts for NBA teams in the past decade. He also has coached in Australia and in New Zealand. But Mack said his hiring was more about his basketball knowledge than any kind of international recruiting contacts.
"Ross has a Rolodex of people he knows all over the world," Mack said. "If that helps us get some of the better players on the roster, I'm all for it. I'll coach you whether you're American or Australian or whatever, as long as you love the game."
Since Mack last spoke to the media, Louisville has lost Josh Nickelberry and Quinn Slazinski and had both Carlik Jones and David Johnson opt for the NBA.
"The transfer portal is a huge change," Mack said of the players who transferred out. "... As far as the guys that left, I love them. They were huge parts to our program. They may not have had the on-court success that they envisioned for themselves or fans wanted, but everyone's path and journey is different. And I don't think if they looked into the future that they felt like they were going to play the amount of minutes that they felt comfortable staying with. And I can't fault them for that. You sign up to come to Louisville. It's big boy basketball. If you have 13 guys on scholarship, it's sort of hard to find a program in this country that plays 13 guys. So the theory of natural selection sometimes happen. Guys find a way to get on the floor or they don't."
The Cardinals will bring in transfers Noah Locke from Florida, Jarrod West from Marshall, El Ellis from junior college and Matt Cross from Miami. They'll also add freshmen Roosevelt Wheeler in the post and Mike James at a forward spot.
"We're excited about our roster," Mack said. "We think we have more talent than we did a year ago ... As far as the guys coming here, we have two freshmen. Between El Ellis and Mike James and Roosevelt Wheeler, those three guys have been committed to us for a long time now. And we're excited to add them. I've never met Mike James or El Ellis in person, and that's wild. That's absolutely wild. I have met Roosevelt. He had the opportunity to visit unofficially. And I've also seen him play when he was a junior. But those three guys are totally different players. Roosevelt is coming off an Achilles' and just got cleared by his doctor ... He hasn't played in a year and is itching to do some things. Mike is a versatile defensive player. Loves to guard ... And El Ellis is one of the better junior college players in the country. His ability and burst with the ball is really good. He's got a lot of end-to-end speed and a lot of athleticism. We have FaceTime conversations with those kids almost daily, and they're excited to get here.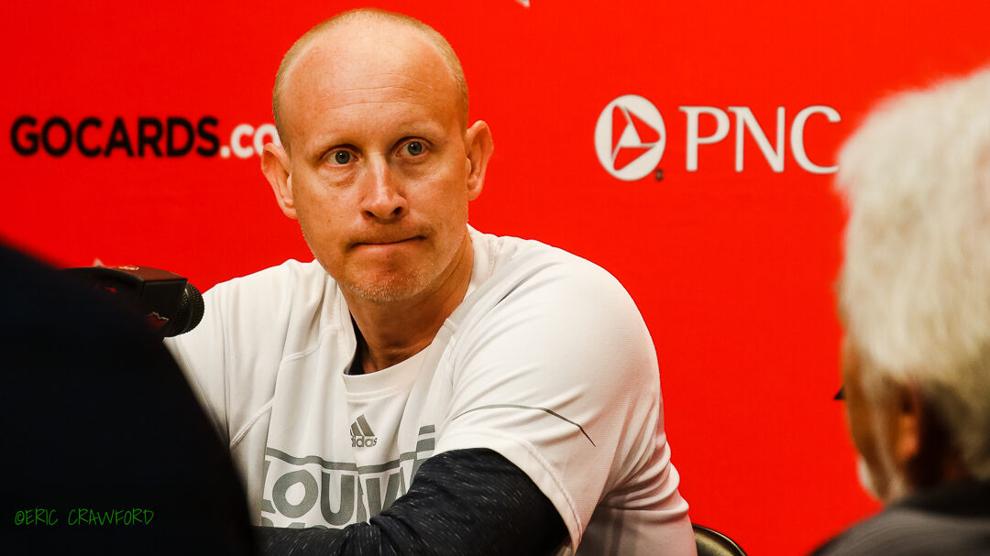 "And we've got three Division I transfers ... Jarrod is the quintessential point guard, shoots the ball at a high level, is in the Masters program in business here. He's a Christian Cunningham-type. He can run a team, has already reached out to his future teammates. He's so daggone excited to come to Louisville ... We're excited to get him here. Noah has played at a high level and has the ability to stretch defenses ... And Matt Cross, I wish I could've put him in uniform midway through the year. His ability to shoot the three. You look at those three guys and those guys can shoot the ball, and that's something our team missed this past year. At least I know their coach missed it."
It's a lot of change, but Mack already is looking forward to seeing his players smile and resuming something resembling normal activity as COVID restrictions are lifted. And for that matter, just to get to recruit in person again should be a plus.
"We're excited just to have masks off in the practice facility," Mack said. "It feels more normal. Everybody is vaccinated in the program. Knowing that all of our guys are going to arrive May 31 and begin workouts the following week after orientation and physicals ... That's exciting. I think back to when our guys got to campus last summer ... They were in masks and nobody could oversee their lifting or work with them on the court. It was sad. Their development was hampered. Moving forward, I feel like we're in a great spot and we're excited about it ... To show somebody the Yum! Center on a Zoom call just isn't very fun."
Copyright 2021 WDRB Media. All Rights Reserved.