LOUISVILLE, Ky. (WDRB) -- Football season is fast approaching at the University of Louisville, but it won't look like any season the school has had before. COVID-19 safety measures inside Cardinal Stadium will lead to some big changes on the field, in the stands and at the stadium gates for the 12,000 or so fans who are allowed to attend Saturday's 8 p.m. opener against Western Kentucky University.
Athletics Director Vince Tyra met with media Wednesday to talk about many of the changes in game operations and around the 61,000-seat stadium.
"We're a bit fortunate that people know the drill a little bit now in terms of standing in a socially distanced line at the store or taking precautions at restaurants," Tyra said. "But we're also not taking that for granted."
Here are 10 big changes the fans will notice:
1. NO TAILGATING: U of L fans pride themselves on elaborate (and extended) tailgating, but that is a thing of the past this season. No tailgate activities will be permitted, and Tyra said anything resembling a tailgate party will be broken up.
2. NO CARD MARCH: The traditional entrance of the team into the stadium via a walk down from Central Avenue will not be held this season out of safety concerns for the team.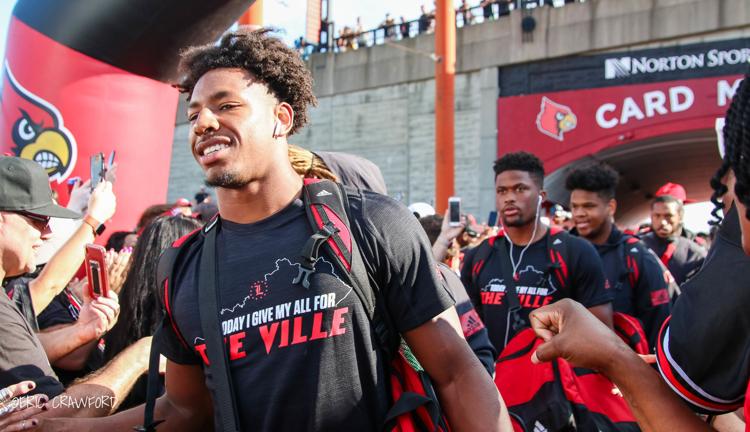 3. GATE CHANGES. One previously scheduled bit of work on the stadium this summer was to remove the Team Store and ticket office from the Floyd Street side of the stadium, making for more entry gates and a natural front entrance.
Those changes bring the number of entry gates to the stadium to 32, and all will be in use Saturday.
Other changes at the gate will include temperature checks before admission, strict clear back policy enforcement and the absence of paper tickets. All ticketing will be done digitally in the 2020 season.
4. MASKS REQUIRED: Masks will be required at all times, except when eating or drinking. If fans are in violation, they will be asked to put their masks on and repeat violators may be asked to leave the stadium.
"We're not just asking that you wear a mask, but that you wear it properly, with the mask covering your nose and mouth," Tyra said.
5. ARTIFICIAL NOISE: The ACC approved the use of pumped-in crowd noise at a level to be agreed upon by both teams before the game. The home team may not raise or lower the noise during the game, keeping it at a constant level for both teams. The noise may include music right up to the snap of the football. One sound that won't be artificial: Louisville will introduce a new PA announcer at Saturday's game. The choice is expected to be made public Wednesday or Thursday of this week.
6. SOCIAL DISTANCING: This has been a way of life for months. At U of L, it has meant fans being spread through the lower bowl of the stadium. TicketMaster spreads the groups of fans through its own social distancing software. U of L also has dedicated one-way entrances to restrooms and has floor markings for concession stands to help with distancing when fans aren't in their seats.
7. CASHLESS CONCESSIONS: Fans should remember that concession stands will only accept credit or debit cards, to limit contact between customers and concession workers. Fans will also notice plexiglass shields at concession stands and will receive food in more packaging.
8. FLIGHT DECK OFF LIMITS:The UPS Flight Deck section of seating will be completely closed. As will the Adidas Club. The Norton Terrace will be closed to congregating but will have concessions and restrooms open.
9. SIDELINE ENTERTAINMENT: The Cardinal Marching Band will be in attendance, but it will be spaced out and in diminished numbers from prior years. There will be no cheerleaders on the field during games and no media. Pool photographers will be assigned. Each team will get an extended team box — inside the 15-yard lines — to allow players to spread out.
10. OTHER MEASURES. From hand sanitizer to more in-stadium monitors, Tyra said he thinks U of L has covered its bases. There are hand sanitizer stations positioned on all the concourses, and pregame cleaning will be extensive.
"Hopefully, fans will feel confident in all we've done," he said. "We benefited from Louisville City FC going through this and seeing how they've managed operations. ... Fans still have to follow the rules, but we expect they will."
Copyright 2020 WDRB Media. All Rights Reserved.