LOUISVILLE, Ky. (WDRB) — Mike Woodson has been the Indiana University men's basketball coach for less than two months but has already reshaped the roster, completed his staff and set goals for the 2021-22 season.
On Tuesday morning, Woodson talked with Bob Kravitz of The Athletic; Gregg Doyel of the Indianapolis Star and me for more than 30 minutes. Woodson discussed why, at age 63, he wanted the challenge of the IU job, how he intends to reshape the program's culture, growing up with 11 sisters and brothers and his early success recruiting.
Here is a slightly edited transcript of our discussion.
KRAVITZ: At your age, people are starting to think about boats, golf and retirement. At the age of 63, what compelled you to take on this job?
WOODSON: "I've never felt that I was 63. I've had my battles physically over the years, from the back surgery I had many years ago. I had (another back surgery) a couple years ago that really got me back.
"Mentally, I'm pushed to coach basketball. I mean that's something I've been doing for such a long time now. I just wasn't ready to walk away.
"The Knicks called (last fall) and asked me to come back (as an assistant coach). That was huge for me, because it gave me a chance to retool.
"I hadn't been away from the game like I had been during the year and a half after I had back surgery. ... I had a chance to do some things that I hadn't done because I was coaching all those years. I had a chance to retool and rethink what I really wanted to do the rest of my coaching career.
"The Knicks called. I interviewed for the head job. Didn't get it. They wanted me to stay on board. Once I got up there and got with Tom (Thibodeau), I was back in my comfort zone.
"We got the Knicks up and going. They're playing great basketball. When I got the call about IU when it opened up, I was gung ho about pursuing it and I was hoping like hell I got the opportunity to come back."
DOYEL: Assembly Hall has been redone, so you're not in Bob Knight's former office literally, but you're in there metaphorically. How does it fit?
WOODSON: "First of all, to think about all the accomplishments that coach Knight has had in his career — as a coach and even as a player at Ohio State — it's hard to imagine for me, the guy who played for him, the guy who was given a scholarship to come from Indianapolis to play for him at Indiana, for me, it's like a dream come true.
"I can never replace Bob Knight and all the things that he's done over the years for Indiana University basketball. I've said it time and time again: Indiana University basketball is Bob Knight. I've said that for many, many years.
"Yes, I've got a lot of big shoes to fill and I'm up for the challenge. Got a lot of work that needs to be done to get this team back on top.
"I'm hoping and praying that I'm putting the right pieces in place. I feel good about my staff that I've assembled. Yes, we've had a few players that left. But I'd like to think the players we've brought in will be very instrumental in us moving forward.
"But I like the direction of where we are right now and where we are headed, knowing there is a lot of work that's got to be done."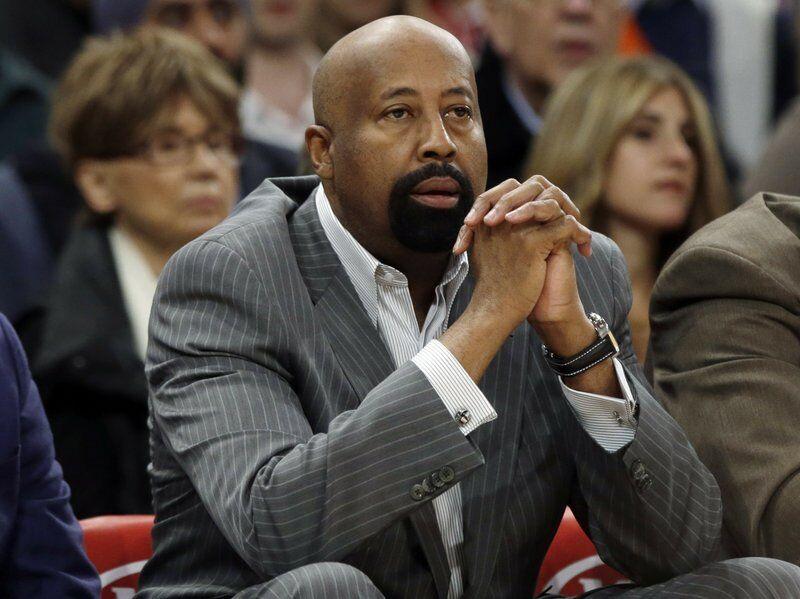 BOZICH: Your name was mentioned for the Indiana job in 2017, when IU hired Archie Miller. How long has being the IU basketball coach been your dream?
WOODSON: "The timing was always kind of off or against me, even when Tom Crean received the job (in 2008). I was the head coach in (Atlanta).
"And with Archie, before he became the head coach, I got a call about the job. But I just didn't like the fact that when I got that call, they wanted to do an interview over the phone.
"My thought process was, 'If you were interested in Mike Woodson coming to Indiana University to coach, get on a plane and you come see me or I come see you.' That's how I felt.
"So the interview really wasn't an interview (in 2017) as far as I was concerned. I kind of walked away from that thinking it's just not going to happen for Mike Woodson, which I was fine with that.
"This time I thought the timing was perfect, even though I was in a contract year and had some years on my contract with the Knicks (as an assistant), not even knowing if they would let me out of my deal.
"When I got the call from Scott (Dolson, the IU athletic director) about the possibility of interviewing, I told him the same thing: 'Either you come see me or I come see you.'
"Scott was on the plane the next day. I thought we had a 2½-hour great meeting. Just talked basketball. Talked about personal things from both sides. I really felt good about the interview once Scott left and came back to Bloomington, still not knowing that I would get the shot to coach.
"A week later, we'd had some communications within that week. I know there were a lot of names surfacing about the job. You would only expect that.
"I got the call that Sunday (March 28) that they were offering me the job. And I couldn't have been happier about it, man. I was so excited.
"I couldn't believe it after all these years. Again, a lot of it had to do with timing, but this was the perfect timing. And Jim Dolan, the Knicks' owner, that's the only guy that I had to go face to get out of this deal. He gave me his blessings to do that. So here I am."
KRAVITZ: Was it a different feeling when you got this job than previous jobs in the pros?
WOODSON: "Sure it was different, because I spent my whole life here at Indiana.
"You guys never saw me come back, but every summer I was back here, visiting friends and family. This has been my life. You figure you get an opportunity to go to college and play college basketball and get an education.
"I took all my NBA money and I brought it back to Bloomington. A lot of people don't know that. All my ties had always been here at Indiana University, always.
"So to be able to get an opportunity to come back and coach, something I had been doing for a number of years at the NBA level, it was just like a dream come true because it just doesn't happen that often that a player gets to play college basketball at the highest level you can play it, go pro, go into in coaching and then circle back. It just doesn't happen.
"So I'm grateful and honored that this university put this team in my hands. I'm going to try to do the best job that I can possibly do to get us back on top."
DOYEL: Have you found a place yet in Bloomington or have you owned a place all this this time? And when you say you brought your money back to Bloomington, do you own property or restaurants?
WOODSON: "I'm in the apartment business. Scott May (former IU All-American) has been down here for many, many years. We had a bunch of people who helped us from a business standpoint to learn the real estate market.
"Every year I'd come back. That's what we did over the years. Scott freed me up to be able to do what I do from a coaching standpoint. Scott's been here all these years grinding, looking out over everything that we've done from a real estate standpoint.
"My ties have always been in Bloomington. People that know me knew that over the years. I just kind of quietly went about my business as a coach and I was still able to come back here and be a part of Indiana University.
"I don't have a home yet. I'm living in an apartment. I don't need much. You guys don't know that much about me but ... I'm living in an apartment and I spend most of my time here in Assembly Hall. So I don't need much. It's all good."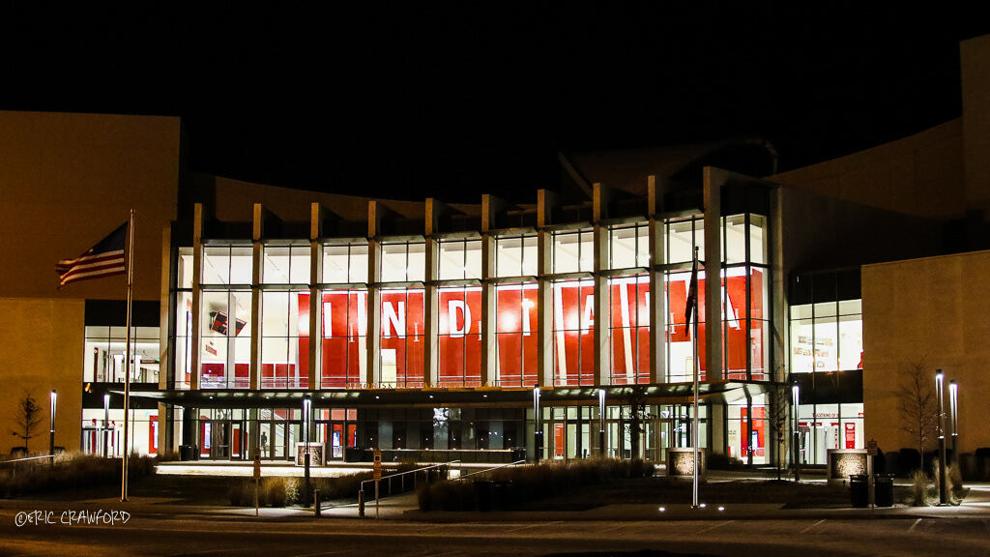 BOZICH: When you played at Indiana (from 1976-80), IU was feared as one of the top programs in the country. It hasn't been that way for awhile. There has been struggles and a bit of a malaise.
When you were away, what did you think about what was going on, why it was that way and how it could be fixed?
WOODSON: "The thought process when I traveled all those years in the NBA, you always were looking for bragging rights amongst your peers in the NBA.
"You've got all these players that went to different universities. Everybody is bragging about their program. Well, I've always bragged about Indiana University, regardless of how they were doing.
"I would try to find ways to brag about us, because it's a great institution from an academic standpoint and the program, like you said, it was sitting at the top.
"So I've gone through the struggles, too, just like a lot of Indiana University basketball fans. But every year I was right there rooting. That's how it's always been.
"I wasn't able to come back and actually catch games because of the conflict of me playing my schedule in the NBA just never allowed me to come and catch a game. That was kind of disheartening over all these years.
"But my loyalty and my feelings toward the basketball program have always been stronger than ever.
"Unfortunately we've had our ups and downs over the years but I'm still there rooting. I could never not root for the Indiana Hoosiers."
BOZICH: But did you and your peers talk about what was wrong and how it could be fixed?
WOODSON: "Well, you talk about it but, again, you like to think when they put people in place, they're the right person to get the job done and you root for that person. 
"I've never been a hater when it come to coaching. That's not my style. That's not my makeup. Because I know coaching is hard. I've been on the front end of it, when it was good. And I've been on the back end of it, when it was bad.
"To me, really there is no in between. I was wishing every coach that was here that they would have success. Because coaching is hard.
"You guys, you write about it, but until you sit in that seat and have to experience it on a day-to-day basis, it's tough. I don't care what level you coach at or what sport you coach. Coaching is tough. You've got to be dedicated to what you're doing. You've got to find players and people around you that believe in what you do.
"And you've got to get players to perform at a high level. I've been able to do that over the years in the NBA. But I've had my ups and downs, too. It hasn't been perfect. I've had a lot of good times and I've had some bad times. That's just the nature of coaching and the nature of sports."
KRAVITZ: You've talked about bridging the gap between the older generation and the new generation of IU fans. How do you plan to do that?
WOODSON: "Well, I think the main thing is, I think what's been missing, that I've talked to players my age, players who came before me or after me, is that they were left out.
"That should never be.
"Again, I didn't get an opportunity to really come back because my schedule didn't permit me to come back. But a lot of these guys are local, a lot of guys live up in Indy, they're close.
"They should never be closed out because this program was built around a lot of great players who have played here. A lot of the fans who have rooted all these years for these great players, hey, they all they know.
"So for me, to say that I'm going to bridge the old to the new, I'm bringing (the former players) back. I'm going to bring every one of them back, starting next month.
"As long as I'm the coach here, they're going to be a part of it. They're going to be welcome because they deserve that.
"This is no knock against Archie (Miller) or Tom Crean, the guys that were here. I relate to those guys. I was a part of it. There's no way in hell they should not be a part of this program — and in a grand way, too.
"I'm going to do a lot of things to make sure they're involved in what we've doing here at Indiana University and this program."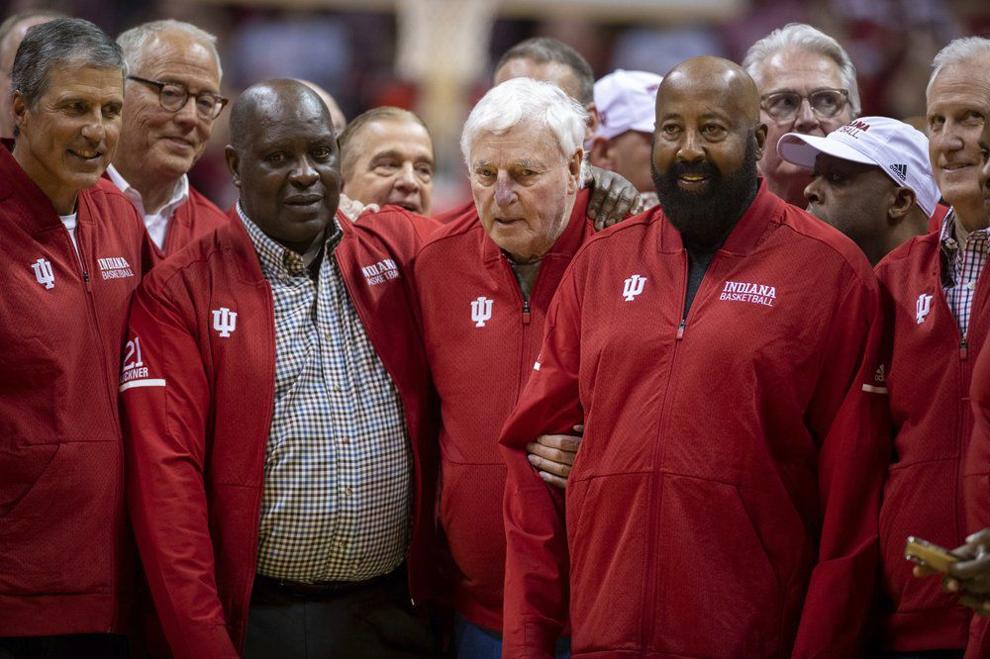 DOYEL: What kind of season is acceptable in Year 1? Year 1 in your coaching tenure is not supposed to be your best one, but what do you expect to see, based on your roster and your own goals?
WOODSON: "Again, I didn't come back just to come back and be the coach at Indiana. I'm trying to win the Big Ten. I'm trying to win the national title. That's the only thing that I'm selling here as a head coach. I'm not selling anything else.
"When I first got my coaching gig in Atlanta, I had just won an NBA title (as an assistant) with Larry Brown in Detroit. And maybe I was naïve and foolish to even go into Atlanta, knowing that we had gutted the whole team and started over with 18-, 19- and 20-year-old kids. I went in there selling playoffs. We've got to make the playoffs.
"Because if you don't push that and sell it, then it becomes second nature to these guys. I didn't want that. I wasn't being realistic about it. I get that. But I'd just won an NBA title. I knew what that high was all about. I couldn't sell it no other way when I went to Atlanta.
"We had our struggles early with that young team. But, boy, that team became a beautiful team to watch over the years.
"I'm not selling it any differently here as the head coach at Indiana University. We've got to win the Big Ten. We've got to try to win a national title because that's what it's all about.
"To answer your question, I'm looking to push this team and put a competitive team on the floor that's going to make our fan base so happy. That's what I'm about. That's what I'm going to try to do.
"If we could walk into a Big Ten title, man, it would be one of the most beautiful things that can happen to this program. And if we can position ourselves to win a national title, then that's what I'm going to push for.
"That's the only reason that I'm back. That's not to say it's going to happen. But I'm not looking at anything else differently."
BOZICH: One of the biggest recruiting wins you had was getting Trayce Jackson-Davis back for his junior year.
Everybody who watched him knows he needs to become less reliant on his left hand and prove he can make outside shots.
What did you do to convince him to stay and how can you fix his weaknesses?
WOODSON: "Again, after watching him on tape after I got the job, as a coach, I think you've got to find buttons to push when you're dealing with players.
"I was a little down because after I gave my coaching speech to all the guys, I sat them down in the locker room and I asked guys to raise their hands that were going to commit to me and this university and this program and my staff.
"Well, everybody committed — except the five best players. I walked away from that meeting really dejected. I was down because I was like, 'Wow, how can this be? You guys are not even giving me a chance.'
"So I had to do some damage control I had to start setting up meetings with the parents and the players. I had to tell them what was on my heart and how I felt, about the individual player, as a player and how I thought that player could help us from a team standpoint.
"I started at the top with Davis. I just told him. I put some film together based on his play here at Indiana University. I had a plan going in when I put the tape together.
"It wasn't a knock against the young kid, but I showed film of what he couldn't do. And we sat there for about an hour and it finally registered. I was just waiting and waiting and waiting.
"He finally said, 'Well, damn coach, we've been sitting here watching tape and you haven't put anything on there that I've done well.'
"I said, 'Bingo.'
"He finally figured it out because I'm not concerned about what you do well. I'm concerned about what you can't do and how you can get better to help us win basketball games and better yourself for the future.
"And I think once he realized that, and it wasn't a knock against the young man. I was just being real. And I honestly thought I could help him make the next move to the big leagues.
"He walked out of that meeting and he came back and he said, 'Hey, coach, I'm on board.'
"That's all I needed to hear. I gave him the biggest hug. I said, 'Hey, man, let's do this together. Now we've got to go after the rest of the guys.' I just started going down the list of guys that didn't raise their hand in the meeting.
"I didn't get them all. But to get (Race) Thompson back, to get Khristian Lander and (Jordan) Geronimo back, that was a major start for me, even though we lost Armaan Franklin (to Virginia) and the big fella, Joey (Brunk to Ohio State).
"You don't want to lose any player. My thing was, 'Golly, I just wish they would have given me an opportunity to coach them.'
"But it didn't work out that way and I wish them nothing but the best as they move forward and move on with their careers.
"That's kind of how we got Davis. I'm just happy that he stayed and knowing that we've got a lot of work on our hands to do to get this turned around."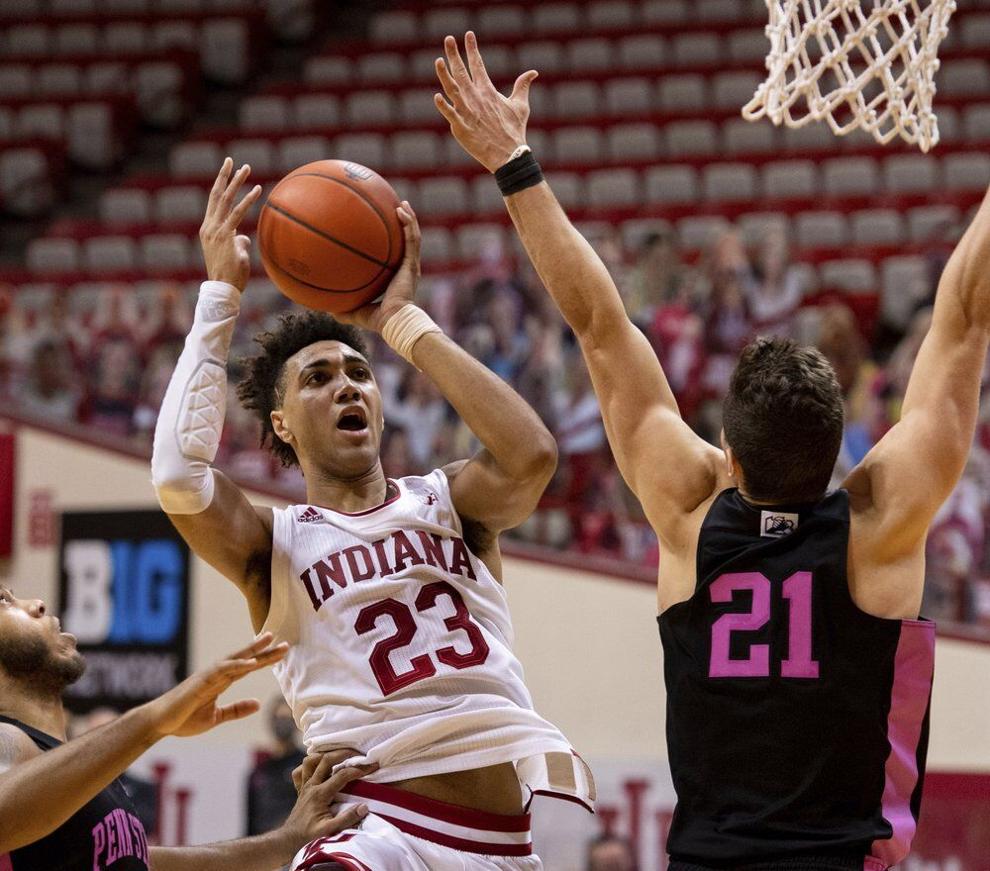 KRAVITZ: When you talk to former IU players, they talk about how the culture, the Indiana culture, has been lost the last number of years.
What do you want people to say about the culture that you're going to establish?
WOODSON: "That we're all going to be back as a family. And we're going to try to make this thing happen together.
"I can never forget the guys that came before me. I played 11 years in the NBA. There were thousands and thousands of players that came before me in the NBA that set the table for me to be able to do what I was able to do in the NBA.
"It hasn't changed. Indiana was that way. The Scott Mays, (George) McGinnis, (Steve) Downing, the Van Arsdale twins, the guys who came before Mike Woodson, set the table. They set something that you all strive to be, man, as a player, as a student athlete. It was already set when I came to Indiana University.
"I had a helluva group to follow in the Mays, the (Quinn) Buckners, the (Kent) Bensons, the (Bobby) Wilkersons, the (Tom) Abernethys. That (1976 unbeaten NCAA championship) team was phenomenal. Today, they're still talked about.
"So you can't forget those guys in terms of what they've done. I'm not going to do that. I've got to make this a family atmosphere.
"When I'm recruiting kids, it's all about family to me, man. Because Coach Knight took a chance on me as a player. He pushed me and he put me in the best position to be successful.
"That's important. I think when you're recruiting players you've got to put them in the best positions to be successful. If you do that, you put yourself in a position to win basketball games.
"If they're able to do what they're supposed to do, on and off the floor, then I've got to think moving forward they're going to be pretty successful in their lives as they leave Indiana University and go on in other directions and other areas of their lives."
DOYEL: You've got four books over your shoulder (in his office). Do you mind telling me what any of them are?
WOODSON: "These books were left over. I looked at them. You've got a Herman B Wells book. You've got an old Branch McCracken book. And you've got two books by my mentor (Bloomington businessman) Bill Cook, who's no longer with us that owned Cook Incorporated.
"When I say that he was my mentor, he was my mentor at an early age. My senior year in college I did an internship at the company. He and I became close friends. He, Gayle (Cook's wife) and Carl, his son, all these years, about 40 years, I've had a relationship with that family.
"I have those Cook books. These are books that obviously Archie was reading. Then somebody sent me this book: 'Prepare to Win: A Lesson Learned at Knight School.'" 
BOZICH: In addition to Trayce, you were also able to recruit Xavier Johnson (from Pittsburgh), Miller Kopp (from Northwestern) and Tamar Bates (a top-50 high school recruit).
What message did you have that resonated with them?
WOODSON: "I've got to give my staff a lot of credit. I'm new at this. The only way I can do my homework is to watch these guys play on tape and assess them that way.
"After watching all three, they kind of fit a need that we had here at Indiana University. Yes, I had to do my homework and due diligence on the player. Talking with parents.
"Tamar Bates' parents and I had some things in common based on people I knew while living in Atlanta. They knew people that I knew in Atlanta.
"Then, Xavier and coach (Kenya) Hunter had a relationship there. And Miller, I knew people that knew Miller in Houston, Texas, because I lived in Houston for 20-some years.
"I think what has helped me is I've had relationships with people in my NBA world all these years.
"And my staff that I rave about — and will continue to rave about — has put me in position to get on the phone and do Zooms with these parents and players. Then we've got to sell it as a unit.
"I was able to do that along with my staff to get these three to commit to us. Because, again, I've never recruited at the college level, but I've recruited at the NBA level.
"People don't give that enough credit. I get it. But at the end of the day, it's relationships, it's talking to people. It's being able to get people ... are these young men, your dreams and goals of how you want to play and how they fit into the realm of what you're doing or are trying to do here at Indiana University.
"They liked that and they were able to commit to us. I'm happy as hell that we were able to get three quality players that I think can help this program and help us move forward as we navigate this."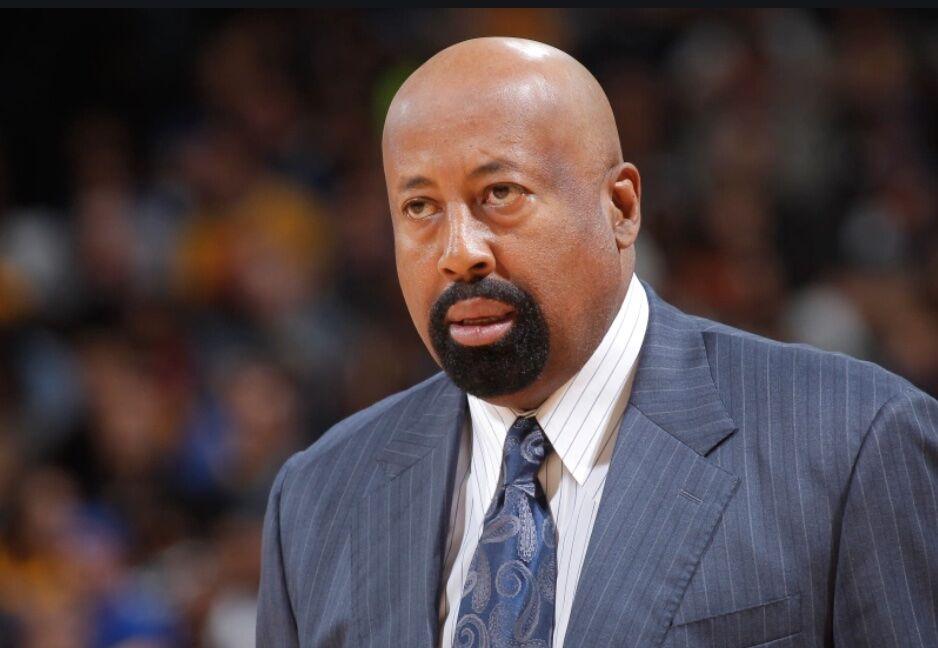 KRAVITZ: This has little to do with basketball, but you come from a big family and I just wondered how that has shaped you?
WOODSON: "I'm from a family of 12. I had nine sisters and there were three boys. Me being next to the youngest, most of my older sisters and an older brother, they were out of the home.
"When I lost my dad at the age of 13, I had to grow up, quickly. My brothers had a lot to do with my success.
"I started playing basketball very late. Most kids start very young. I was playing but I never played competitively until the eighth grade. So I pretty much got a late start.
"But I blossomed as a player. Wayne Radford (another former IU player from Indianapolis), I talk about Wayne, but he was one of the first guys that I met at the age of 14.
"At that time I was in the eighth grade. Wayne was a sophomore at Arlington (High) and he was the leading scorer in the city.
"A kid in our neighborhood said, 'Hey, Wayne Radford plays at this court around the corner from you.'
"I was like, 'Take me to the court.' I was a 5-9 point guard in the eighth grade. Wayne was 6-2 and 400 pounds. I told that kid, 'Take me to the courts,' because I wanted to see how I fared against Wayne Radford, who I read about in the paper.
"I went to that court, and it was a battle, man. And I walked away from that game that day saying, 'If I can hold my own against Wayne Radford, I got a shot at it.'
"That's kind of how my career (got started). Wayne and I became the best of friends for more than 40 years and never had a hiccup. Never once. (Radford, a member of IU's 1976 title team, was 64 when he died Jan. 10, 2020.)
"But coming from a big family taught me values. Even losing my dad at an early age, I just basically watched him work himself to death, trying to take care of his kids.
"That's all I know. You asked me about at 63, why am I still in this?"
BOZICH: There's been a lot of discussion about the re-branding of Indiana basketball. What does that mean to you and how do you hope to accomplish it?
WOODSON: "I don't know if IU has ever lost its brand. There's fans everywhere I (went) in my walk of life in the NBA. I go to 29 different (arenas) to play NBA basketball, and IU is all over the place.
"It's just amazing. I can go to dinner and there's an IU (fan), 'Hey, Woody, how you doing? I'm an IU grad.'
"We just travel. So I don't know if it's ever really lost its brand. We've just lost our winning ways. That's going to be my job to get it back. That's the only reason why I'm here.
"Hoosier Nation has always supported Indiana basketball. Unfortunately, the pandemic kept people at home this past season.
"But I don't know if we've ever lost the brand. I don't. I just think Indiana basketball is still as big as ever. We've just got to get back to our winning ways."
Related Stories: 
Copyright 2021 WDRB Media. All rights reserved.